The market as a whole has seen the era of HD as the 5G network and 8K technology being deployed successively, making the optical HDMI cable a must-have solution for transmitting high-definition audio and video. 
Fiber Optic HDMI Cable vs. HDMI DAC Cable
HDMI cables on the current market today mainly include copper cables and AOC optical fiber cables and photoelectric composite HDMI cables. As the updated certification standards are to be released by the HDMI Association, HDMI cables using optical fiber as the transmission medium will begin to acquire their own market share in data transmission. But how do the HDMI Cables win over the market's favor, though it is more costly than the conventional copper cable? Find the answer in this article now!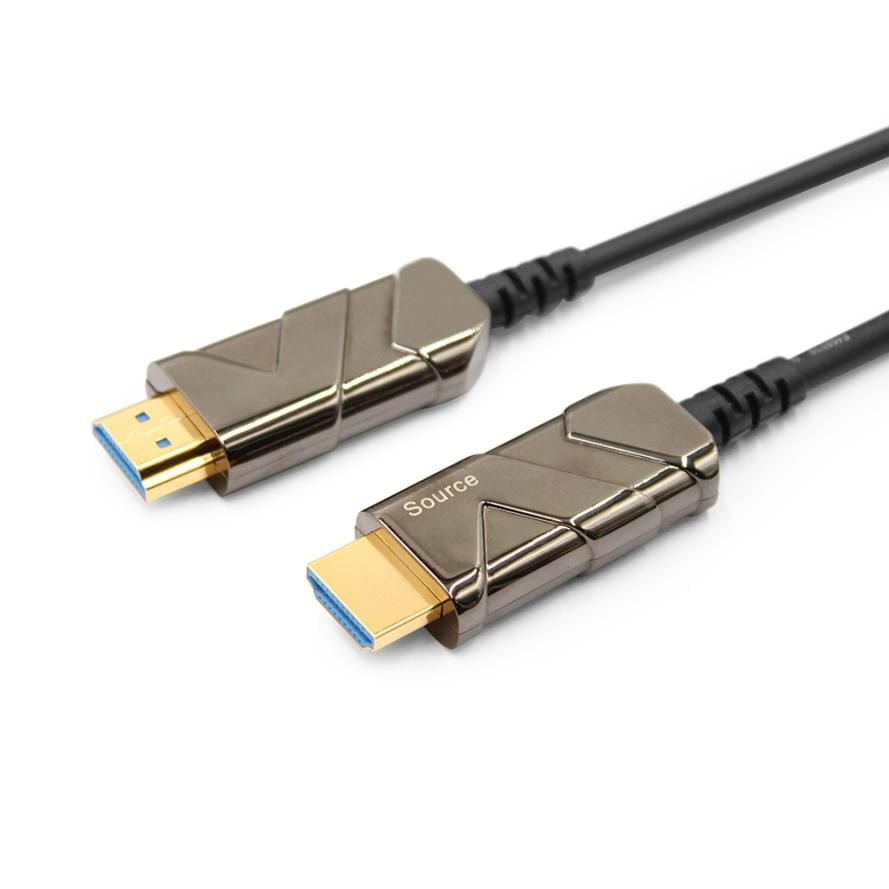 1. 

What is

F

iber

O

ptic

HDMI

 

C

able

?
Before you get further knowledge of this definition, the question of "what does HDMI stands for? "may pop up in your brain. HDMI stands for High Definition Multimedia Interface and is frequently used for transferring both HD digital audio and video information over a single cable. 
Optical HDMI Cable, also called HDMI AOC(Active Optical Cable), is a kind of HDMI cable that uses optical fiber to achieve HDMI definition signal transmission and its photoelectric conversion lines are integrated at the interface. Optical fiber is a transmission medium used to transmit optical signals; Unlike the conventional copper HDMI cables, optical HDMI cables adopt optical fiber as a transmission medium and features an HDMI interface at both ends.
2.

 

T

he

S

tructure of

O

ptical

HDMI

 

C

able
Fiber optic HDMI cables in the current market are mostly made up of 4 fiber cores plus 7 copper wires. The former is used for data transmission; among the 7 copper wires, one is for power supply, one for CEC, two for sound return (ARC), and one set of DDC signal (two core wires are foamed and one ground wire is shielded by aluminum foil) for communication protocol.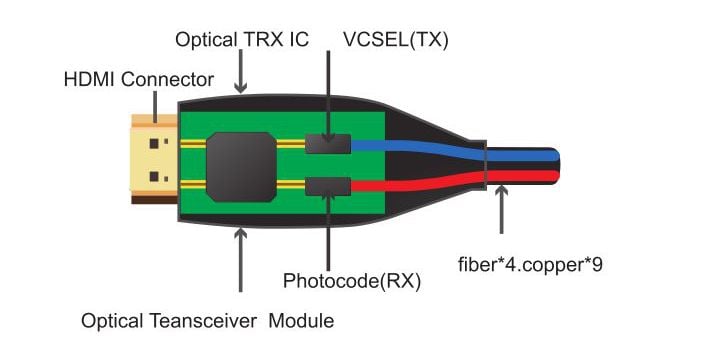 Some optical HDMI cables may feature 4 fibers and 9 copper wires. Generally speaking, HDMI AOC cables is a high-speed signal transmission solution consisting of two transceivers and one optical jumper with 2 HDMI converters on both ends. The HDMI converters are often silver, although some brands come with gold-plated HDMI connectors. It also features other optical components including optical TRX IC, VCSEL(TX), and photo-code (RX).
3.

 

The Evolution of

HDMI

 Standard
There are various standards concerning HDMI. It is necessary to read up on these standards before you deeply learn more about optical HDMI cables.
In 2002, the earliest HDMI version HDMI1.0 was launched with a maximum bandwidth of 4.95Gbps. It supports DVD, Blu-ray, and Rec. 709 color gamut in the video, and 8-channel PCM, 24bit/192kHz audio source, which means that it had been able to support 1080p full HD resolution and 7.1 audio system. In 2004, Version HDMI1.1 updated its function in DVD-Audio. DSD lossless format was added to the supporting list in Version HDMI1.2 the next year.
In 2006, version HDMI1.3 increased the bandwidth to 10.2Gbps, supporting xvYCC wide color gamut, and applying new audio technology such as Dolby TrueHD and DTS-HDMA in terms of audio. Afterward, small modified versions such as 1.3a, 1.3b, 1.3b1, and 1.3c were successively released. In the same year, the world's first Blu-ray player SamsungBD-P1000 was launched and it had been already equipped with an HDMI interface then.

2009 saw the version HDMI1.4 that first support 4K30p and 3D, and a 100Mbps network transmission function was included.
According to version HDMI 2.0 in 2013, supported bandwidth was raised from 10.2Gbps to 18Gbps; and it supports 4K60p and is compatible with Rec. 2020 color depth. In terms of audio, 32-channel audio sources had been available.
There were two versions released in 2015: one is HDMI2.0a with extra support for HDR; the other is HDMI2.0b additionally supporting another high dynamic range technology HLG.
In 2017, HDMI 2.1 increased the supported bandwidth transmission rate to 48Gbps all at once, supporting video of 8K/60Hz, 4K/120Hz resolution and 16bit color depth, and dynamic HDR data transmission is possible, which can be compared to Dolby Vision.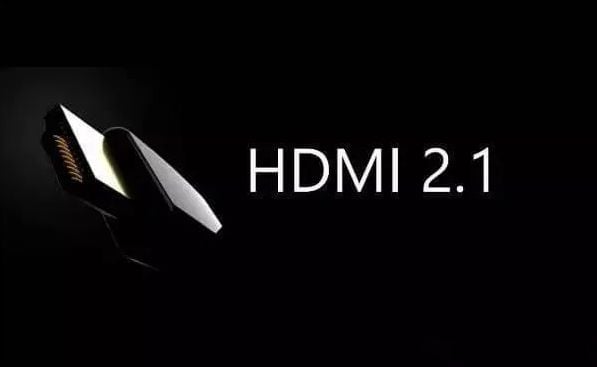 4. 

D

istinct

 

Advantages of

HDMI

 AOC
•

Less Signal attenuation
The long-distance signal transmission attenuation(signal loss) over optical fiber HDMI AOC cable is almost zero due to the photoelectric conversion technology, and the long-distance transmission can reach 500 meters.
Signal transmission on copper HDMI cables exceeding 7.5 meters is prone to signal degradation due to the difference of the copper cable attenuation parameters. For devices like projectors and surveillance video equipment, data transmission over copper HDMI cables will lead to poor experience of ultra-clear HD definition equipment. However, with optical HDMI cables, users do not have to worry about these problems at all, and problems like attenuation and distortion of the transmitted signal will never trouble you.
•

 

Extended

T

ransmission

D

istance
At present, the common working method of optical fiber HDMI cable in the market is that copper cable electronic wire is for the low-speed signal transmission and the optical fiber is for high-speed data transmission. In this method, A transmission length problem is inevitably exists triggered by the drawback of copper HDMI cables. Optical fiber transmits high-speed data by converting the original electrical signal into an optical signal and the so-called attenuation can be neglected or even doesn't exist at all. The longest transmission distance could reach over 300m.  This feature is particularly important for home theaters because even for living room theaters, the embedded HDMI cable is at least 10 meters or more.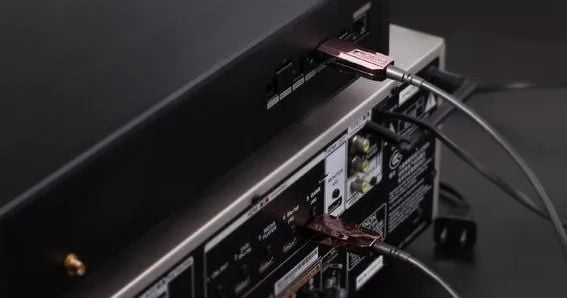 •

 

G

ood

 

A

nti-EMI 

P

erformance
The optical fiber HDMI AOC cable transmits optical signals including high-definition signals up to Ultra HD 4K/60p and is not subject to external electromagnetic interference. It can achieve true and flawless digital optical audio and ensure high fidelity of transmission. Digital signal transmission through optical fiber HDMI AOC, cables especially for audio with high transmission material requirements, can bring you an amazing experience both on hearing and viewing with the ultra-low background noise and flawless sound, making you feel like sitting in a cinema and enjoying Hollywood films.
•

 

W

ider Application
The optical fiber HDMI cable has been updated to HDMI2.0 standard, which makes it directly transmit 4K 60FPS ultra-clear signals without being affected by distance. Therefore, the optical HDMI cables are able to function in various situations that high-definition digital video display equipment, and large-area cabling infrastructure connection are required. These situations include home theater, remote information release systems, radio and television control, public security high-definition monitoring systems, high-definition video conference office, large-scale medical imaging systems, industrial automation systems, etc.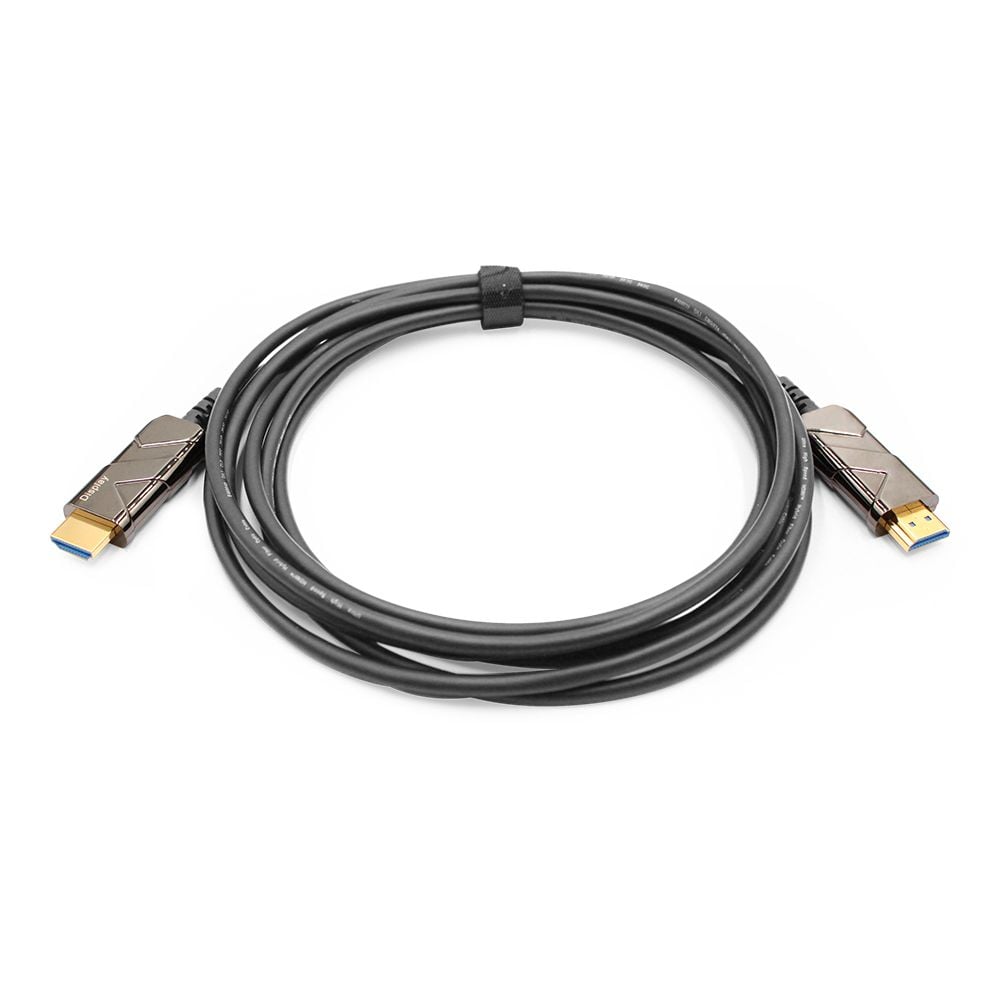 5. 

Other

Features
Because the optical fiber HDMI cable is made up of optical fiber material, it is smaller and lighter than the conventional HDMI cable. Also, HDMI AOC(Active Optical Cable) supports higher bandwidth and transmits high-resolution audio like DTS-HD quality audio and can even transmit HD videos without compressing them. You don't have to worry about whether it can transmit a high-bandwidth of 4K video and 3D video signal.
In fact, fiber optic HDMI cables have many unrivaled advantages compared with copper HDMI cables, such as strong corrosion-resistance, perfect radiation resistance, good wind-ability, no sparks, small leakage, strong confidentiality, etc., Thus, fiber optical HDMI AOC can even work perfectly in special environments like military areas.
6.

 

When

S

hould

Y

ou

U

se

F

iber

O

ptic

HDMI

?
Some may have a question like "Do I need to use an optical cable with HDMI?"
Generally, it is the best transmission solution to connect most modern audiovisual devices, assuming each device has an HDMI port! The optical HDMI cable transmits the digital video and audio signals with high-performance and low-power in a variety of your devices like multimedia, DVD player, computer, HDTV, projector.
The HDMI 2.1 specification defines an ultra-high-speed HDMI cable (UHS Cable), which supports a bandwidth high transmission speed of up to 48 Gigabits per second, and is designed to ensure support for HDMI2.1 functions, including uncompressed 8K@60Hz and 4K@120Hz. However, when the distance is over 3 meters, you need a power supply to drive the signal transmission in order to meet the specification of HDMI 2.1.  If the distance exceeds 5 meters, copper HDMI cable would not meet the demand either. Therefore, an HDMI Active Optical Cable can solve the problem perfectly in such instances.
To make it brief, if you only need a two to three-meter long HDMI cable, an optical HDMI cable is optional, for a conventional HDMI cable can meet your demand. However, when the transmission distance is more than 10 meters, an optical HDMI AOC cable may be on the first spot of your priority list to enjoy the quality surround sound.
| | |
| --- | --- |
| 1.4ARC | 2.1 eARC |
| IEC 60958-1 | HPD→eARC-, Utility→eARC+(CMDC, DMAC) |
| ~1Mb/s | 37Mb/s |
| 2ch L-PCM audio 48KHz | 8ch L-PCM audio 192 KHz |
| Dolby Digital | DTS Master, DTS:X, Dolby TrueHD, Dolby Atmos, and more |
| HDMI Cable | HDMI Cable with Ethernet |
7.

 

What will its future look like?
With the definition and certification of the specification authorized by the HDMI Association, optical HDMI will enter a rapid development period. Although the current price of optical fiber HDMI cables is relatively high, a lot of manufacturers have invested in this field, and the price has not soared as what users expected. In addition to its lower cost, the optical HDMI cable itself has strong physical advantages. Most consuming optical communications keep in step with the development of optical communications in the data center. Therefore, it is reasonable to infer that the future of optical fiber HDMI will be more promising than photoelectric composite HDMI cables.
Conclusion
The conventional HDMI cable is subject to signal attenuation, making it difficult to meet the 18Gbps high-bandwidth transmission requirements. But the HDMI optical fiber cable does not need to worry about the transmission bandwidth at all, and you can enjoy the quality DTS HD master audio and colorful high-definition picture. Based on the analysis of optical fiber HDMI cable, it can be inferred that optical fiber HDMI AOC will become a necessary solution for HD data transmission in the future.