It is known that our security needs video surveillance systems. But do you know that PON technology has been an updated technology solution to modern video surveillance transmission? In this article, we will discuss the data transmission challenges in the security industry and how PON technology is applied in large-scale monitoring projects such as remote monitoring.
1. 

Challenges in Video Surveillance Transmission
The complex layout of modern cities poses more challenges on the city security, which requires more instant and high-definition surveillance video. There are hundreds of millions of network cameras deployed around the city, causing problems like inconvenient power supply, restricted transmission distance, and bandwidth limit. Moreover, today's urban areas are invested with more powerful and complex functions and it will be costly to re-deploy the optic fiber cables. Thus, the traditional solution for video surveillance transmission has to be updated in view of the above problems.
In fact, the same problem has been encountered in the construction of FTTH (Fiber to the Home) of telecom operators. In order to solve this problem, telecom operators apply PON (passive optical network) technology to security network monitoring. This Video Surveillance Transmission solution has taken full advantage of fiber optic cable's bandwidth, eased off the shortage in optical fiber resources, and enhanced the network reliability.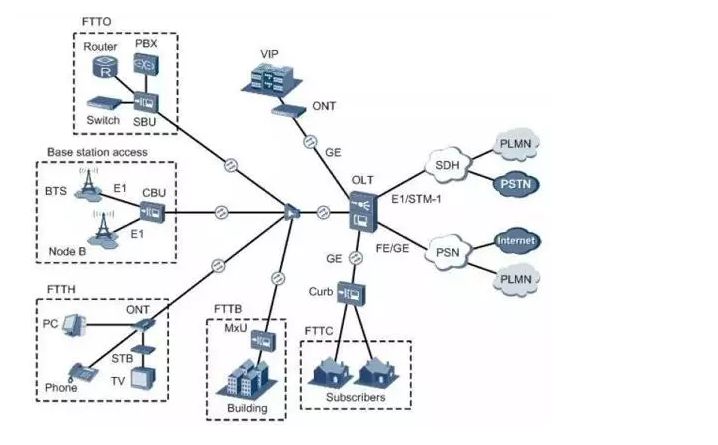 ∆ PON Topological Application in FTTx
2. 

What is PON Technology in Network Camera?
PON stands for Passive Optical Network referring to the optical distribution network (ODN) between OLT (optical line terminal) and ONU (optical network unit) without any active electronic equipment.  However, there are optical fibers and passive fiber splitters or couplers in the ODN.
There are no active devices for the passive optical network(PON) from the data center to the customer premises network(CPN). Instead, passive optical devices are inserted into the network, and the transmitted traffic is navigated by separating the power of the optical wavelength on the entire optical link. Such replacement requires the users to no power supply or maintenance of active optic devices in the transmission loop, which greatly saves users' costs.
Moreover, passive optical splitters and couplers, which only served as light-transmitting and limiting, do not require a power supply and information processing with an unlimited MTBF(mean time between failures). As a result, it can reduce the maintenance cost overall in large-scale monitoring projects.
3. 

PON's Advantages in Video Surveillance Transmission
● The optical fiber access network is the most suitable solution for future development, and PON technology has been tested to be a very cost-effective way of the current Integrated Broad-Band Communication Access System.
● If PON technology is applied in the video surveillance system, the entire optical distribution network is passive, and the passive optical network is small in size with simple equipment. Compared with copper cable networks, PON can reduce the cost in maintenance and operation but with its ability to function normally against electromagnetic interference and lightning interference.
● Passive ONU (optical network unit) in PON requires no power supply, which not only eliminates a series of problems of the power supply but also has better reliability than active devices.
● As a point-to-multipoint fiber optical network, PON uses a fan-shaped architecture to save limited optical cable resources and serve a large number of users. Passive optical devices are applied in the whole optical network to share the fiber transmission medium, significantly reducing the investment cost in the fiber-optic network.
● PON is transparent to the surveillance video system to a certain extent, making it easy to upgrade.
4. 

PON's Development Forecast in

S

ecurity

V

ideo

S

urveillance
PON technology has been constantly thriving these years. Its overall functions, performance, operation, and maintenance system are still improving. At present, EPON and GPON exemplify the mainstream PON technologies and they are evolving towards 10G EPON and XGPON respectively whose data rate will be increased from GE and 2.5Gbit/s to 10 Gbit/s. Compared with the other two technologies, PON has developed into a better industry chain, which is more conducive to technological development and cost reduction. Therefore, it is an inevitable trend to adopt PON as the mainstream technology for video surveillance.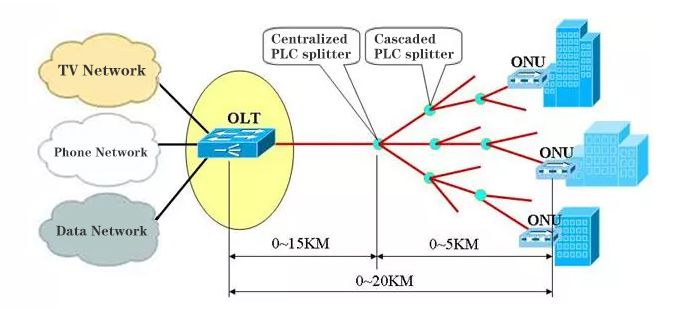 ∆ Topological Diagram Composed of OLT, ONU, PLC splitters, and optical fiber
PON technology has become the preferred FTTH(Fiber To The House) solution recognized by the industry. The PON monitoring transmission network system mainly utilizes a point-to-multipoint topological architecture, and the downstream and upstream transmit data through TDM and TDMA respectively. The maximum distance from OLT to ONU is 20km. With a bidirectional and symmetrical transmission rate of 1Gbps, PON can be split by a single-level splitter or multiple splitters, supporting a maximum splitting ratio of 1:32 or more.
5. 

Network Camera + OLT + ONU for Video Surveillance Transmission
As we discussed above, PON is an effective solution to the restriction of bandwidth and distance in monitoring transmission network systems. The ATU-C OLT equipment is deployed in the central office computer room by multi-level light splitting to realize the flexible deployment of points. For the terminal, it is equipped with an ONU+network camera and the ONU can be the PoE switch designed with PON technology.
The central office sends the uplink multicast data to the user's monitoring room and storage server at the same time. Therefore, users can monitor the situation in real-time in the monitoring room, and the video data can be sent to the storage server for better evidence collection afterward. The front-end access network currently uses two common methods, usually point-to-point optical fiber access and point-to-multipoint PON access.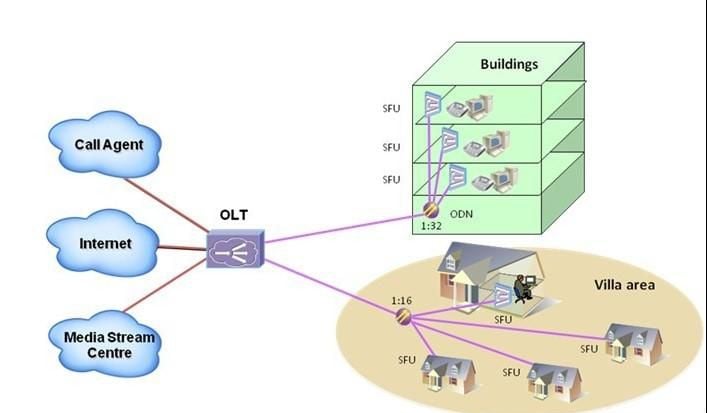 ∆ Surveillance Camera Solution based on PON(Passive Optical Network)
PON can allocate bandwidth to each access point through DiffServ, PQ/WFQ, WRED, etc., so as to guarantee the user's QoS(Quality of Service). The dynamic bandwidth division can effectively reduce the delay and delay jitter of high-level network data. At the same time, when a new ONU is introduced to initialization, even high-priority data will not be interrupted. On the OLU(optical line terminal) end, the control of the PON access volume of priority data can prevent the data loss caused by improper allocation.
6. 

PON Technology in PoE Switch-PON-PoE Security Camera Solution
It is an era when the copper cable is being replaced by the optic fiber, which makes PON technology paramount in the monitoring transmission network system. ZTE, a global leader in telecommunications and information technology, introduced OLT and ONU equipment as well as their supporting security camera monitoring solutions based on PON. Also, ZTE has firstly launched the PoE switches with PON functions, which made up for the gap in the current market for ONUs without PoE. 
Final Words
Video surveillance systems technology has undergone significant changes over the last 2 decades, shifting from the earliest analog surveillance to the present thriving IP video surveillance camera. A remote video monitoring system based on PON technology plays an important role in solving the problems like dense and complex monitoring points and shortage of optical fiber resources in modern cities.
It has been tested that such a video monitoring system is superior to other surveillance solutions in network configuration, utilization of operator's optical fiber resources, video definition and reliability, etc. All in all, it provides the operators with the best network solutions for the development of remote video surveillance services.