Editorial Director and Associate Publisher Oracle has opened a data center in Toronto, making its Oracle Cloud Infrastructure(OCI) public cloud service available for the first time in Canada. Two local data center services companies immediately publicized their abilities to provide access.
The Oracle Cloud Infrastructure targets private and public sector companies and organizations. The company offers the ability to support traditional and cloud-native service access as well as the delivery of Oracle's cloud applications, Oracle Autonomous Database, and security, blockchain, and artificial intelligence services. "Enterprises in the region still have limited ability to run mission-critical applications in the cloud and are struggling to attain the level of performance they have on-premises without a major overhaul," said Don Johnson, executive vice president, product development, Oracle Cloud Infrastructure. "With this new location, Oracle is delivering on its promise to deliver even more customers with consistent high performance, low predictable pricing, and the flexibility our cloud brings to the table." Both Cologix and Megaport (ASX:MP1) say that their facilities in the region can offer access to Oracle Cloud Infrastructure.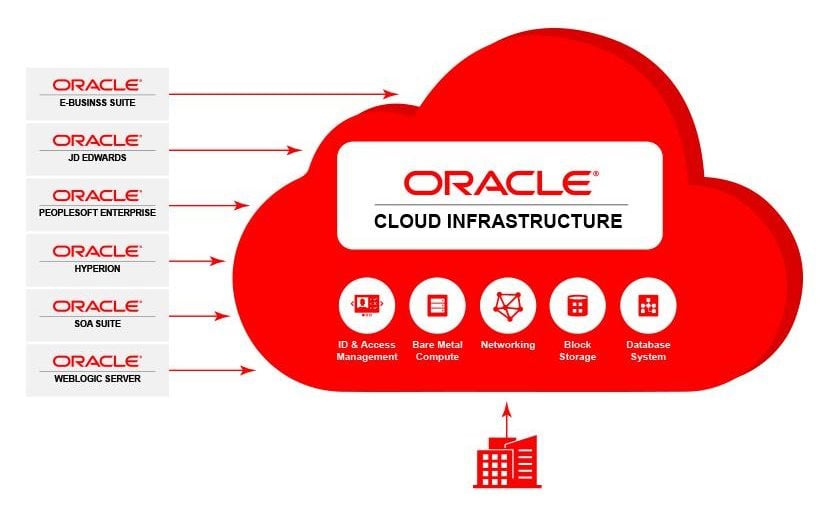 Cologix, a Gold level member of Oracle PartnerNetwork, says customers can leverage its Toronto (TOR1) data center to access Oracle's FastConnect on-ramp service. "Customers can on-ramp to Oracle FastConnect through a direct interconnection in our TOR1 data center and via interconnection at any of our Canadian data centers in Montreal, Toronto ,and Vancouver, providing improved performance, enhanced control, flexibility, and scalability to critical business data and functions," said Bill Fathers, chairman and CEO of Cologix.
The Cologix Montreal footprint includes assets gained from the acquisition of COLO-D (see "Cologix targets hyperscale data center customers with COLO-D acquisition"). Network-as-a-service provider Megaport, a Silver level member of Oracle PartnerNetwork, also has launched access to Oracle FastConnect. "Businesses are increasingly in need of direct connectivity to their cloud applications to support the increasing volume of mission-critical data produced by next-generation technologies.
Oracle Cloud Infrastructure FastConnect is a powerful technology which, when combined with Megaport's Software Defined Network, allows customers around the world to build optimized cloud strategies," said Vincent English, CEO, Megaport. "Our work with Oracle enables us to bring this service to market rapidly and provides greater access to Oracle's integrated services and support for the deployment of critical workloads in this cloud-first era." Megaport has installed an SDN node in the Cologix Toronto data center (see "Megaport puts SDN nodes in Cologix data centers").