Optical transceivers are key devices to realize optical network interconnection in the data center. As the number and density of ports go on, data centers have to take the cost of optical modules into consideration since it is expected to account for nearly half of the cost of optical networks in IDC. At present, the newly-built data centers of major Internet companies are looking to make a transition to 400G Ethernet. 400G QSFP-DD optical modules are the most common optical solutions for the 400G high data rate network connectivity. A brief introduction of 400G QSFP-DD optics will be given in this post.
What is QSFP-DD in the 400G Transceiver Module?
QSFP-DD, an abbreviation of Quad Small Form-factor Pluggable (QSFP) – Double Density (DD), is a high-speed hot pluggable form factor defined by the QSFP-DD MSA group as a key part of the optical communication industry to achieve high-density networking. As the best option for the 400G optical transceiver form factor, this QSFP-DD connector enables data centers to effectively grow and expand cloud capacity as needed. 
QSFP-DD is forward and backward compatible with the QSFP port and is also compatible with the existing QSFP28 optical modules and AOC/DAC, etc. The electrical interface of a QSFP-DD connector consists of 8 electrical lanes,  running at 25Gb/s NRZ signal or 50Gb/s PAM4 signal each for a total bandwidth of 200Gb/s or 400Gb/s. QSFP-DD can achieve up to 14.4Tb/s aggregated bandwidth in a single switch slot.
| | | | | | |
| --- | --- | --- | --- | --- | --- |
| Optical Interface | Optical Signal Rate | Transmission mode | Standard | Electrical Signal  Rate | Form Factor |
| 400G-SR16 | 16*26.5Gbps NRZ | 100m MM | 802.3bs | 16*26.5Gbps NRZ | CDFP/CFP8 |
| 400G-FR8 | 8λ*53Gbps PAM4 | 2km SM | 802.3bs | 8*53Gbps PAM4 | QSFP DD/OSFP |
| 400G-LR8 | 8λ*53Gbps PAM4 | 10km SM | 802.3bs | 8*53Gbps PAM4 | QSFP DD/OSFP |
| 400G-SR8 | 8λ*53Gbps PAM4 | 100m MM | 802.cm | 8*53Gbps PAM4 | QSFP DD/OSFP |
| 400G-SR4.2 | 4*2λ*53Gbps PAM4 | 100m MM(2λ) | 802.3cm | 8*53Gbps PAM4 | QSFP DD/OSFP |
| 400G-DR4 | 4*106Gbps PAM4 | 500m SM | 802.3bs | 8*53Gbps PAM4 | QSFP DD/OSFP |
| 400G-FR4 | 4*106Gbps PAM4 | 2km SM | 100G/λ MSA | 8*53Gbps PAM4 | QSFP DD/OSFP |
| 400G-LR4 | 4*106Gbps PAM4 | 10km SM | TBD | 8*53Gbps PAM4 | QSFP DD/OSFP |
| 400G-ZR | DWDM+59.8Gbd DP-16QAM | >80km DWDM | OIF |   | QSFP DD/OSP |
∆ Technical Indicators for Different 400G Fiber Transceiver Types
What are the Common 400G Transceiver Types in the Market?
● 

400G DR4 QSFP-DD Transceiver
400G DR4 is an optical transceiver module designed for 400G Ethernet data center interconnect in QSFP-DD (Quad Small Form Factor Pluggable-double density ) form factor. On the transmitter end, this DR4 module converts 8 channels of 50Gb/s (PAM4) electrical signal into 4 channels of parallel optical output data, each capable of 100Gb/s data rate for an aggregated bandwidth of 400Gbls. On the receiver side, the optic transceiver converts 4 lanes of parallel optical data of 100Gbp/s each lane for an aggregated of 400Gbp/s to support 8 lanes of 50Gb/s PAM4 electrical output signal.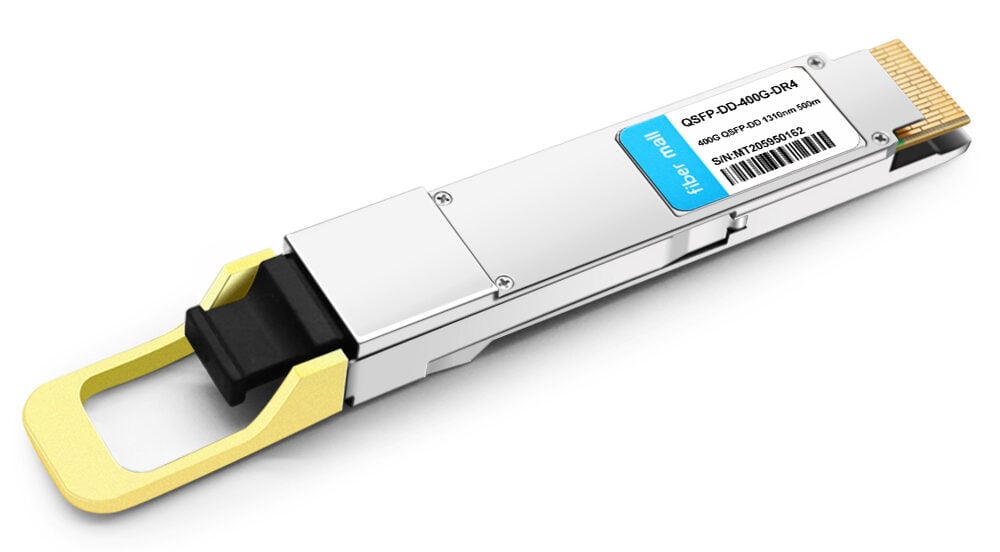 FiberMall 400G DR4 QSFP-DD Optical Transceiver Module
The 400G QSFP-DD DR4 fiber module achieves the transmission over SMF(single-mode fiber) with an MPO-12 connector. Normally, the 400G transceiver of QSFP-DD DR4 form-factor supports a max transmission distance of 500 meters on 1310nm center wavelength. The product is designed with digital diagnostic functions according to the 400G QSFP-DD Multi-Source Agreement (MSA).
● 

400G FR4 QSFP-DD Optical Transceiver
The 400GBASE-FR4 module is a 400Gbps hot-pluggable transceiver in a QSFP-DD form factor that supports 8 high-speed electrical interfaces connecting to the host. The 400G FR4 transceiver incorporates 4 independent lanes on CWDM4 center wavelengths of 1271/1291/1311/1331nm running at 100Gbps per lane. 4 uncooled 100 Gbps CWDM EMLs are used in the DSP AND EML lasers as an optical drive with an optical multiplexer. It is designed with a duplex LC connector for the optical interface to support up to 2km transmission for 400G Ethernet links over single-mode fiber (SMF). 400G FR4 QSFP DD fiber transceiver module follows a similar protocol of 100G Single Lambda MSA specification for 400G FR4 and QSFP-DD MSA specification.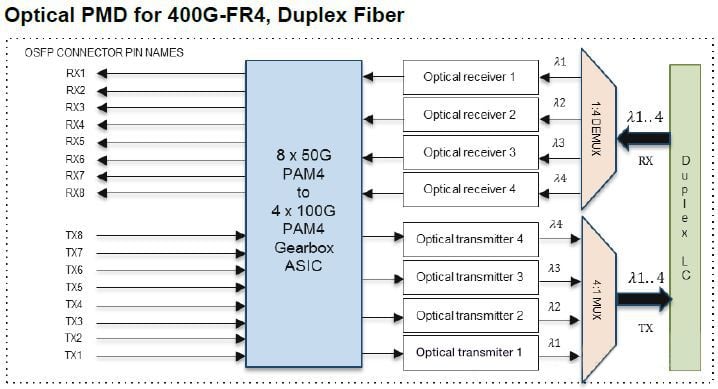 ∆ Diagram of 400G FR4 QSFP-DD Transceiver Module with Duplex Fiber
● 

400G LR4 QSFP-DD Transceiver Module
400GBase LR4 fiber optic modules are designed with a built-in Gearbox chip that multiplex the two channels' electrical input data into single-channel outputs signal and then modulates it to the optical receiver end. Specifically, the DSP basis gearbox converts 8 channels of 25GBaud PAM4 signals into 4 channels of 50GBaud (PAM4) signals over an SMF (Singlemode Fiber) cable with duplex LC connectors. This 400G LR4 transceiver product features FEC and full real-time digital diagnostic monitoring, supporting a transmission distance of up to 10km. It defines a 400Gb/s PHY for operation on the four CWDM center wavelengths of 1271, 1291, 1311, and 1331nm. FiberMall's 400G LR4 transceiver has the same function and quality as the Cisco 400G transceiver and Arista 400G transceiver and has better compatibility.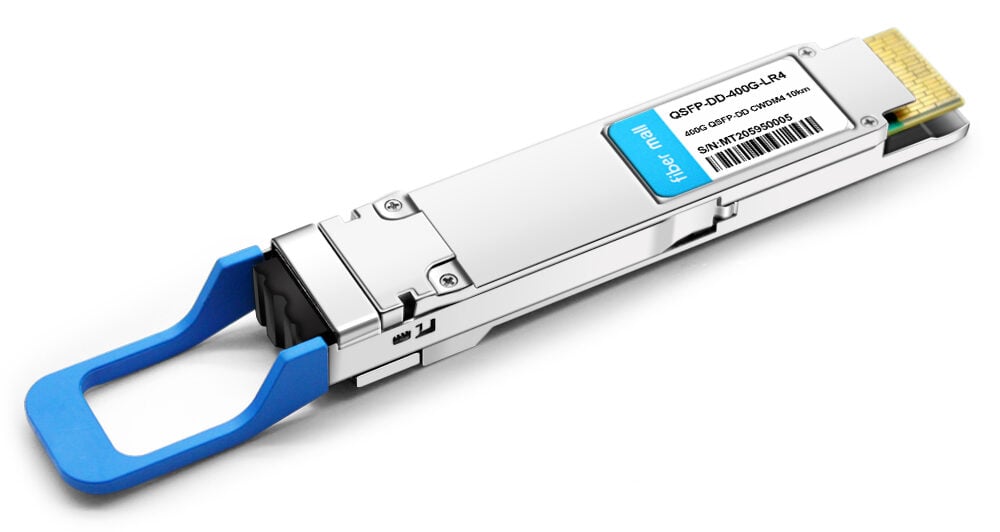 FiberMall 400G QSFP-DD LR4  Optical Transceiver
● 

400G SR8 Optical Transceiver 
400G SR8 is a Quad Small Form Factor Pluggable–double density fiber optic transceiver compliant to IEEE 802.3bs Specification. This module offers 8 parallel transmitter and receiver lanes, where 400 Gigabit Ethernet signal is carried over. Each of these 8 independent channels is capable of a 53.125Gbps(PAM4) data rate to aggregate a total bandwidth of 400Gb/s on 100 meters of OM3 multi-mode fiber cable with MTP/MPO-16 connector. The center wavelength of the 8 independent channels is 850nm. Similar to DR4, FR4, LR4 QSFP-DD 400G optical module, 400G SR8 is compliant with QSFP-DD MSA specification and IEEE 802.3bs protocol. 
What is the Difference Between 400G QSFP-DD FR4 and 400G QSFP-DD FR8?
Reliability
The 400G QSFP-DD FR4 has a baud of 53.125GBd and the 400G QSFP-DD FR8 has a baud of 26.5625GBd. As the baud increases, the MPI cost and CD cost of PAM4 gradually increase, facing the challenge of long-term reliable operation, thus requiring a more robust FEC and addressing interoperability issues. Both optical modules use KP4 FEC, 400G QSFP-DD FR4 with >80% Margin per channel and 400G QSFP-DD FR8 with >90% Margin per channel, 400G QSFP-DD FR8 will be more reliable compared to others.
Modulation
Both the 400G QSFP-DD FR4 and 400G QSFP-DD FR8 are 8-channel 53Gbps PAM4 modulation on the electrical side, and the difference is on the optical side. The FR8 optical port side uses 8-channel 53Gbps PAM4 modulation; The optical interface side of FR4 uses four channels of 106Gbps PAM4 modulation. Internally, the Gearbox chip multiplexes the two electrical interface inputs into one signal and then modulates them to the optical interface. Therefore, the rate of the optical interface side is twice that of the electrical interface side, namely, four channels of 106Gbps PAM4 signals. The 50G PAM4 is upgraded to 100G PAM4 modulation, and the dispersion tolerance is reduced.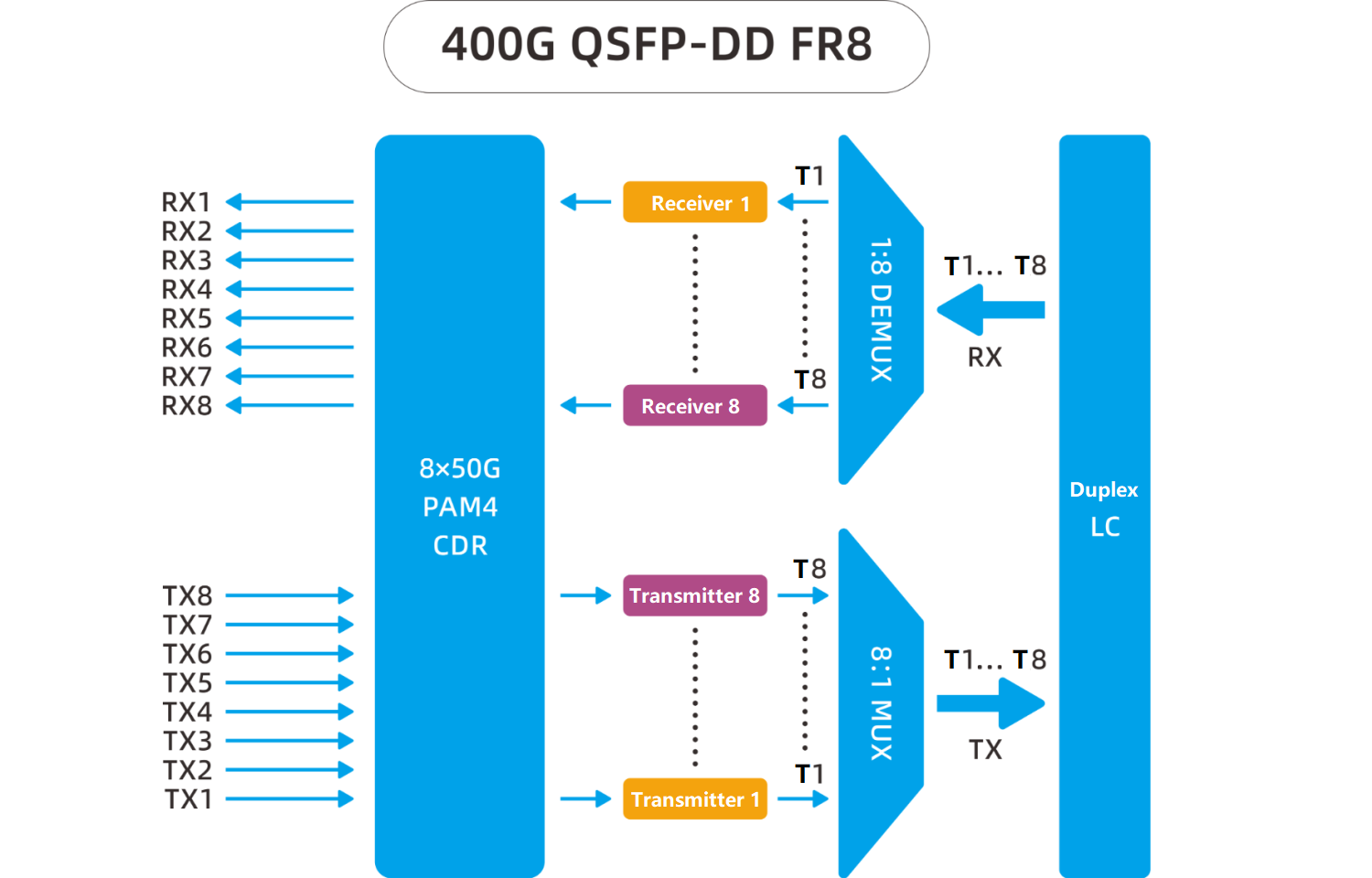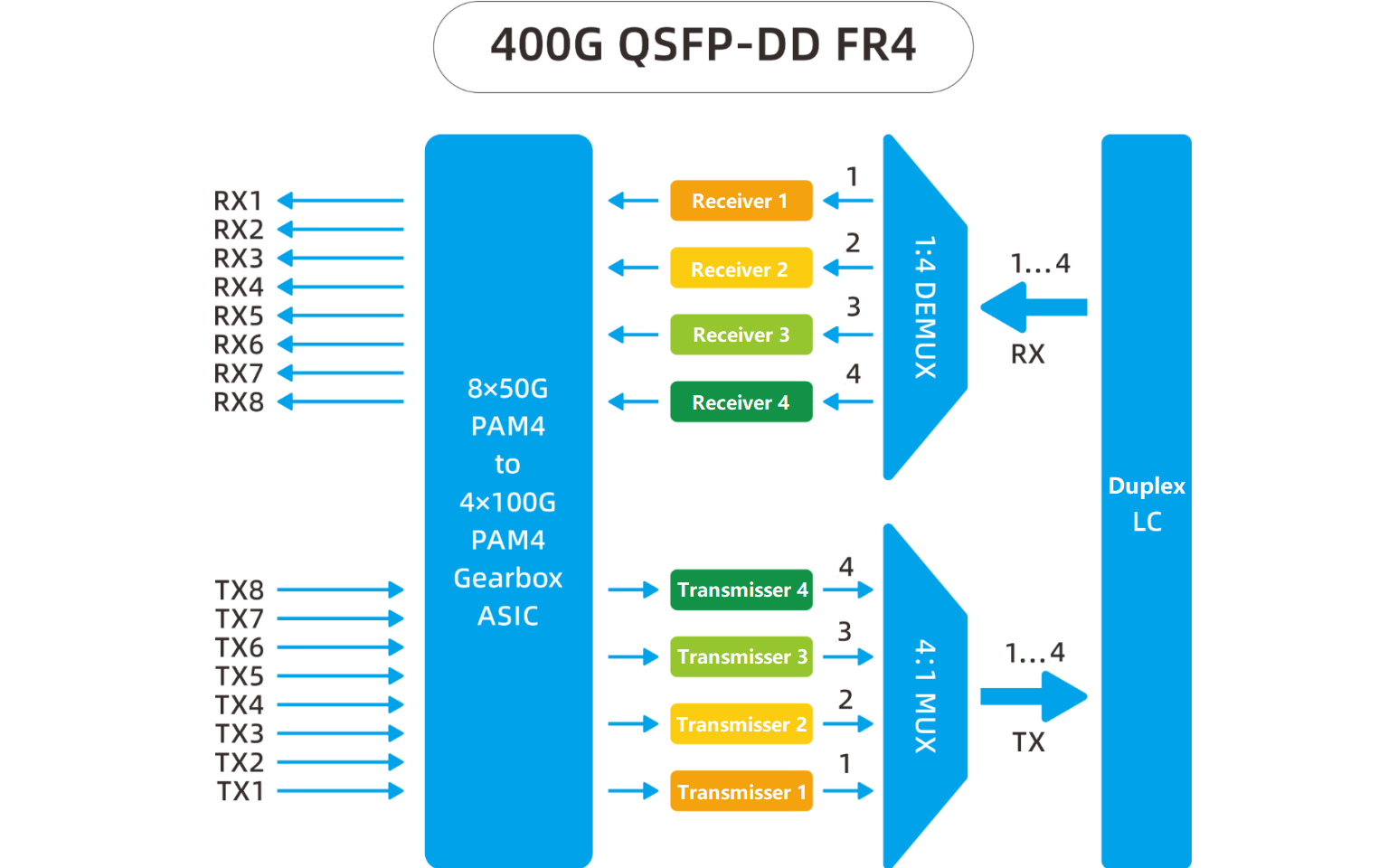 DSP Latency
The 400G QSFP-DD FR4 uses an 8:4 Gearbox internally, resulting in a poor latency performance of about 102ns, while the 400G QSFP-DD FR8 has only about 84ns latency. Therefore, 400G QSFP-DD FR8 has better latency performance. The 400G QSFP-DD FR8 is more suitable for scenarios requiring high-performance computing.
Power Consumption
On the one hand, the 400G QSFP-DD FR8 offers improved link budgets. But on the other hand, using more lasers makes the modules consume more power, the total laser cost per module is higher, and the optical package is more complex, resulting in lower output and higher production cost. In contrast, the 400G QSFP-DD FR4 has lower power consumption and simpler heat treatment capabilities.
| | | |
| --- | --- | --- |
| Projects | FR4 | FR8 |
| Baud | 53.125GBd | 26.5625GBd |
| DSP Latency | ≈102ns greater | ≈84ns smaller |
| MPI Cost | poor | fair |
| CD Cost | poor | fair |
| KP4 FEC Margin | reliable | very reliable |
| Power Consumption | low | high |
| Transmission Performance | fair | good |
In summary, the 8-way optical 400G QSFP-DD FR8 offers better transmission performance in all aspects compared to the 400G QSFP-DD FR4 but is slightly inferior in power consumption and cost. 400G QSFP-DD FR4 is suitable for commercial data centers, while 400G QSFP-DD FR8 is more suitable for high-performance computing.
According to the research of Lightcounting, a market research organization in the optical communication industry, on the global optical transceiver market, FiberMall will analyze and summarize the global optical transceiver market demand and shipments in 2021.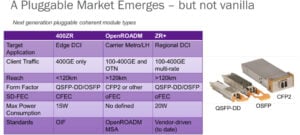 Recently, the latest research report of LightCounting shows that the sales of Ethernet optical transceivers will reach US$4.6 billion in 2021, a year-on-year increase of 25%. LightCounting expects the market's CAGR(compound annual growth rate)to slow down to 14% in 2022-2027, but even at this modest growth rate, the segment will still reach $10 billion by 2027.
What is driving the growth?
In fact, optical transceiver suppliers have recovered from the impact of COVID-19 in early 2020 in just a few months, with demand for products from 1GbE to 400GbE exceeding their full-year expectations. "As the tide rises, even the sales of 1GbE optical transceivers have picked up, not to mention 10G and 40G products." Demand for traditional low-rate products began to decline at the end of 2020 but picked up again in the first half of 2021, which was unexpected. Most likely, the new and possibly final wave of demand for traditional low-rate products comes from enterprise and telecom network upgrades, which have been delayed largely due to COVID-19.
Another important factor driving the market growth is the very strong demand for 200GbE and 400G optical modules. Google started deploying 400G optical modules 3 years ago, while Amazon started in 2020, and Meta (formerly Facebook) delayed the deployment of 200G to 2021, which had a huge impact on the market. In addition, the first sale of 2x400G optical modules to Google also contributed to market growth in 2021. This momentum is expected to continue into 2022, but LightCounting predicts slower growth in 2023-2027.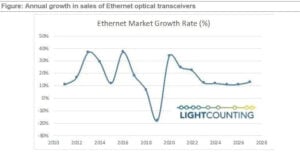 LightCounting notes that its forecast model is based on assumptions about bandwidth growth for Ethernet optical connections in numerous applications. Besides, LightCounting has also modeled the consumption of optical modules for each of the top ten cloud computing companies. For example, LightCounting estimates that Amazon will nearly double the bandwidth of its data center network by a massive upgrade to 400G connectivity in 2020 and 2021. Over the longer term, bandwidth growth is expected to decrease to 40% per year, or double every two years or so.
At the same time, LightCounting also raised its expectation for 800G and 1.6T products. LightCounting noted that conservative forecasts are suitable for markets prone to volatility, as it helps explain unexpected slowdowns in demand and economic downturns. It is unusual that the pandemic is good for the optical module industry as a whole. The Ethernet market achieved a CAGR of 18% from 2011 to 2021, without great decline. With that in mind, a CAGR of 14% for 2022-2027 is a very reasonable assumption.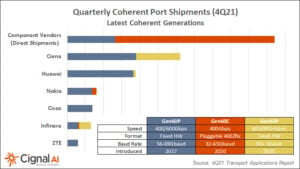 Shipments of 400G ZR/ZR+ modules surged in the fourth quarter of 2021 as Cisco (Acacia) and Marvell rapidly expanded their production capacity, according to research firm Cignal AI's Q4 2021 Transport Application Report. However, demand from cloud service providers still outstrips supply, which will increase this year as production climbs from suppliers such as Ciena, NeoPhotonics, and II-VI. Cignal AI expects shipments of 400G  ZR/ZR+ modules to grow by 200% in 2022 as cloud operators such as Microsoft, Amazon, and Google, as well as traditional network operators such as AT&T, Windstream, and COLT, roll out large-scale deployments.
Scott Wikinson, the chief optics analyst of Cignal AI, said: "Cloud service providers and telecom operators are making fundamental changes to their network architectures due to the commercial availability of pluggable 400G coherent modules. Shipments of the 400G ZR module are growing rapidly, and so far, more than half of the shipments came from the fourth quarter."
Further highlights from the Q4 2021 Transport Application Report:
As pluggable coherent modules reshape the supplier landscape, the number of coherent ports directly procured by operators is growing rapidly.

Shipments of Gen60C pluggable 400G ZR modules still have supply constraints, with only two suppliers meeting nearly all of the demand to date.

Ciena remains the largest supplier of state-of-the-art Gen90P 800G coherent ports, although shipments of Infinera and ICE6 products are growing rapidly.

Compact modular revenue in North America grew 25% in 2021 and Cienais the market leader in this category.

Only Huawei achieved Packet-OTN sales growth in 2021. Nokia's continued investment in its OTN product portfolio has made it the leading OTN supplier in Europe and the US, where the company is best positioned to win Huawei's business.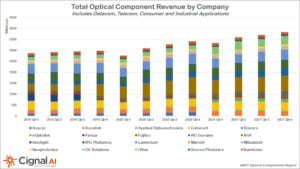 According to Cignal AI's latest Optical Components Report, cloud service providers' capital expenditures for hyperscale data centers drive datacom optical components revenue growth by 27% and the growth reached $4.7 billion in 2021, which outpaced component revenue growth for telecommunication, consumption, and industrial optical applications.
Shipments of modules at this rate doubled to record levels in 2021 as large cloud providers and some enterprise customers' demand transitioned from 100G to 400GbE. "The transition to 400GbE is well underway, and pluggable coherent 400Gbps technology is revolutionizing the design of optical networks connecting data centers," said Scott Wilkinson, principal optics analyst at Cignal AI. "The speed of 400Gbps will drive spending and bandwidth growth in and outside the data center in 2022."
400G Optical Transceiver Application Scenarios
With the increasing maturity of industry standards and network requirements, 400G optical modules have led the development of the optical communication industry, especially in the following three application scenarios gaining more and more attention: data centers, metropolitan area networks, and long-distance high-capacity transmission networks.
Datacenter
Network Optical Module Solution for 400 GB Data Centers (Background: Rapid growth of east-west traffic)
By 2021, about 70 percent of data center east-west traffic will remain within the data center, with growth rates expected to be significantly higher than north-south traffic and traffic between data centers, greatly increasing the demand for high-speed optical modules.
North American OTT customers plan to begin deploying 400G solutions in 2020. Starting in the first half of 2019, Chinese OTT customers also initiated the first 400G test in China involving multiple 400G optical module suppliers.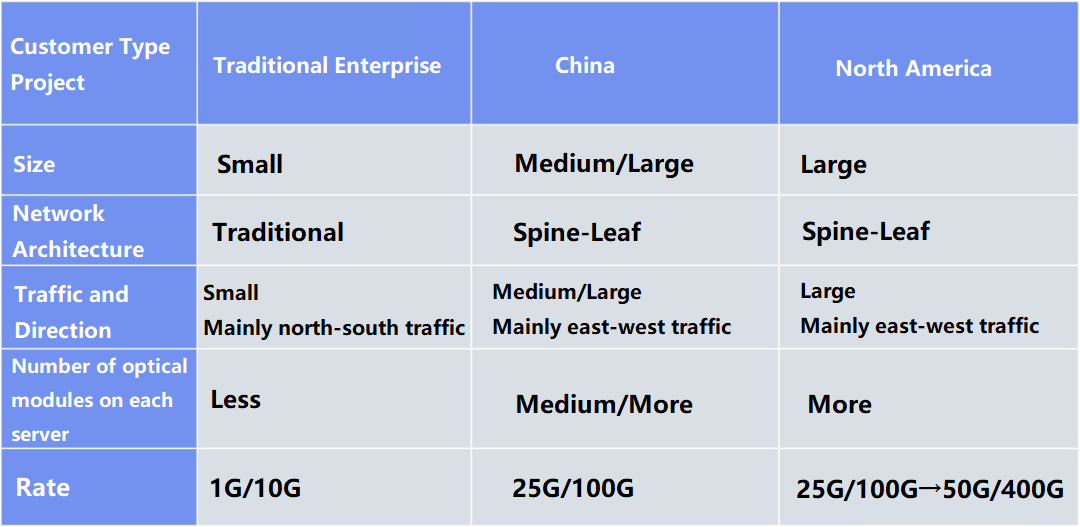 Metropolitan Bearer Network
400G optical module solution for MAN (Background: New services drive traffic growth in the 5G era)
With the rapid development of 5G, new services, including ultra-high-definition video, Internet of Things, VR/AR, and Internet of vehicles have put forward new requirements for bearer networks: ultra-high bandwidth, massive connections, ultra-low latency, and high reliability.
The existing 100GE ports in metro networks cannot support the aggregation and core layers that require ultra-broadband, and the demand for 400GE optical interconnection solutions has arisen.

Take the 5G bearer network as an example. According to the bandwidth assessment of the Next Generation Mobile Network (NGMN) Consortium, the access layer bandwidth will grow to 50GE and the core layer bandwidth will grow to 200GE/400GE during the large-scale 5G commercialization of metro networks.

Long Distance High Capacity Transmission Networks
400G optical module solutions for DWDM networks (Background: Traffic growth increases bandwidth pressure for long-distance transmission)
Network traffic growth leads to increased port bandwidth on the transmission network. For long-haul and high-bandwidth transmission, Wavelength Division Multiplexer (WDM)-based coherent transmission technology provides the best solution.
As 400G coherent solutions mature, the demand for 400G coherent ports will grow rapidly beyond 2020.
Two drivers are driving the growth of 400G coherent ports: growth in network bandwidth and an increase in the number of client 400GE ports.
According to LightCounting's forecast report, 400G coherent ports will be used in an increasing number of networks and will see the fastest growth over the next five years.
The 400G QSFP-DD DR4 optical module uses a standard MPO-12 connector to transmit up to 500m over single-mode fiber. It can also be connected to 100G DR optical modules. It adopts a 1310nm EML transmitter type and PAM4 pulse amplitude modulation mode.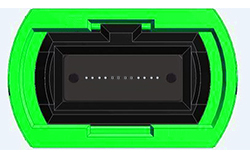 Advantages of 400G QSFP-DD DR4 Silicon Photonics Optical Transceiver
There are two types of 400G QSFP-DD DR4 optical modules: traditional electric-optical chip-separated optical modules, and the electric-optical chip-integrated silicon photonics optical modules that have emerged in recent years.
The 400G DR4 silicon photonics optical module usually adopts a 7nm DSP chip, and the power consumption is less than 10W, which meets the green application requirements of the data center. Compared to traditional optical modules with a 4-channel 100G EML solution, 400G DR4 silicon photonics optical modules only need single or dual light sources, which can effectively reduce the number of lasers.
Meanwhile, the 400G QSFP-DD DR4 silicon photonics optical module adopts the COB packaging process, allowing passive coupling between the optical fiber and silicon optical chip, and the optimized design eliminates TEC temperature control components, making it easier to achieve mass production and more obvious cost advantages.
Relevant data shows that 400G QSFP-DD DR4 silicon photonics optical module can save 10%~30% of cost compared with the traditional optical transceiver. LightCounting, a well-known research institute in the optical communication market, said that the market for digital communication high-speed optical modules is expected to reach $6.5 billion in 2024, and silicon photonics optical modules will be commercialized on a large scale, and their market share will occupy 60%.
For high-rate optical devices, a silicon photonics optical chip is the best way to realize the single chip integration of photonic and electronic chips, which can realize the super-large capacity data exchange under the premise of effectively controlling the cost and power consumption.
With the gradual maturity of silicon optical chip technology, the market share of 400G DR4 silicon optical module will continue to increase and show irreplaceable characteristics.
Other highlights of the 4Q21 Optical Components Report:
In 2021, shipments of QSFP-DD data communication module were 8 million, most of which were in DR4 format;

In 2021, more than 60,000 400Gbps pluggable coherent modules were shipped, most of which were QSFP-DD ZR;

In 2021, shipments of 200Gbps coherent CFP2 modules increased by 17% to just over 200,000 units, as Chinese OEM FiberMall increased capacity at this speed for farther metro and long-haul applications.
As previously known, Cisco finally acquired Acacia at a price of 4.5billion.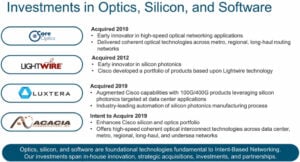 The growth rate of ordinary optical modules is slowing down, but coherent optical modules doubled. What Acacia does best is exactly the coherent part.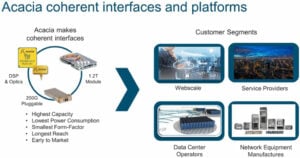 Dell'Oro's data shows that 400G ZR will reach 250,000 units in 2026, while 800G ZR will be produced faster than 400G ZR at the very beginning, driving the rapid development of rates.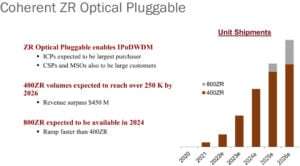 The gradually miniaturized coherent module can just meet the concise and open requirements of DCI. Whether it is ZR or ZR+, either 400G or 800G, opportunities for the DCI market outweigh the challenges.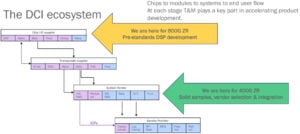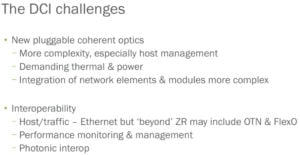 Conclusion
400G transceivers in Quad Small Form-factor Pluggable–Double Density (QSFP-DD) based on the PAM4 modulation technique have become popular for 400G optical network interconnection in the data center. 400G ZR, DR4, FR4, LR4 and SR8 QSFP-DD optical exemplify the PAM4 technology in 400G Ethernet application. FiberMall is a professional optical communication integrated supplier, currently providing products including fiber optic transceivers, DAC & AOC cables, fiber optic cables, WDM &PLC splitters, and other networking series. 400G DR4/FR4/LR4/SR8/ZR optical transceivers are available in FiberMall and you are always welcome to contact us or visit our website.