Optical transceivers are key devices to realize optical network interconnection in the data center. As the number and density of ports go on, data centers have to take the cost of optical modules into consideration since it is expected to account for nearly half of the cost of optical networks in IDC. At present, the newly-built data centers of major Internet companies are looking to make a transition to 400G Ethernet. 400G QSFP-DD optical modules are the most common optical solutions for the 400G high data rate network connectivity. A brief introduction of 400G QSFP-DD optics will be given in this post.
What is QSFP-DD in the 400G Transceiver Module?
QSFP-DD, an abbreviation of Quad Small Form-factor Pluggable (QSFP) – Double Density (DD), is a high-speed hot pluggable form factor defined by the QSFP-DD MSA group as a key part of the optical communication industry to achieve high-density networking. As the best option for the 400G optical transceiver form factor, this QSFP-DD connector enables data centers to effectively grow and expand cloud capacity as needed. 
QSFP-DD is forward and backward compatible with the QSFP port and is also compatible with the existing QSFP28 optical modules and AOC/DAC, etc. The electrical interface of a QSFP-DD connector consists of 8 electrical lanes,  running at 25Gb/s NRZ signal or 50Gb/s PAM4 signal each for a total bandwidth of 200Gb/s or 400Gb/s. QSFP-DD can achieve up to 14.4Tb/s aggregated bandwidth in a single switch slot.
| | | | | | |
| --- | --- | --- | --- | --- | --- |
| Optical Interface | Optical Signal Rate | Transmission mode | Standard | Electrical Signal  Rate | Form Factor |
| 400G-SR16 | 16*26.5Gbps NRZ | 100m MM | 802.3bs | 16*26.5Gbps NRZ | CDFP/CFP8 |
| 400G-FR8 | 8λ*53Gbps PAM4 | 2km SM | 802.3bs | 8*53Gbps PAM4 | QSFP DD/OSFP |
| 400G-LR8 | 8λ*53Gbps PAM4 | 10km SM | 802.3bs | 8*53Gbps PAM4 | QSFP DD/OSFP |
| 400G-SR8 | 8λ*53Gbps PAM4 | 100m MM | 802.cm | 8*53Gbps PAM4 | QSFP DD/OSFP |
| 400G-SR4.2 | 4*2λ*53Gbps PAM4 | 100m MM(2λ) | 802.3cm | 8*53Gbps PAM4 | QSFP DD/OSFP |
| 400G-DR4 | 4*106Gbps PAM4 | 500m SM | 802.3bs | 8*53Gbps PAM4 | QSFP DD/OSFP |
| 400G-FR4 | 4*106Gbps PAM4 | 2km SM | 100G/λ MSA | 8*53Gbps PAM4 | QSFP DD/OSFP |
| 400G-LR4 | 4*106Gbps PAM4 | 10km SM | TBD | 8*53Gbps PAM4 | QSFP DD/OSFP |
| 400G-ZR | DWDM+59.8Gbd DP-16QAM | >80km DWDM | OIF |   | QSFP DD/OSP |
∆ Technical Indicators for Different 400G Fiber Transceiver Types
What are the Common 400G Transceiver Types in the Market?
● 

400G DR4 QSFP-DD Transceiver
400G DR4 is an optical transceiver module designed for 400G Ethernet data center interconnect in QSFP-DD (Quad Small Form Factor Pluggable-double density ) form factor. On the transmitter end, this DR4 module converts 8 channels of 50Gb/s (PAM4) electrical signal into 4 channels of parallel optical output data, each capable of 100Gb/s data rate for an aggregated bandwidth of 400Gbls. On the receiver side, the optic transceiver converts 4 lanes of parallel optical data of 100Gbp/s each lane for an aggregated of 400Gbp/s to supports 8 lanes of 50Gb/s PAM4 electrical output signal.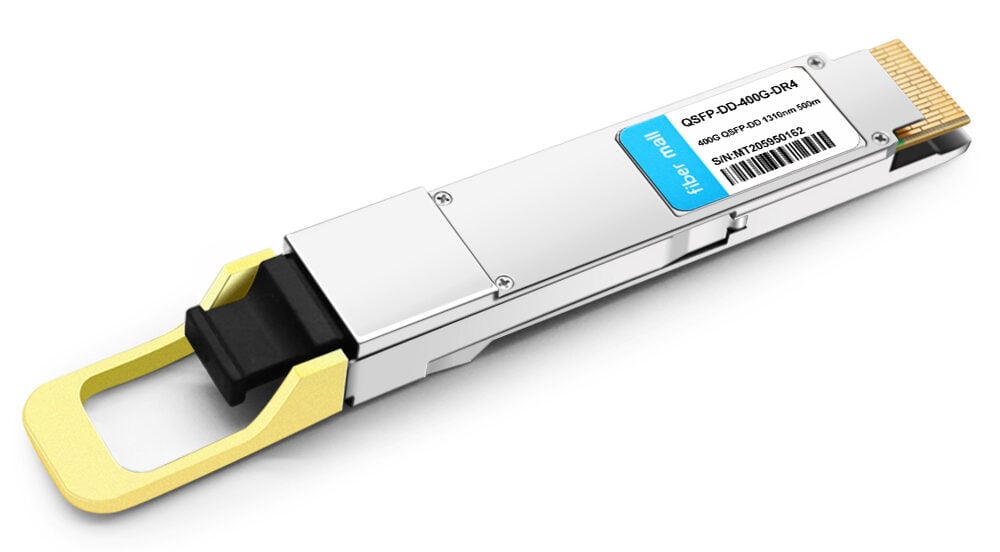 Fiber Mall 400G DR4 QSFP-DD Optical Transceiver Module
The 400G QSFP-DD DR4 fiber module achieves the transmission over SMF(single-mode fiber) with an MPO-12 connector. Normally, the 400G transceiver of QSFP-DD DR4 form-factor supports a max transmission distance of 500 meters on 1310nm center wavelength. The product is designed with digital diagnostic functions according to the 400G QSFP-DD Multi-Source Agreement (MSA).
● 

400G FR4 QSFP-DD Optical Transceiver
The 400GBASE-FR4 module is a 400Gbps hot-pluggable transceiver in a QSFP-DD form factor that supports 8 high-speed electrical interfaces connecting to the host. The 400G FR4 transceiver incorporates 4 independent lanes on CWDM4 center wavelengths of 1271/1291/1311/1331nm running at 100Gbps per lane. 4 uncooled 100 Gbps CWDM EMLs are used in the DSP AND EML lasers as an optical drive with an optical multiplexer. It is designed with a duplex LC connector for the optical interface to support up to 2km transmission for 400G Ethernet links over single-mode fiber (SMF). 400G FR4 QSFP DD fiber transceiver module follows a similar protocol of 100G Single Lambda MSA specification for 400G FR4 and QSFP-DD MSA specification.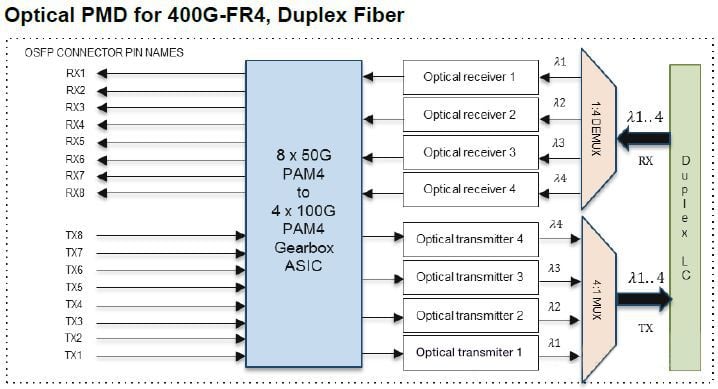 ∆ Diagram of 400G FR4 QSFP-DD Transceiver Module with Duplex Fiber
● 

400G LR4 QSFP-DD Transceiver Module
400GBase LR4 fiber optic modules are designed with a built-in Gearbox chip that multiplex the two channels' electrical input data into single-channel outputs signal and then modulates it to the optical receiver end. Specifically, the DSP basis gearbox converts 8 channels of 25GBaud PAM4 signals into 4 channels of 50GBaud (PAM4) signals over an SMF (Singlemode Fiber) cable with duplex LC connectors. This 400G LR4 transceiver product features FEC and full real-time digital diagnostic monitoring, supporting a transmission distance of up to 10km. It defines a 400Gb/s PHY for operation on the four CWDM center wavelengths of 1271, 1291, 1311, and 1331nm. Fiber Mall's 400G LR4 transceiver has the same function and quality as the Cisco 400G transceiver and Arista 400G transceiver and has better compatibility.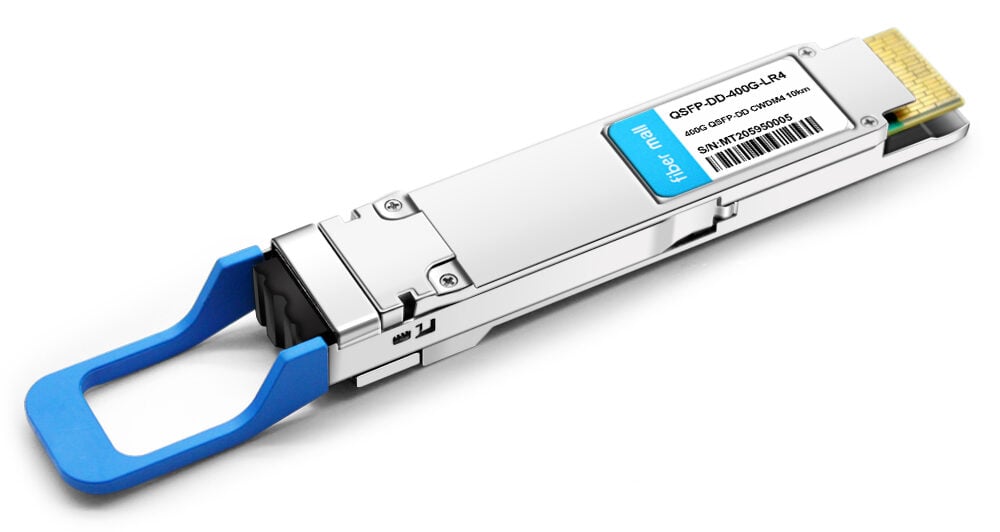 Fiber Mall 400G QSFP-DD LR4  Optical Transceiver
● 

400G SR8 Optical Transceiver Module
400G SR8 is a Quad Small Form Factor Pluggable–double density fiber optic transceiver compliant to IEEE 802.3bs Specification. This module offers 8 parallel transmitter and receiver lanes, where 400 Gigabit Ethernet signal is carried over. Each of these 8 independent channels is capable of a 53.125Gbps(PAM4) data rate to aggregate a total bandwidth of 400Gb/s on 100 meters of OM3 multi-mode fiber cable with MTP/MPO-16 connector. The center wavelength of the 8 independent channels is 850nm. Similar to DR4, FR4, LR4 QSFP-DD 400G optical module, 400G SR8 is compliant with QSFP-DD MSA specification and IEEE 802.3bs protocol. 
Conclusion
400G transceivers in Quad Small Form-factor Pluggable–Double Density (QSFP-DD) based on PAM4 modulation technique has become popular for 400G optical network interconnection in the data center. 400G DR4, FR4, LR4 and SR8 QSFP-DD optical exemplify the PAM4 technology in 400G Ethernet application. Fiber Mall is a professional optical communication integrated supplier, currently providing products including fiber optic transceiver, DAC & AOC cables, fiber optic cables, WDM &PLC splitter, and other networking series. 400G DR4/FR4/LR4/SR8 optical transceivers are available in Fiber Mall and you are always welcome to contact us or visit our website.