Classification and comparison of mainstream DCN SDN solutions
Huawei Network
Cisco
ZTE
Juniper
Arista
/HP (resale)
Brocade
Huawei IT
Nokia
VMware NSX
Category of manufacturer
Switch manufacturers
Software manufacturers
Category of SDN Solution
Switch-based Overlay scheme
(Pure Hard Overlay or Hybrid Overlay)
Server-based Overlay Scheme
(Pure Soft Overlay)
SDN products
AC
ACI
ZENIC
Juniper Contrail or VMware NSX
Nokia Nuage VSP or VMware NSX
VMware NSX
Neutron+
Nuage VSP
NSX
Transponder Products
CE series switches, VSG/Edumon series firewalls
Nexus Series Switches
hardware:M6000,BigMatrix 9900, 5960 TOR
software:ZXDVR,ZXDVS,vFW

QFX series switches, MX series routers
75/73/72/71/70 series switches
VDX series switches
Software: EVS (Enhanced OVS)
software:VRS
hardware:VSG 7850
Software: NSX set
Note:
Cisco also has a VTS solution, a server-based overlay solution, but it is not the main one. It is mainly used in old scenarios (not Nexus 9K)
Although Contrail, VSP, and NSX are primarily based on software overlay, they can also manage some hardware switches (the management functions of different manufacturers are limited).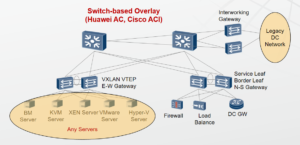 Switch-based Overlay Solution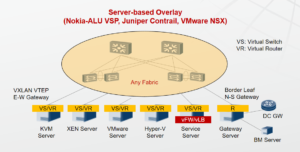 Server-based Overlay Solution
Comparison of Two Overlay Schemes
Switch-based Overlay Solution
All Overlay functions are on the switch
Easier to support various hypervisors and physical servers
VXLAN wire-speed forwarding and low latency. Support SR-IOV-based NFV applications
The O&M management tools and protocols of physical switches are mature and standardized, and the image monitoring performance is good
The server and network are operated and maintained separately to locate network faults better
It is more suitable for newly built or partially reutilized manufacturers (Note: Interworking Gateway can be used to access traditional VLAN networks)
Server-based Overlay Solution
All Overlay functions are on the server
Rely on Hypervisor, it is difficult to support all Hypervisors and physical servers
When VXLAN is enabled on the vSwitch, the performance is greatly degraded
The O&M of vSwitch is not very mature, and there are not many tools or protocols such as SNMP, OAM, BFD, xFlow, and mirroring that are like physical devices.
Network fault location is difficult because the server and network are coupled
It is more suitable for the full-reutilized or OTT (Over The Top) scenario (the fabric of the data center is owned by a third party, such as AWS)
Comparisons between the Huawei Soft SDN/Hard SDN
Huawei's two SDN Region control planes: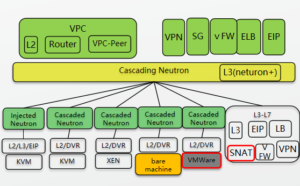 Soft SDN Region Control Plane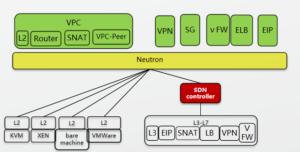 Hard SDN Region Control Plane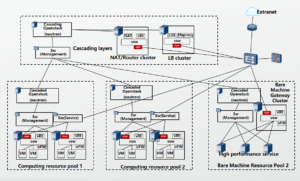 Huawei Soft SDN (Model)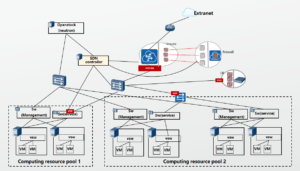 Huawei Hard SDN (Model)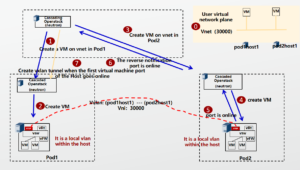 Soft SDN (Control Plane Process)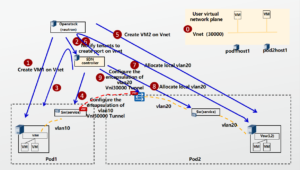 Hard SDN (Control Plane Process)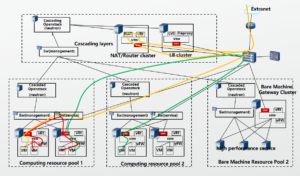 Soft SDN (service Traffic)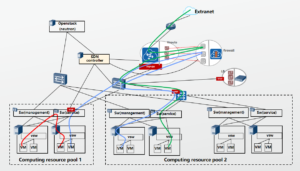 Hard SDN (service Traffic)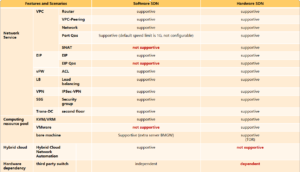 Comparison and summary of Huawei's two SDNs
Conclusion:
Both soft SDN and hard SDN can meet the basic network capabilities of cloud data centers and support Layer 2 interworking across DCs. Here are the comparisons of their differences:
Soft SDN:
Decoupled from hardware and no vxlan switch is required. Router/LB/vFW network equipment adopts software clustering
multi-level Openstack architecture, which is flexible and easy to expand, suitable for large-scale scenarios
In small-scale scenarios, the management node occupies more x86 devices
Hard SDN:
vxlan is encapsulated/decapsulated on hardware network devices and has high forwarding performance (high throughput and low delay).
It is Coupled with network hardware devices, relying on hardware devices to support Vxlan, currently only commercialized with Huawei hardware devices;
The application scenario is small-scale (2000 nodes).
Note:
The forwarding performance is lower than that of the hard SDN scenario. In fact, by improving the performance of virtual switches, such as DPDK, and bare metal services, the performance can be equal to that of hard SDN;
Huawei Soft SDN has been commercialized by large-scale users on the public cloud, and it can support up to 100,000 hosts and one million tenants.