For decades, data centers have been seen as the nexus of the web and a fundamental building block of the digital economy. Data centers are the heart and muscle of IT for companies, telecoms operators, and service providers such as Google and Facebook.
The emergence of the cloud underscores the centrality of the modern data center. But with the advent of technologies such as 5G and the Internet of Things (IoT), IT companies are starting to focus more on small and marginal data centers.
What is an Edge Data Center?
Edge data centers are small data centers near the edge of the network or near end users and devices. Edge data centers are used to provide cache content, cloud computing resources, and analysis capabilities. Content providers, such as video streaming services, often use edge data centers to reduce latency and improve performance.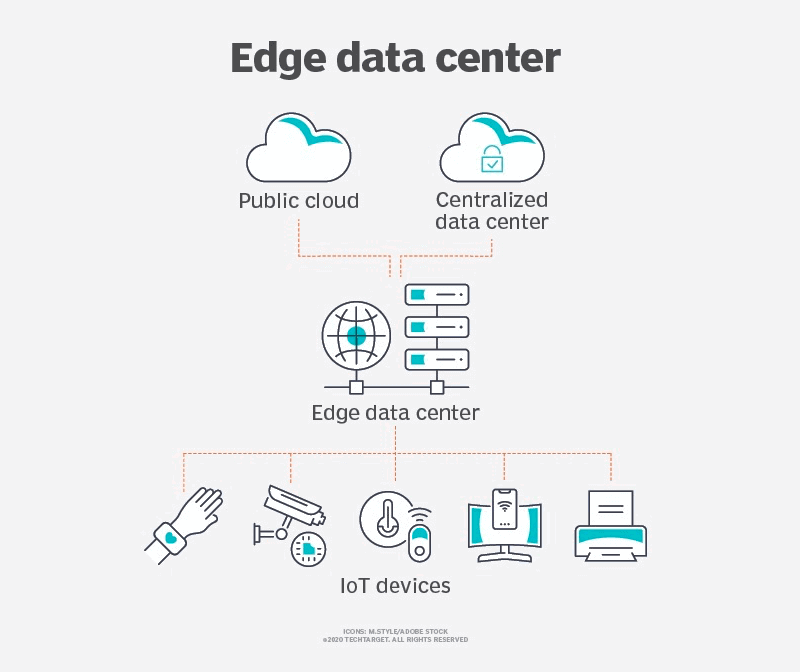 Edge data centers are typically located in hosting facilities, at the bottom of cell towers, or other locations that can be close to end users. It could be a very small computing unit next to a 5G antenna, or it could be one or two racks, but it could also scale up to a 100-200 KW machine room. Edge data centers control data processing at the edge of the network and occupy much less space than traditional data centers. Edge data center deployments are typically managed by service providers, ensuring that the data centers meet customer requirements. The commercialization of 5G, the increasing popularity of Internet of Things (IoT) devices, and the growth of mobile data traffic and OTT traffic globally has contributed to the growing edge data center industry.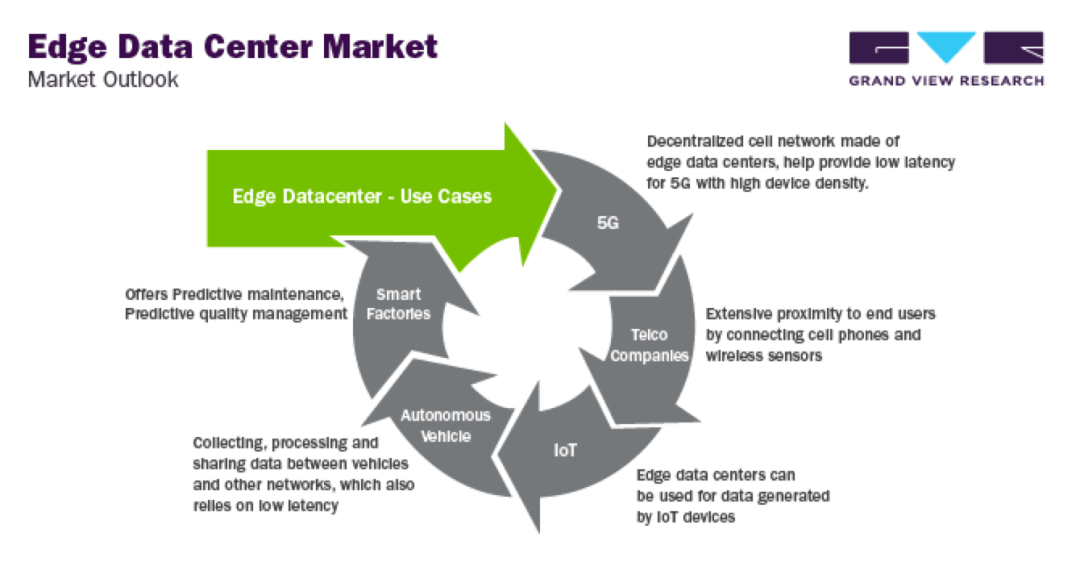 The increase in Internet service usage and the number of connected devices has shifted the trend toward bandwidth-intensive applications. Moreover, the growing popularity of digital services is changing the way data centers are deployed. As the distance from the data center increases, it takes more time to provide digital services to customers. Building a data center closer to the point of application than a centralized data center gives you complete control over data processing and storage at the edge of the network, and can reduce network traffic, and real-time data analysis, lower operational costs and improve application performance.
In addition, the increasing popularity of smartphones and Internet of Things devices has led to an increase in mobile data traffic, and the global need for edge data centers has become increasingly urgent in order to manage the growing volume of data. Mobile data traffic is estimated at nearly 26.8 exabytes per month in 2019 and is expected to exceed 77.5 exabytes per month by 2022, according to the most recent report, Cisco Visual Networking Index: Forecast Update for Global Mobile Data Traffic 2017-2022, released in February 2019. The global marginal data center market reached $7.73 billion in 2021 and is expected to reach $64.09 billion by 2030, with a CAGR of 25.3%.
How Edge Data Centers Work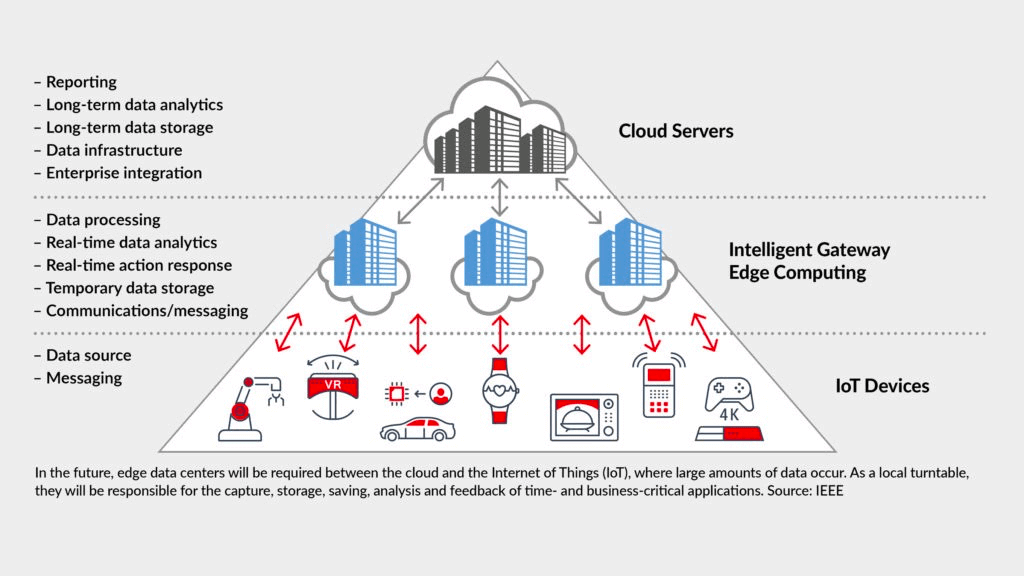 At its most basic, an edge data center serves as a connection between two networks. Edge data centers are located within the Internet exchange points, near the machines that make the requests. The edge data center itself may consist of a micro data center that contains the equipment of a traditional data center but takes up less space.
By moving the processing of requests (such as JavaScript files or HTML) closer to the requesting machine, the time required for data return will be reduced. By moving processing requests, such as JavaScript files or HTML, closer to the requesting machine, the time it takes for data to be returned is reduced. Although an edge data center can provide a variety of services on its own, it usually connects back to a larger data center. This data center can provide more cloud resources and centralized data processing, and can also be used to connect to multiple edge data centers. Each edge data center will store and cache data specific to the edge devices near them. Some edge data centers can also be managed remotely, such as telecommunications companies that own cell tower edge data centers.
Edge Data Center Segment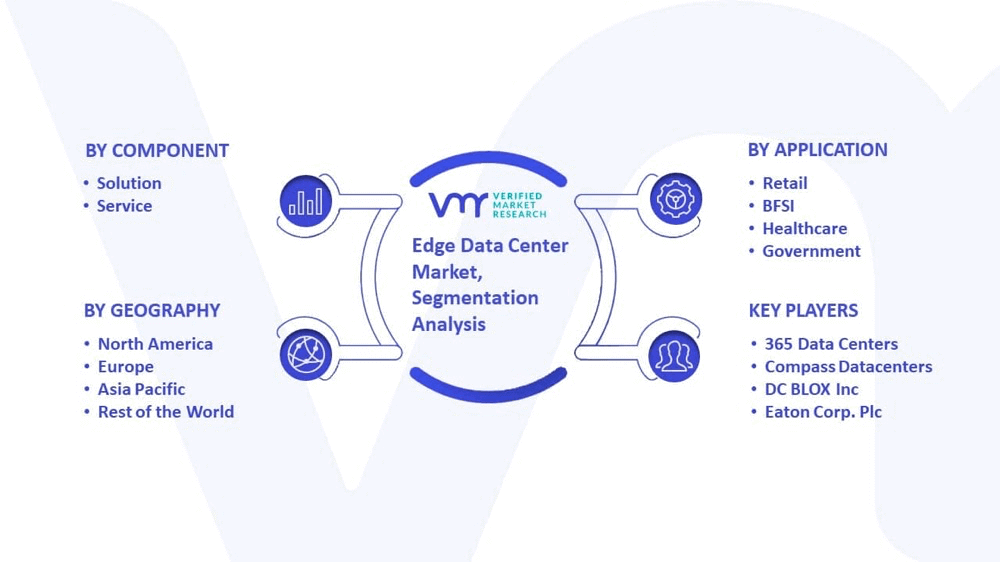 By Component
The edge data center market can be divided into solutions and services by component. As edge data centers continue to grow globally, solutions segments are now dominant, such as uninterruptible power supply (UPS), cooling, fire detection and suppression, access control and remote monitoring, and distribution units. Services include installation, training, and maintenance services. UPS accounted for the largest share of revenue due to the widespread demand for primary and backup power in data centers.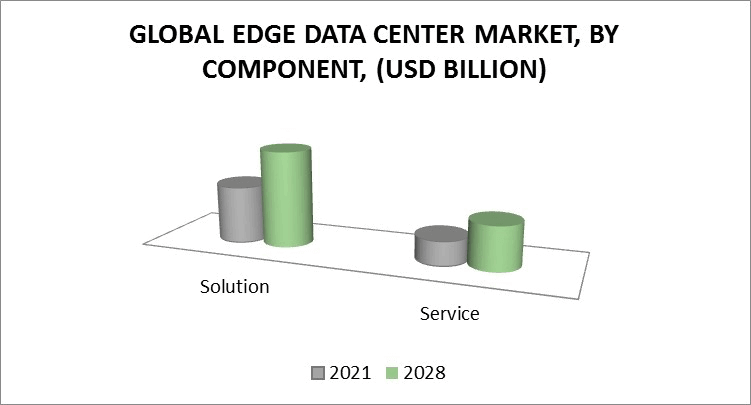 By Organization
The edge data center market is segmented into large enterprises and small and medium-sized enterprises (SMEs). Among them, SMEs hold a larger market share.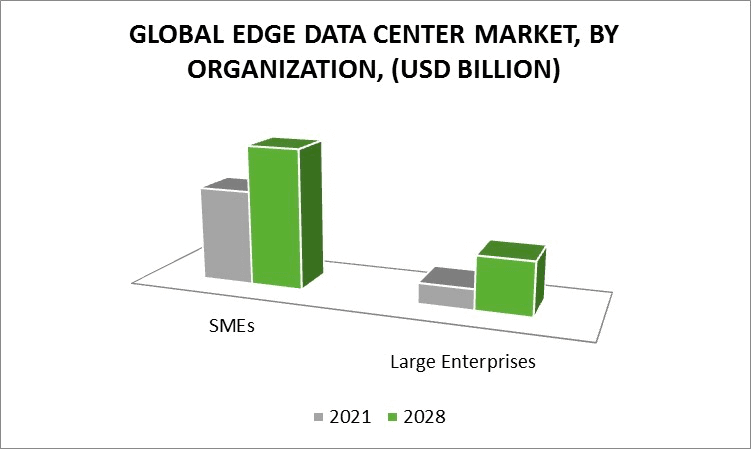 By Application
By application, the market is segmented into retail, banking, financial services and insurance (BFSI), logistics and transportation, healthcare, government, IT and telecom, media and entertainment, manufacturing, education, and energy, etc. The growing demand for secure storage and handling of consumer data by financial institutions is expected to be a key factor driving the growth of this category in the coming years.
By Region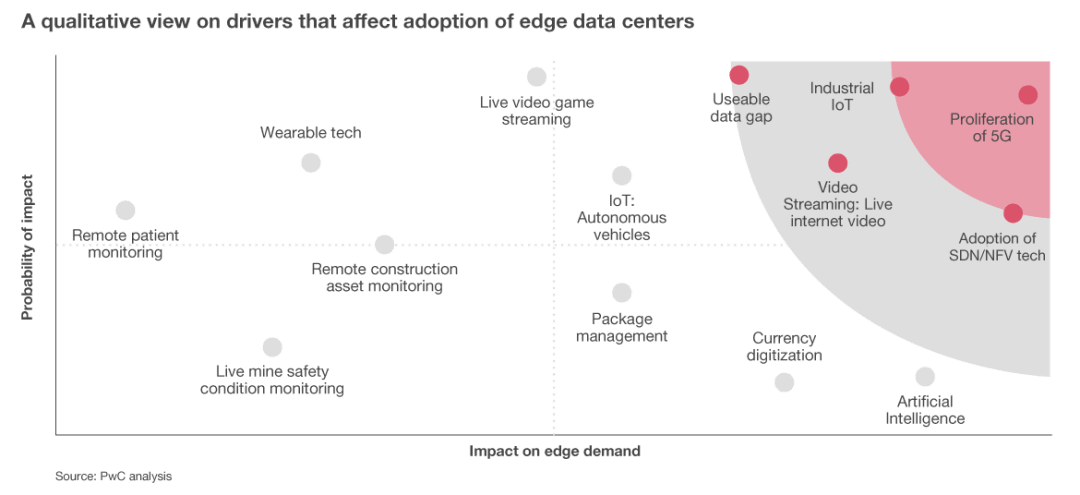 Based on regional analysis, the global edge data center market is segmented into North America, Europe, Asia Pacific, and the rest of the World. North America has the largest market, with the commercialization of 5G, growing data traffic, and increasing government data center deployments further driving its dominance. However, Asia Pacific is expected to grow at the fastest rate in the coming years.
Geographically, the largest market for edge data centers is in the U.S. However, researchers say countries such as China, Japan, and Canada are growing faster, with future compound annual growth rates forecasted at 17.8%, 14.9%, and 14.7%, respectively.
5 Trends that Driven Growth of Edge Data Center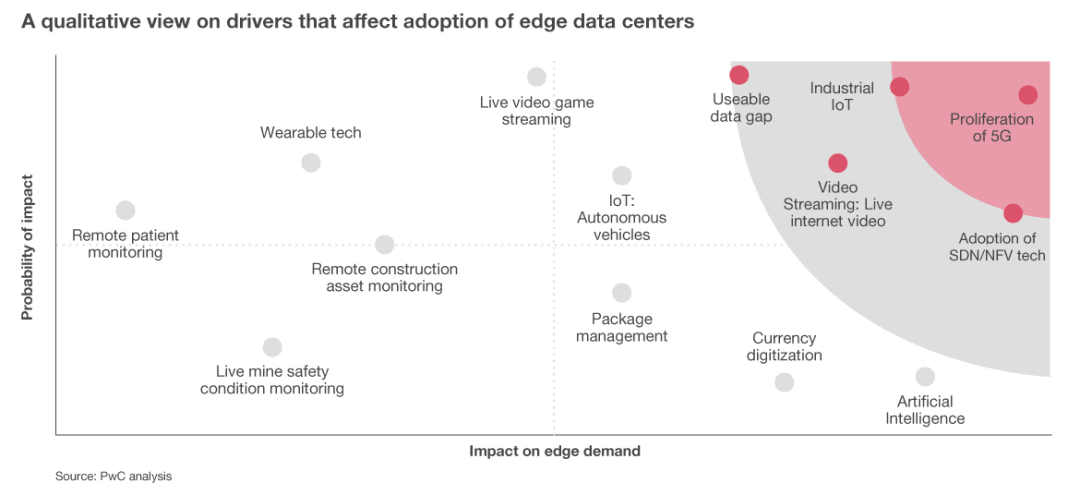 The Arrival of 5G
Decentralized small cell networks in edge data centers provide low-cost, low-latency support for high device density 5G scenarios.
The Evolution of the Internet of Things
As more and more IoT sensors and devices are installed in home and industrial environments, low-latency edge processing is key to managing the ever-increasing volume of data.
Widening Data Gap
By filtering data close to the source, low-cost edge centers can help close the potential 64 zettabyte gap between global data center traffic and the available data created.
Adoption of SDN and NFV
SDN and NFV enable software running on data centers to replace expensive dedicated hardware.
Video Streaming and Augmented Reality/Virtual Reality
Decentralized low-cost edge data centers reduce streaming latency and deliver the performance required by consumer and enterprise users.
Edge Data Center Companies
Huawei
Huawei is a major global provider of information and communications technology (ICT) infrastructure and intelligent devices, founded in 1987. Huawei's intelligent modular solutions for small and edge scenarios include three products (FusionModule500/ FusionModule800/ FusionModule2000) for different industry needs. All of these products are designed to be highly integrated and modular, with built-in SmartLi UPS to reduce the data center footprint by 50-70%. In addition, the rack-mounted cooling system keeps IT equipment working reliably.
HPE
Hewlett Packard Corporate Firm (HPE) is a global enterprise information technology company headquartered in Houston, Texas. The HPE Edge Center is a complete standalone, single-cabinet modular, and software-defined data center that can support any IT environment at the edge. It protects the compute, network, and storage infrastructure while providing an edge management control system that supports edge management automation. With the flexibility to deploy computing quickly and efficiently when and where users need it, the HPE Edge Center is the perfect solution for industrial Internet and other enterprise edge or artificial intelligence workloads.
IBM
IBM is an American global technology company headquartered in Armonk, NY, founded in 1911 and renamed "International Business Machines" in 1924. IBM provides a self-managed product that addresses scale, variability, and rate of change in edge environments, industry solutions, and services that support the edge. IBM also provides solutions to help CSPs modernize their networks and deliver new services at the edge.
Edge Data Center Market Trends
Miniaturization: Edge data centers are designed to be smaller and more modular, enabling them to adapt to a variety of locations and accommodate changing needs.
Software-defined: Edge data centers are increasingly relying on software-defined infrastructure to provide greater flexibility in resource allocation and management.
Ubiquitous Data Centers: With mobile edge data centers, computing resources can be deployed virtually anywhere.
5G necessity: As 5G becomes more prevalent, edge data centers will be used more to support their high bandwidth needs.
Higher density, lower power consumption: Edge data centers are also becoming more efficient in their power usage, resulting in higher compute density in a smaller form factor.
Overall, edge data centers offer opportunities for enterprises to improve performance, reduce latency, and better serve customers. As the demand for distributed computing continues to grow, we could see further innovation and adoption of edge data centers in the market.