Abstract: AT&T is to invest 6-8 billion dollars to deploy the C-band spectrum application in IF bandwidth between 2022 and 2024. Another plan to deploy FTTP to more than 3 million residential and commercial buildings across more than 90 metropolitan areas will be implemented in 2021.
AT&T announced in an analyst event that it would invest US$6-8 billion between 2022 and 2024 to use its new IF bandwidth C-band spectrum to provide 5G services for 70-75 million people by 2022, and 100 million people by early 2023. But these goals lag behind the ones previously revealed by Verizon and T-Mobile at analyst events.
Specifically, T-Mobile highlighted that its 2.5GHz intermediate bandwidth spectrum will cover 250 million people by the end of 2022 without any increase in capital expenditures. Meanwhile, Verizon also disclosed its additional US$10 billion plan on the internet in the next three years to expect a 5G services coverage to 250 million people by 2024. In terms of fiber optic infrastructure, AT&T plans to deploy FTTP (Fiber to the Premises) to more than 90 metropolitan areas and additional 3 million residential and commercial buildings in 2021. It also aspires to expand this number to 4 million by 2020.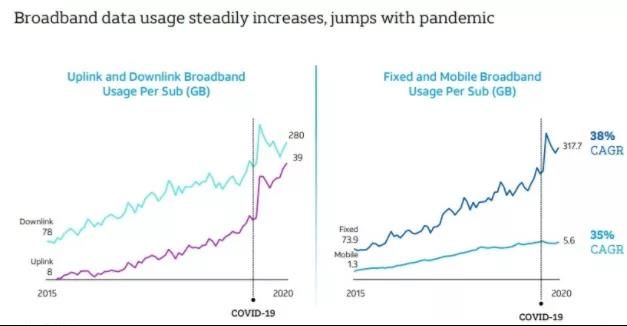 Broadband data usage steadily increases, jumps with pandemic
AT&T is seeking to expand its optical fiber coverage. During the epidemic, data demand and network usage continue to rise, and it is not expected to stop in the short term. According to AT&T's data, upstream and downstream bandwidth data requirements have risen sharply during the epidemic. Among them, the fixed networks saw significant growth, and the monthly usage of a single user has risen to 317.7G.
AT&T predicts that the monthly connectivity usage will continue to go up. By 2025, the usage of intermediate customers is expected to rise to 1.5T per month. In addition, this operator found that data demand will become more and more symmetrical, and the ratio of downlink to uplink will rise from the current 10:1 to around 5:1 in 2025.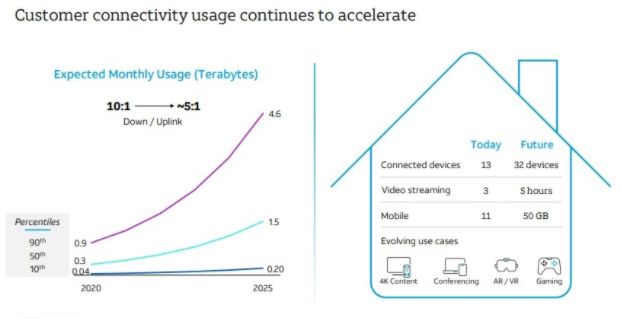 Customer connectivity usage continues to accelerate
Fiber Mall provides optical transceiver modules for 5G deployment, including 25G SFP28 SR、25G SFP28 LR、25G SFP28 ER、25G SFP28 BIDI、25G SFP28 CWDM、25G SFP28 LWDM、25G SFP28 DWDM、100G QSFP28、200G QSFP56、200G QSFP-DD、400G QSFP-DD. Also, a full range of PON Transceivers products needed to deploy FTTP: GPON OLT/ONU, EPON OLT/ONU, 10G EPON OLT/ONU, XGPON OLT/ONU, XGSPON OLT/ONU.
PON technology plays a key role in the 5G connectivity and the PON transceiver is one of the effective solutions for 5G networking. In Fiber Mall, you may also find the PON transceiver product series including GPON OLT/ONU、EPON OLT/ONU、10G EPON OLT/ONU、XGPON OLT/ONU、XGSPON OLT/ONU.