In the past 25 years, the development of optical fiber communication technology in data centers has made great progress–from the highest capacity of commercial optical fiber links at 2.5-10Gb/s in the 1990s to the current transmission speed of 800Gb/s. Such progress has benefited from the large-scale adoption of more expensive high-speed (including 400G and 800G) modules by large cloud service operators. In addition, telecom operators' investment in 5G networks is another driving force to the higher-speed and higher-density ports optical communication system.
1. 

What boosts the Data Center Fiber  Optical Transceiver's Market?
● Increased Investment in Data Center
Great changes have taken place in the infrastructure expenditures in the communications industry in the last decade. In recent years, the enterprise network has been reducing its investment in traditional hardware IT and software and prefers to outsource to cloud service providers.  However, the investment in data center infrastructure is ramping up rapidly instead. Industry research institutions expect data center construction to maintain a growth rate of more than 20% in the next few years.
● 

Rapid Growth of Dat

a

 

Center

 Traffic
The expenditure of the TOP5 cloud computing vendors in the first quarter of 2020 reached US$26.4 billion, an increase of 56% compared to 2019. The boosted investment in data center infrastructure is affecting the global optical transceiver module and optical device market, where the data center is moving towards a large and ultra-large-scale. Meanwhile, the data network's rapid growth has driven the robust demand for the fiber transceivers market, which is expected to recover the double-digit rates of growth during 2021 and 2025 according to the industry research& statistics institutes. As for the data rate of fiber optic transceivers, the transition from 100G through 200G to 400G is underway.
2. 

Technical Trends: From NRZ Serdes, PAM4 Serdes and 100G Serdes
The rise of the optics module data rate requires the optoelectronic chip to develop simultaneously to meet the demand of data center networking. 25G NRZ Serdes wafer process firstly made in 2013 promoted the mass shipment of 100G QSFP28 modules in 2015. Two years later, the 50G PAM4 Serdes wafer process was introduced, leading to the first commercial shipment of 400G series optical modules in 2019. Furthermore, the 100G Serdes process would also spur the development of 800GbE fiber optic transceiver modules in 2020, based on which, 200G Serdes process is expected to innovate the fiber transceiver network solutions at 1.6T date speed in 2023.
The evolution of data center has gone through the era of 25GNRZ Serdes, 50G PAM4, and 100/200G Serdes, which correspond to 100G series optical transceiver, 400G, and 800G optical modules respectively. The connection of the data center is divided into the interconnection within the data center and the DCI interconnection among the data centers. Therefore, the network connectivity between different distances requires a variety of fiber to ethernet transceiver solutions.
Apart from the rise of data rate, the signal modulation technology applied in fiber channel transceiver has been upgraded from NRZ, through PAM4 to the latest coherent with the optic channel evolving from 1×2 to 1×4 and 1×8.
3. 

Characteristics of Optical Transceiver Market Trends
The key requirements for optical modules in data centers are high speed, low cost, low power consumption, small package, and low power.  Datacenter network design and architecture are evolving into a flat structure, which solves the problems of latency and expansion. But it causes a sharp increase in east-west traffic and requires more higher-speed data network solutions.
Demand for Datacenter optical interconnection (DCI) is growing significantly, and based on coherent technology, 100 Gb/s, 200 Gb/s, and 400 Gb/s fiber optic modules become a standard technical networking solution for long-distance transmission. From the initial solution for ultra-long distances, optical transceivers have been rapidly advancing to the transmission market including the metro/access network and the high-speed interconnection market between data centers, which has been particularly concerned in recent years. Up to now, the specification of 400G ZR has been released with ZR+ moving forward with plans.
4. 

50G Serdes for 100G/400G Optics Module
100G/400G optical modules based on 50G Serdes and VCSEL optical chips are mainly for the short-distance transmission of 100 meters, while those based on silicon photonics and EML are the main solutions for single-wavelength 100G from 500 meters to 2 kilometers. The DML solution needs to be optimized due to the immature technique in linearity and dispersion of the optical chip.
For different optical chips, the process requirements are different. Multi-mode VCSELs usually adopt the COB(Chip On Board)  technique, and for EML and silicon light, it is COC(Chip On Ceramic )coupling. The allowance of silicon optical coupling is more difficult to control than that of the single-mode. Thus, silicon photonics technology is still challenging for industry engineers.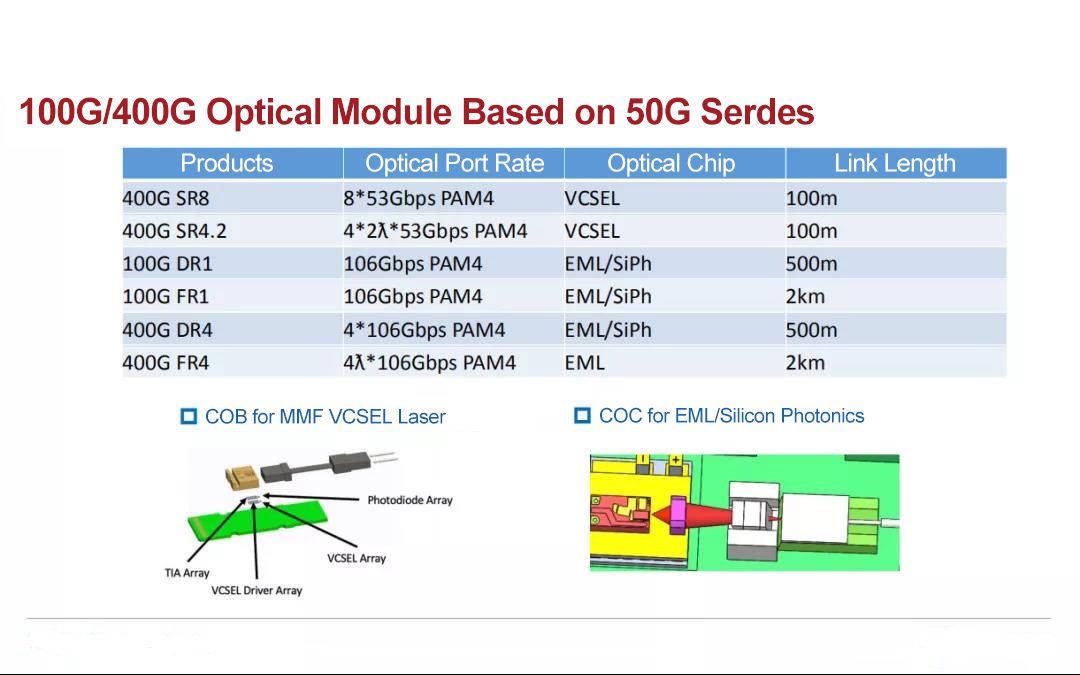 ∆ 100G/400G Optical Module Based on 50G Serdes
5. 

400G series optical module solution
Optical module products based on VCSEL chips include 400G SR8/SR4.2 products for short-distance 100m; 100G、100G DR1, 100G FR1/LR1/ER1、400G DR4/FR4、400G LR4 fiber optic transceiver module are based on the EML chip, while 100G DR1/FR1、400G DR4、400G-ZR on MZM(SiPh).
6. 

Comparison of Different 400G Optic Module Chips
In terms of bandwidth, current researches on EML bandwidth has shown that it can reach 60GHz, while Silicon Photonics MZM can reach 50GHz. 400G optical transceivers based on VCSEL chip support a short transmission range of 100m and modules with MZM(SiPh) outperform in the range of 500m and 2km. As for the EML fiber-optic chip, it is more expensive but supports a longer transmission distance of 2km, 10km, and 40km. When it comes to batch capacity, 400G fiber optic modules based on silicon photodiode of COMS platform can achieve hybrid integration of optoelectronics and mass production.
7. 

Comparison of power consumption in 400G & 100G Fiber Module
Comparing the power consumption and performance of the single-wave 100G silicon optical module solution and the EML solution, the power consumption of the single-wave 100G EML module is a bit higher, i.e. 4.5W, and the single-wave 100G silicon optical solution is controlled within 3.5W. Also, silicon photonics can also meet the performance requirements of single-wave 100G and 400G DR4 fiber optic transceivers in terms of the optical eye diagrams.
What distinguishes silicon photonics from others is its ability to integrate MZM+SSC+PD, but the coupling insertion loss based on silicon photonics is large, and it needs to operate along with high-power CW and DFB. Compared with 400G fiber transceiver types with SiPh chips, 400G DR4 EML consumes a higher power of 12W, while 400G DR4 SiPhL is no more than 10W and only requires 2 CW and DFB. In addition, 400G DR4 SiPhL is capable of multi-channel integration and 4CH MZM+SSC+4CH P. Therefore, it is more advantageous in cost and power consumption.
8. 

Evolution Forecast of Data Center 800G Optical Module
The next-gen 800G pluggable optical transceiver is predicted to develop in three steps according to the industry. 8x100G coherent optical transceiver based on 100G Serdes offers 8 independent transmit and receive channels with the optical interface of 100G/I. Form Factors include 800G-DR8, 800G-SR8, and 800G-FR8/LR8 are expected to introduce in 2021. In 2023, 800G -DR4/FR4 based on 100G Serdes + Gearbox implement through the transiting and receiving way of DSP PAM4 8 in 4 out with optical interface of 200G/I. By 2025, 1.6T based on 200G Serdes is expected to be launched with 8 independent transmit and receive channels and its optical port is 200G/l.
800G Pluggable Optical Fiber Transceiver-Tomorrow

800G Serial Transceivers

Optic Port Rate per Lane

Reach

100G Serdes

200G Serdes

Production

800G-DR8

100G PAM4

500m

8 in 8 out

          /

2021

800G-SR8

100G PAM4

100M

8 in 8 out

2021

800G-FR8/LR8

100G PAM4

2/10km

8 in 8 out

2021

800G-DR4/FR4

200G PAM4

500m/1km

8 in 8 out, GB

4 in 4 out

2023/2025

1.6T

200G PAM4

 

         /

8 in 8 out
∆ 800G Pluggable Optical Fiber Transceiver Serial and their technical Specification
By the outlook for 200G optoelectronic chips, it is expected that 200G/l related optoelectronic chips will gradually be ready in 2022, which will stimulate the 1.6T (8*200G) pluggable optical modules to be implemented, thereby promoting the development of 102.4T switches. Shipments based on 100G/l optical devices will last about 10 years.
9. 

FiberMall's Optical Transceiver Solutions For Data Center
Currently, FiberMall has a full range of 100G products which has gained a large shipment so far, and 400G fiber optic products are in the small-volume stage. 800G DR8, 100G DR1/DR1+ optical modules for data center network solutions, and 200G LR4/ER4 optical modules for backhaul in 5G bearers have received extensive attention from customers. FiberMall's single-wave 100G technology is entering a mature phase, laying a great foundation for 8*100G optical module solutions.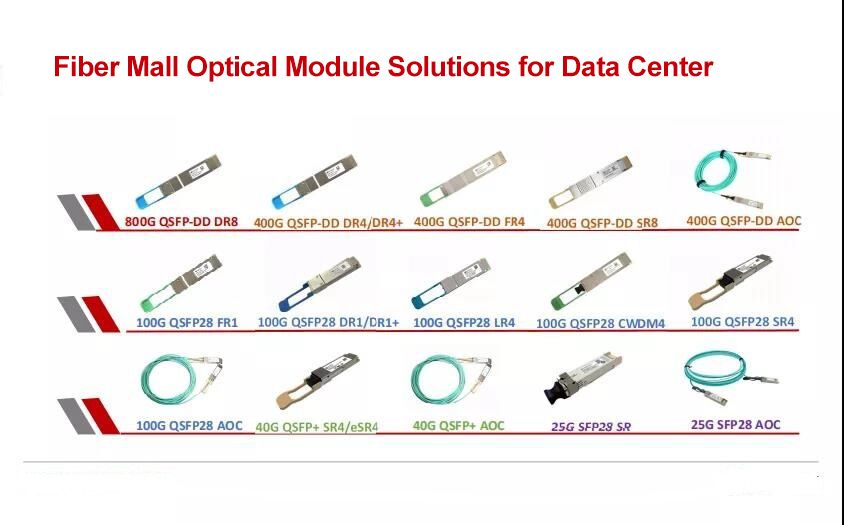 ∆ FiberMall Optical Module Solutions for Data Center Interconnect
The development of data centers in 2020 has become one of the main driving forces to the boom of the optical communication industry throughout the year. In recent years, the data communication market is like a hot cake for all enterprises in the optical communication industry chain. As a leading enterprise in communication optical modules, FiberMall has in-depth development and great competitiveness in the field of data communication.
Final Words
The rapid traffic increase in the data centers has accelerated the market's demand for advanced networking devices including transceiver modules, which the market requires to support higher port density and faster forwarding speeds. These devices, in turn, will lead to large-scale deployments of high-speed optical modules to connect the various layers of network devices.