While the current ramp in demand for the components companies may be in 400G optical modules, the 800G optical network application is about to embark on the journey of high-speed, high-density ports and low latency DCI. This article discussed the current Ethernet optical module market, DCI Market Forecast of 800G Optical Module, and 800G modules' spec by 2 800G MSAs.
1. 

Current Status of Ethernet Optical Module Market
The 400G optical transceiver has become a hot topic for a couple of years, but it is still at the inception of deployment due to the high cost and immature technology. According to the statistics issued by Lightcounting, an optical communication marketing research institute, 100G optical transceivers play a dominant role in the current optical module market, though the shipment of 200G and 400G modules is ramping up gradually, among which 400G optical modules increases more significantly.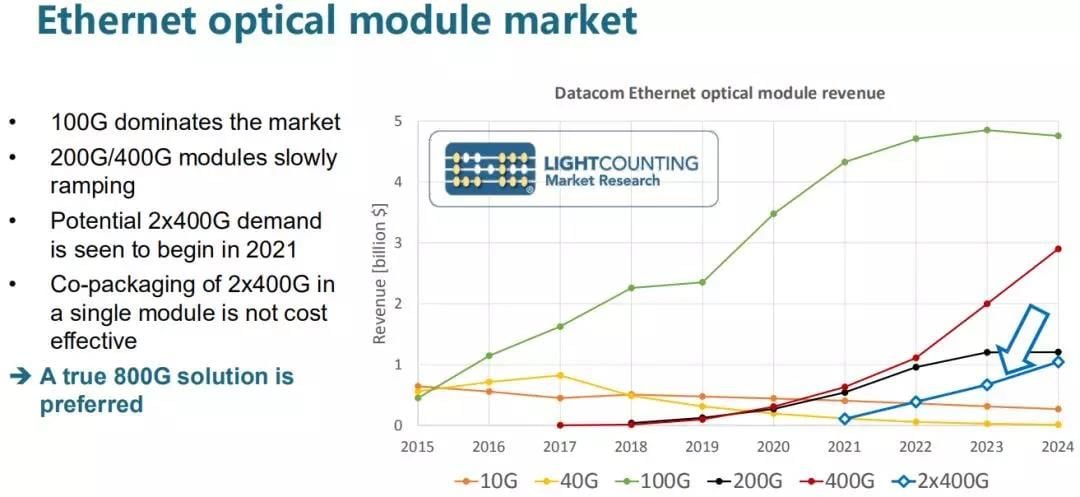 ∆ Ethernet Optical Module(10GbE~2x400GbE) Market Forecast
It is expected that 800G optical transceivers by integrating two 400G optical channels into one optical module will be on the market in 2021. However, such an 800G fiber optic module cannot deliver a low-cost and high-performance 800G data center interconnect solution. 
2. 

QSFP-DD800 MSA & 800G Pluggable MSA
Given the deployment of 400G optical transceivers is underway, the exploration of 800G optical modules begins to attract the attention of the industry. Up to now, there are two MSA organizations to standardize 800G modules for QSFP-DD spec, one is QSFP-DD800 MSA, and the other is 800G Pluggable MSA.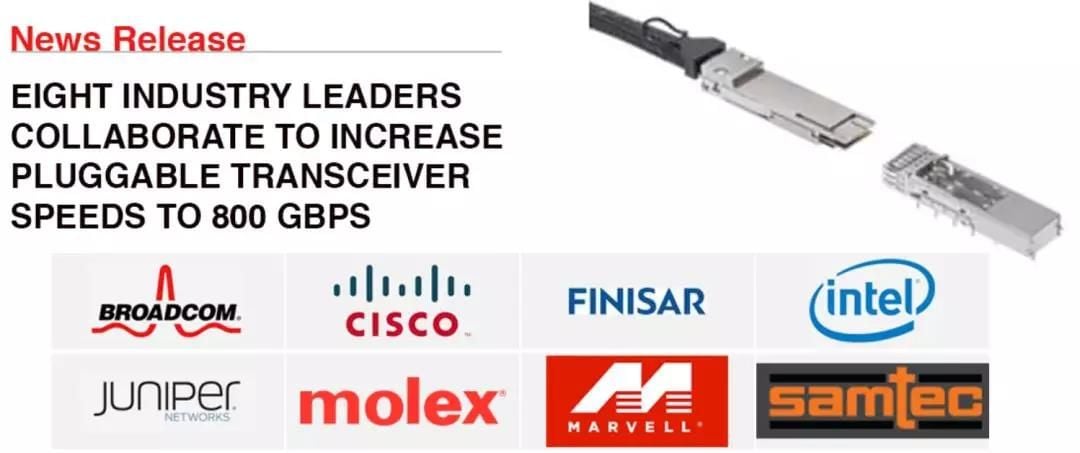 ∆ 8 Members of QSFP-DD800 MSA
● 

QSFP DD800 MSA
Established on September 19, 2019, QSFP DD800 MSA consists of 8 major industry manufacturers from optical module manufacturers to system manufacturers. This 800G MSA is committed to continuing the current design of 400G QSFP-DD optical modules and developing a new generation QSFP-DD optical module with a total of 8 channels and single-link 100Gbps.
It is expected that QSFP-DD800 MSA will finish its first MSA 800G standard draft cooperated by its 8 members in the next few months this year and other companies will be welcome to join in to improve the MSA specification. Industry projections forecast that the 800G Ethernet standard will inherit the success of optical transceivers in the QSFP form factor since these 8 members are the leading company in the industry.
● 

QSFP-DD800 MSA Specification for 800G Optical Module
According to the QSFP-DD800 MSA standard project, the power consumption of the QSFP-DD800 optical module is expected to reach 24W with its cage and connectors in the cage remaining compatible with existing QSFP-DD and QSFP modules.
QSFP-DD800 MSA will specifically define the following aspects including Mechanical dimensions of modules, 1×1 surface-mount cage, Connector signal distribution, module management, heat dissipation design, etc. Besides, it would specify that the 800G optical modules adopt 2×1 crimping cages with BiPass/Flyover connectors and integrated connectors.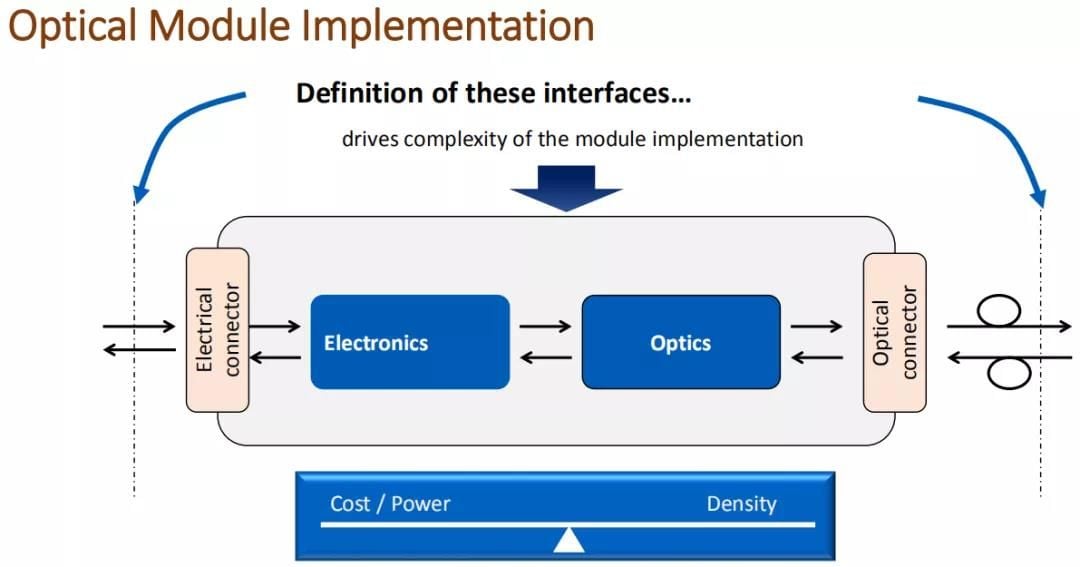 ∆ Diagram of Optical & Electrical Connectors Designed in 800G Optical Module
Unlike the previous MSA organization, this QSFP-DD800 MSA consisting of quite a few international manufacturers emphasized that 2 x 1 crimping cages with BiPass/Flyover connectors would be developed and applied in 800G optical transceivers. There are 2 reasons for this project. One is to minimize the loss of the electrical link between the ASIC and the optical module; the other is to indicate that cable-based link topology will be more widely used in the era of 112 Gbps data rate. At the Huawei Full Connect Conference in 2019, Huawei demonstrated the line card design using Cable Cage.
● 

800G Pluggable MSA for 800G Fiber Optic Transceiver
Different from the QSFP-DD800 MSA composed of international manufacturers, the 800G Pluggable MSA was organized by China manufacturers at the CIOEC(China International Optoelectronic Conference) held on September 5th, 2019.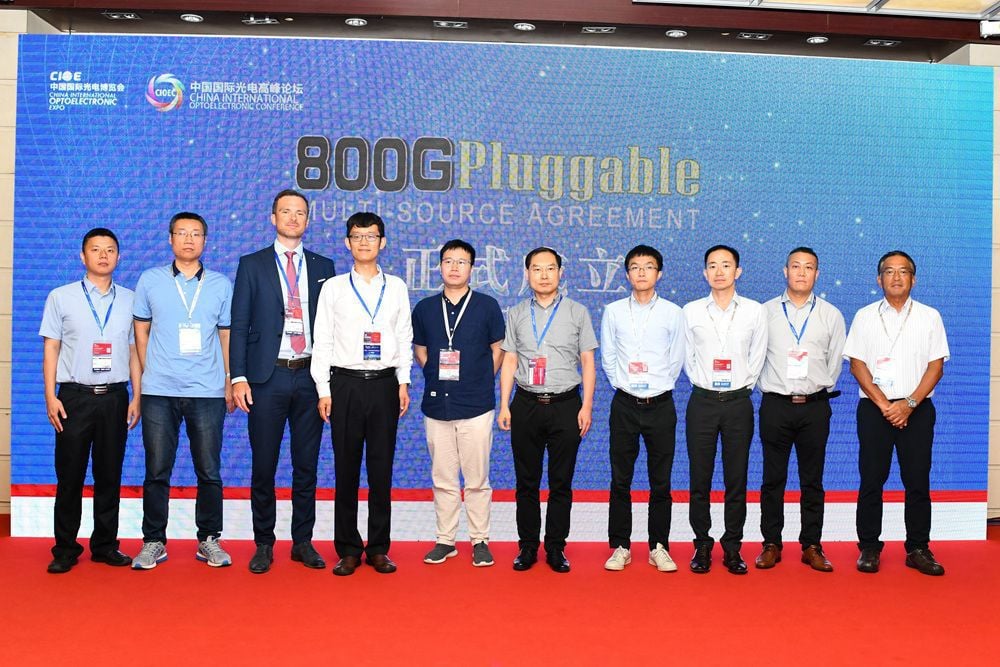 ∆ 800G Pluggable MSA Formed by Chinese Optical Module or Service Suppliers 
OTT service supplier Tencent, system suppliers Huawei and H3C, optical module and device manufacturers Wuhan Guangxun/Hisense/Luxshare Precision, etc. are all actively engaging in this MSA organization. The establishment of the 800G Pluggable MSA, has also attracted the attention of standards organizations such as IEEE.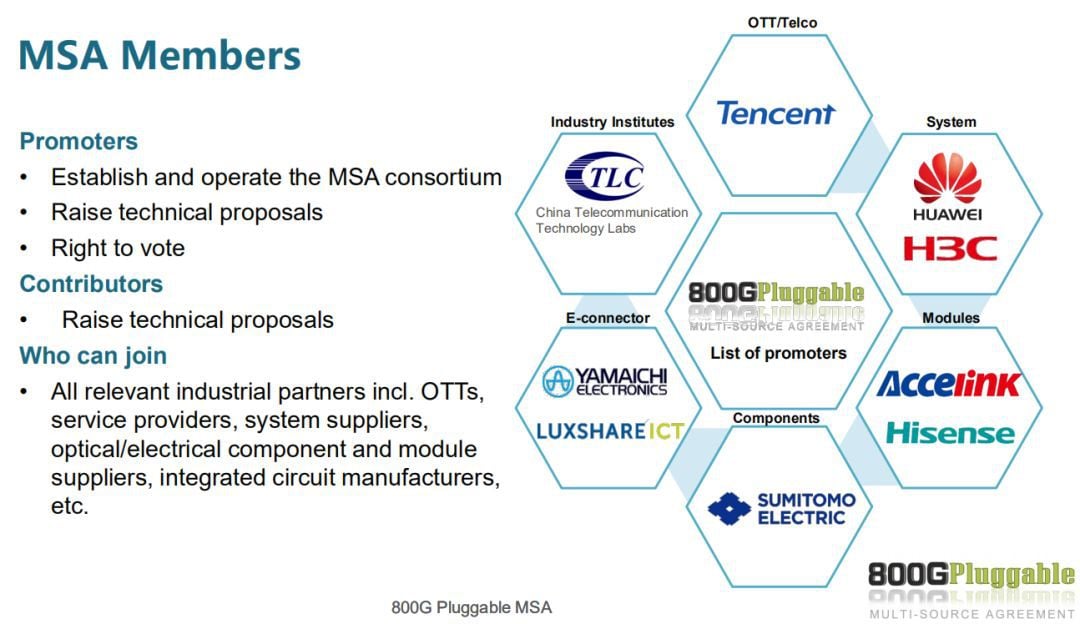 ∆ Current Members of 800G Pluggable MSA 
3. 

DCI Market Forecast of 800G Optical Modules
LightCounting predicted in its Mega Data Center Optics Report released in 2019 that ultra-large cloud service suppliers would have a demand for 800G optical transceiver modules by the year 2023/2024 as long as the internal traffic in the data center is growing continuously. At the same time, 51.2Tbps switching chips will also be introduced to the market.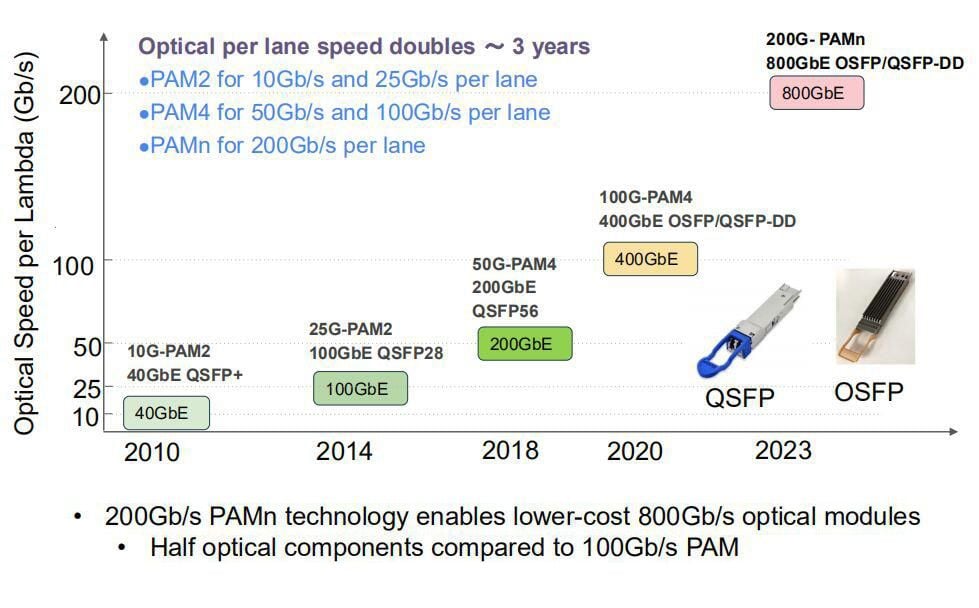 ∆ The Evolution of Optical Speed per Lambda(Gb/s)
4. 

Implementation of 800G Optical Module
In the long run, it is undisputed that the demand for an 800G optical transceiver is holding up. However, issues like the technology feasibility, specific implementation, and the cost of the 800G optics modules have become the new focus in the industry.
From a technical point of view, the bandwidth of the latest QSFP DD DAC/ADC can reach about 45GHz, which can be used for 200Gbps signals based on more advanced PAM signal modulation. When the single wavelength of the optical signal is still for 100Gbps fiber modules, the existing specifications can basically cover it. There is still some controversy as to the specific application of 8x100G PSM8, 4x200G PSM4, or 4x200G CWDM4. Nevertheless, if a single-link 200Gbps optical module can be developed, you can achieve 800G bandwidth capacity with only 4 channels, which will be more cost-effective–saving half of the DAC/ADC cable devices.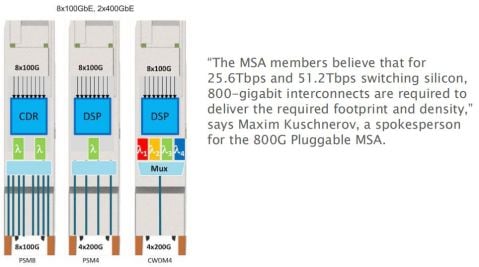 ∆ Implementation of 8x100GbE PSM8, 4x200G PSM4, and CWDM4 Optics Module
5. 

Transmission Distance of 800G Optical Module
There are QSFP DD management interface specifications and standards for the 400G fiber optic transceiver modules in terms of short-range, intermediate-range, and long-range. For the 800G coherent optical transceiver, there will also be similar requirements for different transmission distances. But the 800G Pluggable MSA will only focus on the optical module of the three transmission ranges of 100m, 500m, and 2km, which are also the most commonly used specifications in data centers. As for the application of 10-80km and over 80km transmission distance, the corresponding standards are expected to be formulated in the IEEE 802.3 specification organization.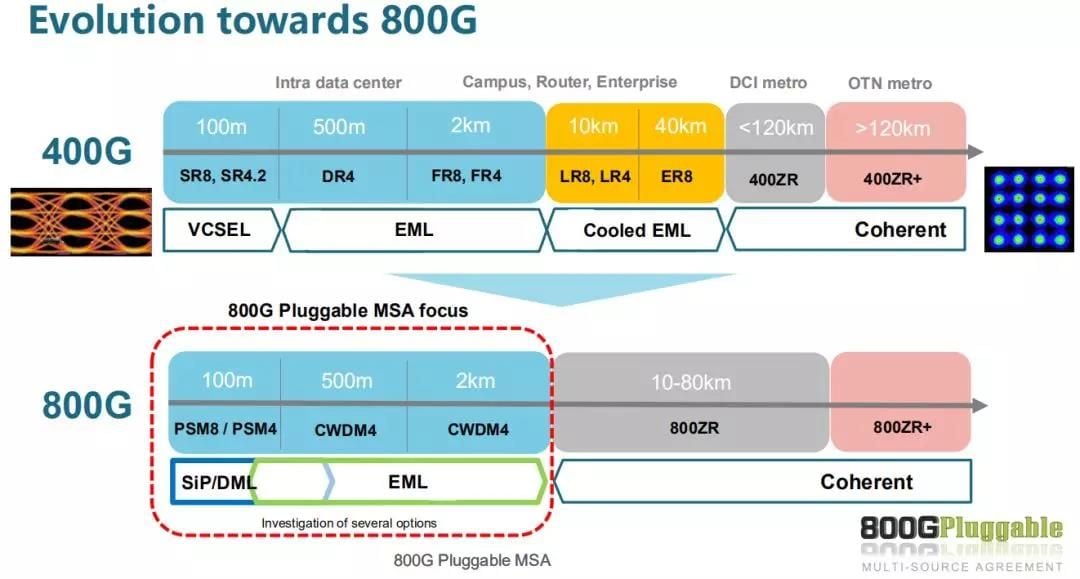 ∆ 800G Pluggable MSA Focus On the Short-Range Module-PSM8, PSM4, CWDM4
6. 

T

echnical

Innovation for Optical Modules
All the research and exploration for 800G optical transceivers are meaningful to the technology improvement and maturity. By now, the 16QAM modulation technique has been applied in the 200G and 400G optical transceiver and the more complex 64QAM is likely to be used in the 400G and 800G modules.
The chip manufacturing process inside the optical module will also be upgraded from the current 16nm to the latest 7nm process. Furthermore, the passive link design and signal-tuning algorithms on the PCB will be further improved accordingly. But for optical modules, it is crucial to strike a balance between cost, performance, and power consumption.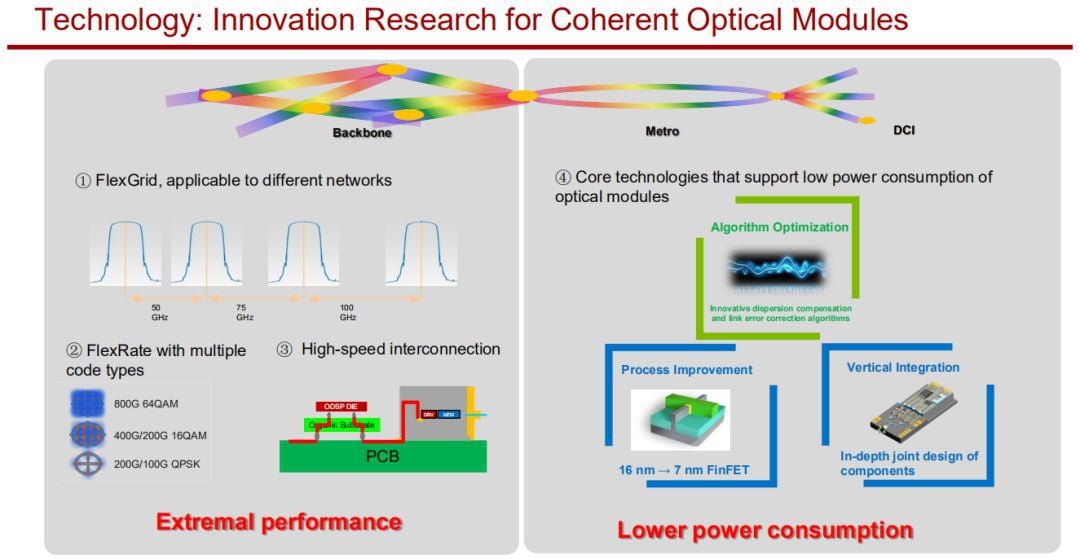 ∆ FlexGrid, High-speed Interconnection Technology for Coherent Optical Modules
7. 

Roadmap of 800G MSA Standard
According to the roadmap of 800G Pluggable MSA, the Spec1.0 MSA standard version would be introduced in the Q4 of 2020. Also, the standard specified by the QSFP-DD800 MSA organization would be completed in 2020, which indicated that there would be 2 copies of detailed specifications for 800G optical modules. As a result, the transition to 800G is taking place gradually, driving next-generation data center connectivity to a new era.

∆ Roadmap of 800G Pluggable MSA Standard
Conclusion
Since the year 2020, the development of 5G, AI, and IoT technologies will not only bring a brand new user experience to end-users but also stimulate a rapid increase in data traffic to the entire online world. Therefore, the research and development of 800G even 1.6T optical modules will become a new and hot topic as long as the interconnect demand on big data bandwidth within and between data centers is increasing.