In 2020, the 100G data center Ethernet market is in full swing, which is the main battlefield for major optical module manufacturers. With the increasing maturity of 100G series products of major manufacturers, the shipment volume is climbing. These products range from traditional III-V solutions to silicon photonics. The technical threshold of 100G has been crossed, and it has become the mainstream and the first choice for the strong demand for data centers. It is no longer synonymous with high-end optical modules. Technology is advancing rapidly, and 400G optical modules have been expected to meet the growing bandwidth demands of ultra-large data centers. The 400G optical module is widely recognized as a solution that can effectively reduce bandwidth costs.
The 2020 Data Center White Paper released by CAICT China Institute of Information and Communication predicts that 400G optical modules will be deployed on a large scale in 2022.
1. Robust Demand for Optical Modules in the Market
According to ODCC statistics, the deployment of micro-module data centers has grown from 300 units in 2013 to 4,500 units by the end of 2017, equivalent to more than 50,000 20A rack sizes. Prefabricated modular data centers have completed the deployment of 9,100 40A complete cabinets, equivalent to 18,000 20A standard cabinets.
The modular data center has completed the deployment of approximately 70,000 standard racks, with a capacity of over 1 million servers. Over the past 6 years of operation, the average PUE has been reduced by 0.2-0.4, and the operating cost has been reduced by 20%-40%. The effect of energy saving and cost reduction is very obvious, which has a strong driving and leading effect on the modularization and greening of the data center industry.

More than 10 companies, including Arista Networks, DELL, Edge-core, Mellanox, and Fiber Mall, presented 400G optical modules at OFC 2020. At present, some companies have already sent 400G optical modules for sample testing, and have the capacity for mass production. It is expected that 400G optical modules will be deployed in scale in 2022.
2. 400G Optical Module Market Prospect
As the solution for the 400G optical module in the data center, OSFP and QSFP-DD are the two main packaging forms. OSFP and QSFP-DD also provide eight transmission channels on the electrical interface and support 25GBaud PAM4 signal (50Gb/s), so 8x50Gb/s=400Gb/s signal transmission can be achieved.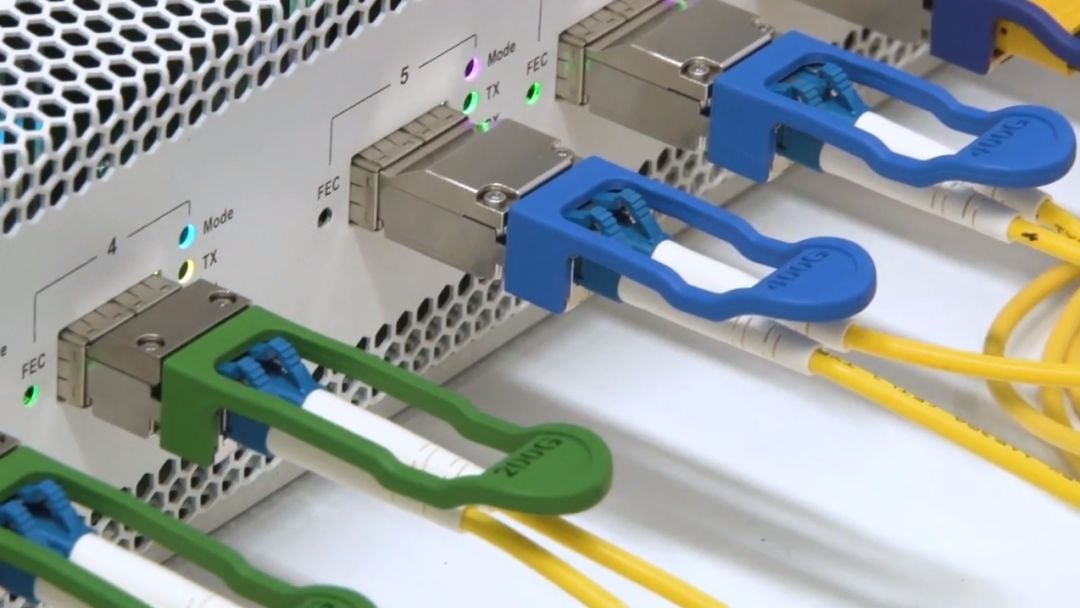 The OSFP is slightly wider and longer than the QSFP-DD, thus taking up more PCB surface area of the switch. Each 1U panel of a switch supports 32 ports for OSFP and 36 ports for QSFP-DD. Therefore, in terms of the bandwidth capability of the switch, QSFP-DD can provide four more ports. QSFP-DD also has backward compatibility with QSFP and QSFP28.
From these two points of view, the future of QSFP-DD seems brighter. However, the smaller size of the QSFP-DD package has higher requirements for module design, which puts forward higher requirements for module internal device packaging, module performance, power consumption, and yield, which may lead to a rise of module cost. At present, different customer groups have requirements for both packages, and it is difficult to see which package has the absolute advantage.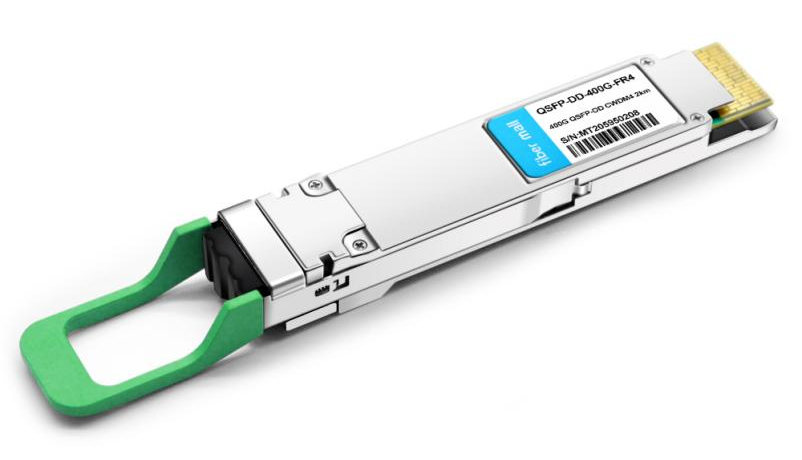 In order to meet the needs of different customers, the development of 400G QSFP-DD and OSFP module family products has been carried out. It is believed that the 400G optical module will usher in a warm "spring" in the near future.
Cisco recently added four 400GbE models to its Nexus family of Ethernet switches and announced that they will be field tested during the year and are expected to go on sale in the first half of next year. Broadcom has also released the 400G PAM-4 PHY chip BCM87400. It seems that the era of 400G is coming.
3. Cisco's Latest Nexus400G Switch
Cisco's 400G switches don't just offer customers higher rates, they also bring powerful features to the table, said Roland Acra, senior VP, general manager, Data Center Business, Cisco. This includes features such as ultra-fast policies, segmentation and whitelisting, real-time visibility of packets, data flows and events, intelligent buffering for big data and machine learning workloads, and the ability to prioritize critical traffic on demand to meet the needs of modern data-driven workloads and cloud environments. These 400G models also continue the Nexus switch's ultra-fast policy, segregation, real-time packet visibility, and many other features.
Nexus 9316D-GX, a 1RU, 16-port switch that fits well into the ridge-type applications of the Application Centric Architecture ACI.

Nexus 93600CD-GX, 1RU, 28-port 100GbE, and 8-port 400GbE, which support spine-leaf architecture leaf applications.

Nexus 3408-S, 4RU,8-slot, supporting 128 ports of 100GbE or 32 ports of 400GbE.
Nexus3432D-S, 1RU, 32-port 10/40/100/400GbE, and fan-out 2x200GbE and 4×50/100GbE.

Cisco's new Nexus switch offers the most comprehensive and customizable way for customers to use 400G. Its advantages include:
Built for the most demanding environments: The new 400G switch is designed to deliver the powerful features that the Nexus switch portfolio is known for, at full wire speed. This includes advanced telemetry for deeper application visibility, real-time analytics, and troubleshooting capabilities, as well as intelligent caching capabilities specifically tuned for laterally scaling application traffic.
In addition, customers can integrate the switch with Cisco's leading Application Centric Infrastructure (ACI), Tetration, and Cisco Network Assurance Engine. This will help them further increase application agility, improve data center security and automation, and bring 400G capabilities to intent-based networks.
Designed to provide customer choice and outstanding flexibility: Flexible deployment options enable companies of all sizes to easily meet their specific needs and workloads. Whether it's an Internet company, a high-density operational or intent-based network, or a purpose-built application, customers can choose the most appropriate option to meet their needs.
Durability: Cisco is actively working with partners and third-party organizations to drive standardization and interoperability for 400G. Cisco worked with interconnection and test solution partners to demonstrate cost-effective 100G lambda optical modules for 400G in recent 400G industry interoperability testing.
Cisco will begin early field trials (EFT) with customers in December 2018 and will give IT organizations planning time to start the trials as soon as possible. The new Cisco Nexus switches became fully available in the first half of 2019.
Broadcom 400G PAM-4 PHY chip
Meanwhile, following the previous announcement that its 12.8Tbps TomaHawk 3 400GbE switching chip entered full volume production, Broadcom introduced on November 8 its 7nm 400G PAM4PHY chip, the BCM87400, for data center and cloud architectures. The chip is based on Broadcom's latest 7nm Centenario 112G PAM-4 DSP platform and offers first-class 400G 8:4 gearbox and low-power performance to ensure 400GbE link deployments in super data centers and cloud networks.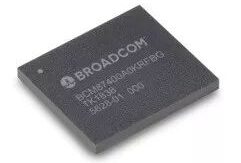 The BCM87400 family of devices features the industry's highest performance and lowest power consumption single-chip 400GbE PAM4 PHY transceiver platform capability to drive 56GBauD-based 112 Gb/s PAM4 quad channels in DR4/FR4/LR4 optical links.
In 400GbE mode, the BCM87400 can convert 53Gb /s (26-Gbaud PAM4 based) eight channels to 106 Gb/s (53Gbaud PAM4 based) four channels on the system side. The BCM87400 adds to the market-leading PAM4 PHY technology platform and is the first to demonstrate an effective example of a 400G PAM-4 PHY transceiver operating on a 7nm CMOS process.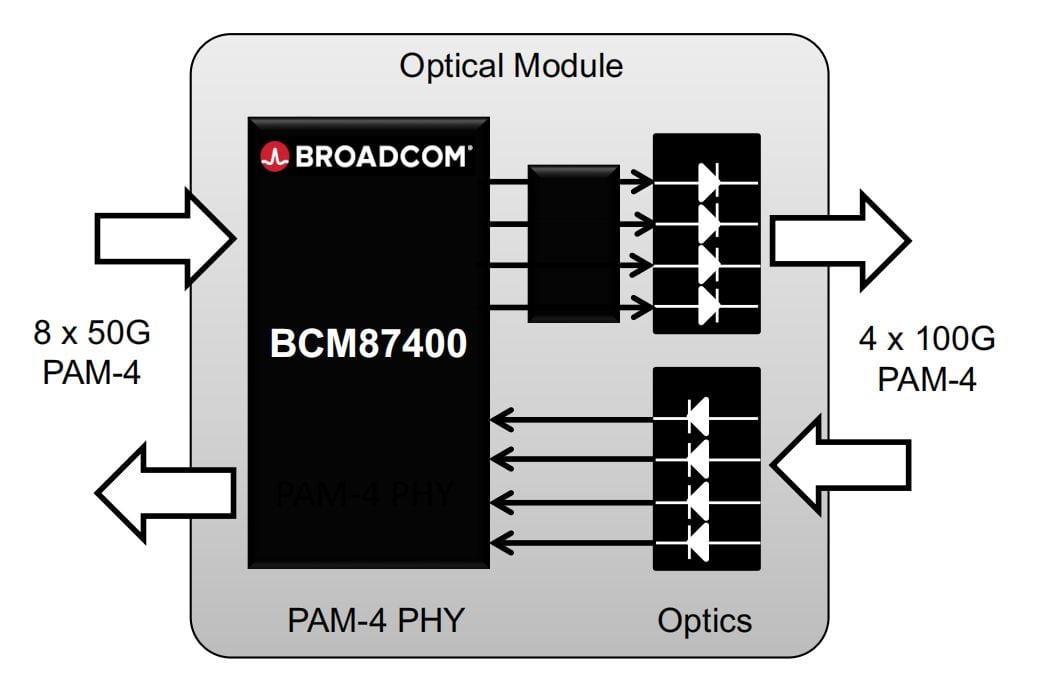 More Features of BCM87400 Model
"Industry-leading" DSP performance and power make DR4/FR4 optical module meet IEEE standards and MSA specifications.
Support DR/FR optical module for traditional switch applications
Customer interfaces comply with CEI-28G / 56G LR specifications and support long-distance (LR) channels
4.Comply with IEEE 802.3bs standard KP4 and end-to-end FEC bypass operation
A PAM4 architecture that supports multiple optical fronts, such as EMLDML and silicon photonics
The interoperability of Broadcom switch ASICs and ASSPs can be optimized by using 28-Gbaud PAM4 and NRZ SerDes architectures.
Field of Application:
Ultra large cloud data center network
Wired infrastructure
400Gb/s QSFP-DD/PSFP optical module