With people's higher demand for bandwidth, 100G networks have developed rapidly. To meet the 100G long-haul transmission requirements, a variety of solutions have been produced: 4x25G NRZ series, 100G PAM4 series, and coherent series.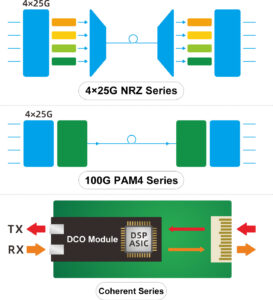 4*25G NRZ technology is the most popular 100G optical transceiver solution currently, consisting of four groups of transmitters and receivers. To meet the requirement of long-haul transmission and save optical fiber resources, wavelength division multiplexing technology is usually used to wavelength-division multiplex four optical signals into one optical fiber for transmission. There are many types of 4x25G NRZ optical modules, and the long-haul ones include LR4 (10km)/ER4 (40km)/ZR4 (80km).
After years of R&D and optimization, Fiber Mall can provide longer-distance and more diverse options than the standard, including 100G QSFP28 LR4 / ER4 Lite / ER4 / eER4  and 100G QSFP28 ZR4 (widely used in data centers), and 100G CFP LR4, 100G CFP2 LR4/ER4 and 100G CFP4 LR4 (widely used in optical transport networks).
Among them, the 100G QSFP28 ZR4 optical module is mainly used for switches, routers, and long-distance transmission connections in data centers. It adopts 4-channel 28G NRZ wavelength division multiplexing technology (LWDM4) and is a 4-channel full-duplex transceiver. It is mainly used in 100G Ethernet, data centers, telecommunication, and other scenarios.
In terms of product features, the 100G QSFP28 ZR4 optical module adopts a hot-pluggable QSFP28form factor, the operating temperature is 0°C-70°C, and the maximum speed can be as high as 103.125Gbps (4x25G NRZ). When the FEC is turned on in the system, the transmission distance through a pair of single-mode fibers can reach up to 90km.
In terms of structure, at the transmitter, the four-channel serial data (NRZ) is recovered by CDR and delivered to four laser drivers that control four lasers with center wavelengths of 1296nm, 1300nm, 1305nm, and 1309nm. Optical signals are multiplexed to single-mode fiber via standard LC connectors. At the receiving end, the optical signals of the four channels are amplified by SOA, and then the optical signals are demultiplexed by the integrated optical demultiplexer. Each optical signal is recovered by a PIN detector and then passed through a TIA and CDR to a CAUI-4 compliant output driver as shown: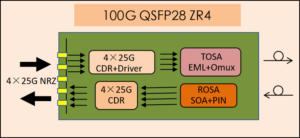 Meanwhile, Fiber Mall continues to overcome difficulties, conduct in-depth research on PAM4 technology, and develop a variety of single-wavelength 100G optical modules. Recently, the long-haul 100G QSFP28 LR1 and 100G QSFP28 ER1 were launched, filling the technical gap of Fiber Mall in the field of 100G single wave. The newly launched three single-wavelength products can replace 100GBASE-LR4/ER4 Lite and become a novel option for 100G long-haul transmission in data centers.
Coherent technology is the key technology in the field of ultra-long-haul high-speed optical communication, temporarily irreplaceable in the field of ultra-long-haul transmission exceeding 90km. Fiber Mall has made breakthroughs in the field of coherent optical communication since 2018, and both 100G CFP DCO and 100G CFP2 DCO optical modules have been mass-produced.
How are these 100G long-haul optical modules used? All Fiber Mall's 100G long-haul transmission optical modules mentioned above can be applied to metro DCI, which can communicate with each other, share data and contents and provide redundant backup for two or more data centers. Due to the high-density and low-power connection requirements of data centers, QSFP28 optical modules with smaller packaging and lower power consumption are frequently used in data centers, and then the specific selection is made according to the needs of transmission distance.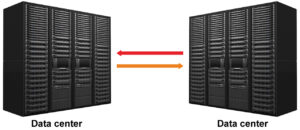 | 100G QSFP28 | Transmission distance | Service rate | Optical port rate | Electrical port rate | Power consumption |
| --- | --- | --- | --- | --- | --- |
| LR4 | 10/ 20km | 100GE/OTU4 | 4x25G/28G NRZ | 4x25G/28G NRZ | <3.5W |
| ER4 Lite | 30/ 40km | 100GE/OTU4 | 4x25G/28G NRZ | 4x25G/28G NRZ | < 3.8W |
| ER4 | 40km | 100GE/OTU4 | 4x25G/28G NRZ | 4x25G/28G NRZ | < 6W |
| eER4 | 60km | 100GE/OTU4 | 4x25G/28G NRZ | 4x25G/28G NRZ | < 6W |
| ZR4 | 80km | 100GE/OTU4 | 4x25G/28G NRZ | 4x25G/28G NRZ | < 6W |
| LR1 | 10/ 20km | 100GE | 1x100G PAM4 | 4x25G NRZ | < 4W |
| ER1 | 30/ 40km | 100GE | 1x100G PAM4 | 4x25G NRZ | < 4W |
Fiber Mall's 100G QSFP28 Optical Module Parameter Table
4x25G adopts the NRZ solution, with more mature technology and lower single-device cost, and it can be directly interconnected with 25G optical modules. The 100G single-wave optical module uses 100G PAM4 modulation, which reduces optical complexity and cost by reducing the number of optical transmitters and receivers from four to one, compared to the 4x25G solution. At the same time, the emergence of single-wave 100G transmission technology has laid the foundation for the development of the 400G (4x100G) Ethernet. In terms of selection, if it is a 25G/100G data center, choose the 4x25G solution; if it is a 100G/400G data center, choose the 100G PAM4 solution.
Fiber Mall's 4x25G series 100G optical modules all meet the dual-rate requirements of Ethernet and optical transport networks and meet the needs of more stringent telecommunication application environments. When 100G is adapted to OTU, it can be mapped to OTU4, or it can be inversely multiplexed into OTU2/3. According to the specific implementation form of the 100G interface, there are multiple pairs of encapsulation and mapping paths.
100G serial signal is mapped to ODU4 (the rate is 112Gbps)

100G serial signal is inversely multiplexed to ODU2e, ODU2, and ODU3

100G signal is inversely multiplexed to 10*10G or 4×25G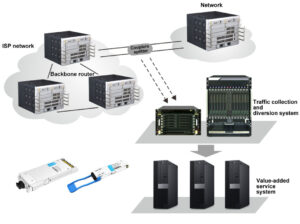 | 100G | Transmission distance | Service rate | Optical port rate | Electrical port rate | Power consumption |
| --- | --- | --- | --- | --- | --- |
| CFP LR4 | 10km | 100GE/OTU4 | 4x25G/28G NRZ | 10x10G/11G NRZ | < 9W |
| CFP2 LR4 | 10km | 100GE/OTU4 | 4x25G/28G NRZ | 4x25G/28G NRZ | <6W |
| CFP2 ER4 | 40km | 100GE/OTU4 | 4x25G/28G NRZ | 4x25G/28G NRZ | < 9W |
| CFP4 LR4 | 10km | 100GE/OTU4 | 4x25G/28G NRZ | 4x25G/28G NRZ | <4W |
Fiber Mall's 100G CFP/CFP/CFP4 Optical Transceiver Parameter Table
The form factors of CFP/CFP2/CFP4/QSFP28 are shrinking in turn, and the power consumption is getting lower and lower at the same transmission distance. Customers can choose the products with the lowest power consumption according to the required form factors and transmission distance of the equipment.
100G coherent optical modules are mainly used for line-side optical transmission in 100G wavelength division systems. Compared with other line-side optical modules, they have good OSNR performance, sensitivity, dispersion tolerance, and DGD tolerance. DWDM technology using coherent modules is widely used in 100G metropolitan area networks to meet high-capacity and long-haul requirements.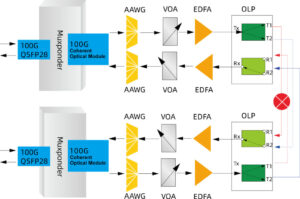 Coherent series
Category
100G CFP DCO
100G CFP2 DCO
Line modulation
32G Baud
DP-QPSK
32G Baud
DP-QPSK
ZR
80km/
120km
OSNR tolerance
17.0dB/
BER 4E-3
17.0dB/
BER 4E-3
Typical power consumption
23W
18W
FEC configuration
HD-FEC
HD-FEC
MR
600km
OSNR tolerance
15.5dB/
BER 3E-3
15.5dB/
BER 3E-3
Typical power consumption
24W
19W
FEC configuration
HD-FEC
HD-FEC
LH
1200km
OSNR tolerance
13.0dB/
BER 2E-2
13.0dB/
BER 2E-2
Typical power consumption
31W
24W
FEC configuration
SD-FEC
SD-FEC
Fiber Mall's 100G coherent optical module parameter table
The CFP2 package is almost half the size of the CFP package, with lower power consumption and higher cost. Customers can choose according to the form factor required for the device and their own budget. At the same time, Fiber Mall is also equipped with a full-fledged economical coherent subsystem. The system boasts outstanding features such as large capacity, small size, low energy consumption, and simple operation and maintenance. It is believed that it can bring more choices to small and medium-sized data centers around the world.
Comparisons of 100G solutions:
Traditionally, switch vendors have used CFP/CFP2 coherent transceivers in their DCI equipment. Coherent techniques are typically used for long-distance metro optical transmission, employing more advanced modulation techniques such as QPSK, 8QAM, or 16QAM, which can double, triple, or quadruple the bit rate. However, this modulation requires an advanced technique of coherent detection and DSP on the receiver side to correct for chromatic dispersion. Besides, the component costs are high, and optical modules require space and a sufficient power budget and are only available on CFP and CFP2 pluggable packages. Of course, the coherent module can also be inserted into the switch or router board in the IPoDWDM scenario. However, due to the high power consumption and big size of CFP/CFP2 modules, dedicated line cards are required.
The latest development of 100G QSFP28 PAM4 DWDM provides another option. However, when the transmission distance is farther than 5km, PAM4 needs to use an amplification and dispersion compensation system on the optical link, which leads to higher end-to-end cost. DCI operators need to deploy Mux/Demux, EDFA, and DCM that may not exist in the current network. Moreover,  this solution is not compatible with 50GHz Mux/Demux.

QSFP28 PAM4 DWDM Transceiver Solutions
100G QSFP28 ZR4 overcomes the shortcomings of the above two solutions. It is cost-optimized, supports 100G Ethernet, and can achieve up to 80km transmission. The QSFP28 ZR4 is packaged in QSFP28 with small size and low power consumption, providing a point-to-point solution in data centers without deploying legacy CFP/CFP2 interfaces, and capable of operating on point-to-point links up to 80km without optical amplification and dispersion compensation. It is a genuine plug-and-play solution.

QSFP28 ZR4 solution
Conclusion:
To sum up, in 100G long-haul transmission, 100G QSFP28 ZR4 has significant cost and power consumption advantages compared to coherent solution. Compared with the 100G PAM4 DWDM solution, there is no need to deploy redundant and complex equipment to achieve point-to-point optical transmission. Therefore, 100G QSFP28 ZR4 is most favored in long-distance transmission.