With the rapid development of the communication industry, the demand for optical modules is increasing rapidly, so there are many third-party optical modules in the market. In fact, there are only a few optical module manufacturers in the world that have a complete production system, such as Finisar, AVAGO, etc. Both brand owners and third-party manufacturers have asked specialized optical module manufacturers (OEM, Original Equipment Manufacturer) to make optical modules according to the market protocols and standards. Therefore, the optical module made by OEM is the same as the product sold to other brands. So should we choose the original brands optical module or the third-party compatible optical module?
Branded modules will set a special code so that customers can only use the brand's supporting equipment, while compatible modules crack the code settings inside and can be compatible with a variety of devices. Branded modules are relatively high priced and of good quality, while compatible optical modules are cheap and cost-effective.
 1. Introduction of the original brand optical transceiver
Branded optical modules, although expensive, add some innovative improvements to the technology of standardized components, such as changing the link setup sequence, verifying legitimate components with encryption keys, enhancing the link detection scheme with exclusively available/non-standard parts, and implementing whitelisting in the network operating system, making their own switches only accept optical modules with their own compilation codes, leaving users to choose only their complementary products. The optical module brands currently known to the public are Cisco, Huawei, H3C, HPE, Dell, etc. However, third-party module vendors can independently achieve decoding and writing codes through the analysis of the module, an OEM to add the module code is basically only one or a few, excellent compatible module vendors can simultaneously master the code of multiple OEMs, making it much easier and more convenient for customers to purchase and install, and the cost is also lower than that of branded optical modules.

 2. Is the compatible optical transceiver a better choice?
  Multiple compatible choices
If you choose the copper core network, single-mode or multi-mode fiber, a mixture of the two or other networks, then this kind of optical module is more cost-effective. Be aware that what fits your equipment is not always a branded original optical module. Third-party compatible modules are not only compatible with any available branded equipment, but also do not require the expensive brand price, while providing a variety of options for these types of networks. Currently, FiberMall is able to offer both branded and standard compatible optical modules to meet the needs of different customers.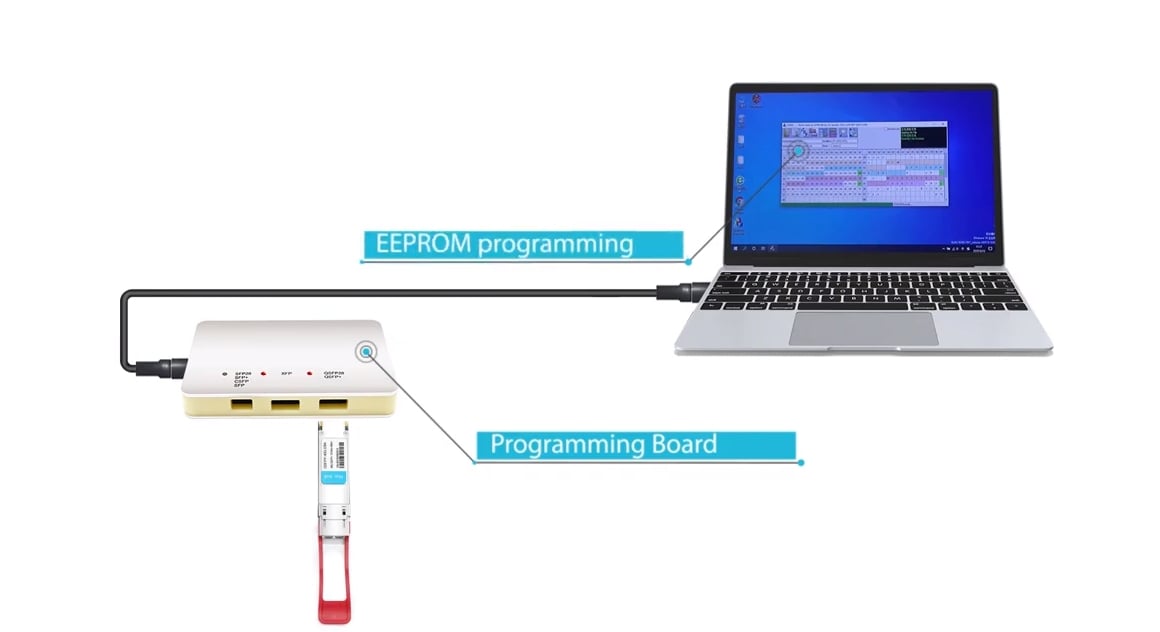 FiberMall optical transceiver compatibility testing
The brand effect is a very common phenomenon. Usually, many users just spend their money on the brand rather than product quality and service. Original optical transceivers are so expensive, and many users want to save the cost of fiber optic network hardware, which can make the equipment run stably and also can meet the lower budget. Some third-party optical transceivers have good compatibility and high stability, plus the price is cheap, so it is the best choice for many users.

FiberMall QSFP 40/100 SRBD compatibility module
 3. How to ensure the compatibility of optical transceivers
Due to the high compatibility requirements of branded network equipment, it is very important for third-party vendors to ensure that third-party optical modules are compatible with branded network equipment. The SFF-8472 standard is a key factor to determine whether the quality and compatibility of third-party optical modules are passing. It was developed by the SFF committee to define the Data Diagnostic Monitoring Interface (DDMI) for optical modules, which can help us understand the operating parameters of optical modules in real-time.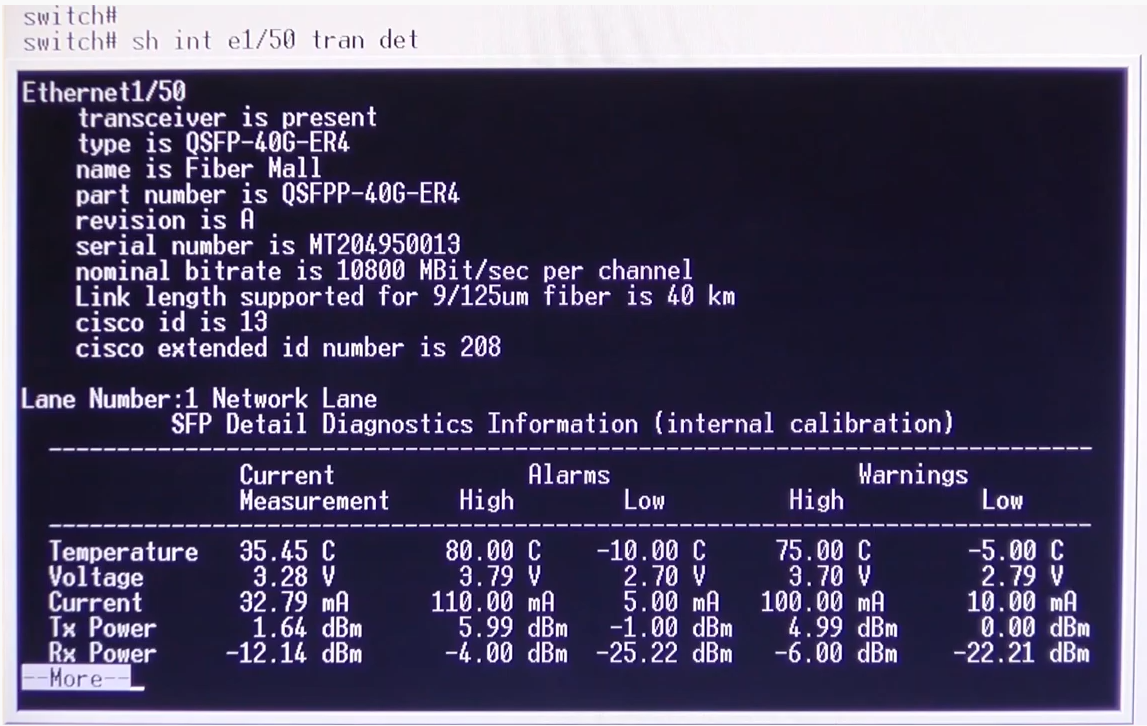 DDMI data board example
The MCU chip in the PCBA of the optical module has an EEPROM area dedicated to storing information about the optical module. For example, the internal information and digital diagnostics of SFP are developed by MSA organization and the main document is SFF-8472. The whole EEPROM space is composed of two spaces, A0h and A2h, where A0h stores fixed information and A2h stores optical module encryption information and information related to DDMI.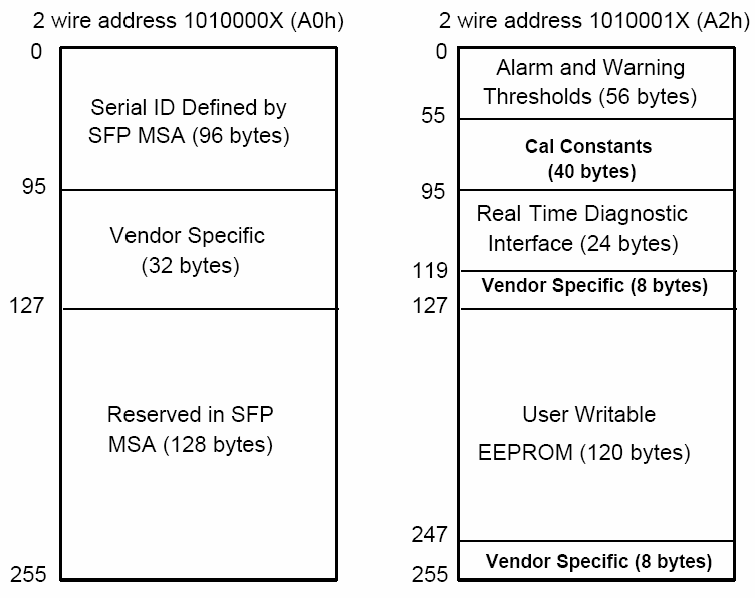 EEPROM data of optical transceiver
The SFP module's DDMI function allows real-time monitoring of the module's temperature, supply voltage, laser bias current, and transmitted and received optical power. By measuring these parameters, the management unit can quickly identify the specific locations where errors occur in the fiber link to simplify maintenance and improve system reliability.
The A0 address is the basic information. Generally, we should pay attention to:
Data Address
Name of Field
Description of Field
Content
Details(Hex)
0
Identifier
Type of transceiver
SFP or SFP+
3
2
Connector
Code for connector type
SC
1
LC
7
RJ45
22
4~5
SONET
SONET Compliance Codes
OC3/STM1 IR-1
10 02
OC48/STM16 IR-1
12 00
6
Ethernet
Ethernet Compliance Codes
2.5G
0
1.25G MM
1
1.25G SM double fiber
2
1000BASE-T
8
155M SM double fiber
10
155M MM
20
100BASE-T
30
1.25G single fiber
42
155M single fiber
50
PON SFP
82
12
BR, Nominal
Nominal signalling rate, units of 100MBd
125Mb/s
1
155Mb/s
2
1.25Gb/s
0D
2.5Gb/s
19
14
Length(SMF,km)
Link length supported for single mode fiber, units of km
SM 15km
0F 96 00 00 00 00
15
Length (SMF)
Link length supported for single mode fiber, units of 100 m
SM 40km
28 FF 00 00 00 00
16
Length (50um)
Link length supported for 50 um OM2 fiber, units of 10 m
SM 80km
50 FF 00 00 00 00
17
Length (62.5um)
Link length supported for 62.5 um OM1 fiber, units of 10 m
MM 2km
00 00 C8 C8 00 00
18
Length (cable)
Link length supported for copper or direct attach cable, units of m
MM 550m
00 00 37 1B 00 00
19
Length (OM3)
Link length supported for 50 um OM3 fiber, units of 10 m
Copper 100m
00 00 00 00 64 00
20~35
Vendor name
SFP vendor name (ASCII)
"FiberMall"
52 61 69 73 65 63 6F 6D
20 20 20 20 20 20 20 20
40~55
Vendor PN
Part number provided by SFP vendor (ASCII)
"SFP-GE31-LX20"
55 53 46 50 2D 47 62 2F
53 31 2D 30 32 52 20 20
60~61
Wavelength
Laser wavelength
850 nm
06 0E
1310nm
05 1E
1550nm
06 0E
1471nm
05 BF
63
CC_BASE
Check code for Base ID Fields(addresses 0 to62)
Check Sum
Variable
92
Diagnostic Monitoring Type
Diagnostic Monitoring Type
External Calibration
58
Internal Calibration
68
Not Support
0
Generally speaking, the SFF-8472 standard defines a framework for third-party suppliers' optical modules, and the quality of optical modules meeting this standard can be guaranteed. In addition, we should pay attention to the following three points: check whether the optical module matches the port of the network equipment; ensure that the wavelength of the optical module used at both ends matches; and the optical module at both ends must use the correct network patch cable or fiber optic patch cable when making connections.
 4. Summary
The quality of the optical module can directly affect the transmission effect of the optical link. Although the quality of the original optical module is good, its price is very expensive. At present, the compatible optical modules provided by many third-party suppliers can be compared with the original optical modules, and the price is very advantageous, which can help users save a lot of costs. FiberMall is a professional optical module supplier. We have a special process to test the compatibility of optical modules, which is to ensure that every optical module is 100% compatible. We can provide switches compatible with network equipment of major brands, such as Huawei, H3C, Cisco, HPE, Dell, Juniper, ZTE, etc., with favorable prices and sufficient inventory.