The optical transceiver module has three major components, which are opto-electronic devices (TOSA/ROSA), a circuit board with electronic components (PCBA) and optical interfaces (housings) such as LC, SC and MPO.


Figure1: Components of an Optical Transceiver
The optical transmitting part is composed of three parts: light source, driving circuit, and control circuit (such as APC), which is used to test the two parameters of optical power and extinction ratio.

Figure2: Optical transmitting circuit schematic
The receiving part, with PIN as an example, is composed of PINTIA (InGaAs PIN and trans-impedance amplifier) and limiting amplifier. The input optical signal is converted to photo-current through the PIN tube, and the photocurrent is converted into a voltage signal by the trans-impedance amplifier. Then the voltage signal is amplified by the limiting amplifier and produce differential DATA and DATA signal exchange output through the shaping filter and limiting amplifier. It has no-light-alarm function– when the optical power is not enough to maintain the operation of the module, the SD terminal generates a logic low signal to raise an alarm.

Figure3: Optical receiving circuit schematic
The basic structure of optical module package is Transmitting Optical Sub-Assembly (TOSA) and driving circuit, Receiving Optical Sub-Assembly (ROSA) and receiving circuit. The technical barriers in TOSA and ROSA mainly lie in two aspects: optical chip and optical packaging technology, which are the core competitiveness of Fiber Mall. Fiber Mall has a complete set of optical packaging technologies, which can be used for the development and production of each packaging process type.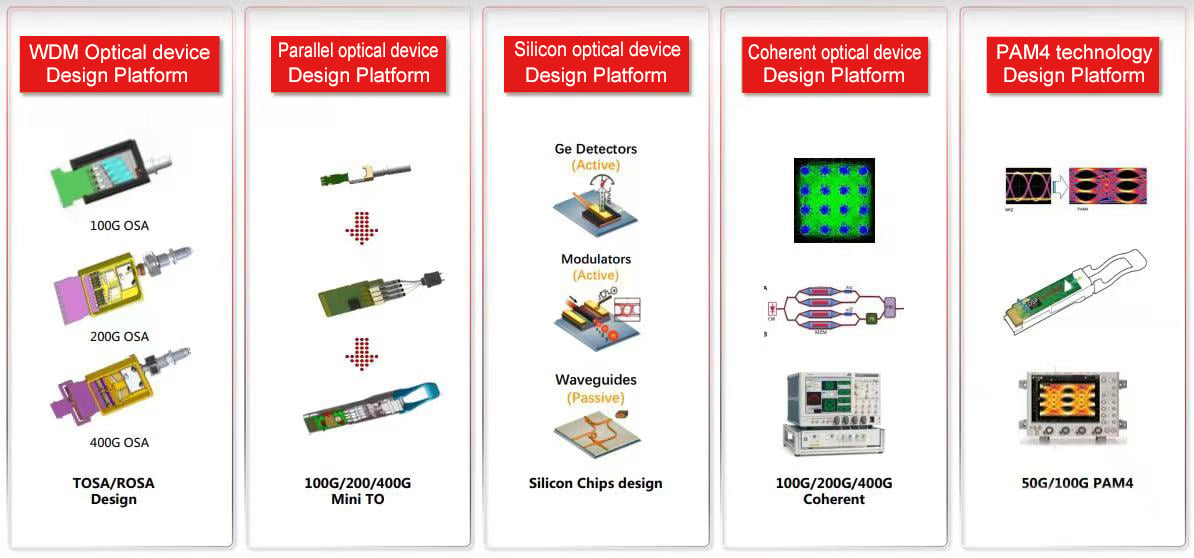 Figure4: Design platforms for different optical packaging techniques
Generally, ROSA is packaged with beam splitter, photodiode (converting optical signal to voltage) and trans-impedance amplifier (amplifying voltage signal), while TOSA is packaged with laser driver, laser and multiplexer. There are four main optical packaging processes for TOSA and ROSA:
1) TO-CAN coaxial package
TO-CAN coaxial package: in most cases, the housing is cylindrical. It is difficult for built-in cooling, heat dissipation, and for high power output under high current because of its small volume, so it is not suitable for long distance transmission. At present, the main application is in 2.5Gbit/s and 10Gbit/s short-distance transmission, with low cost and simple process.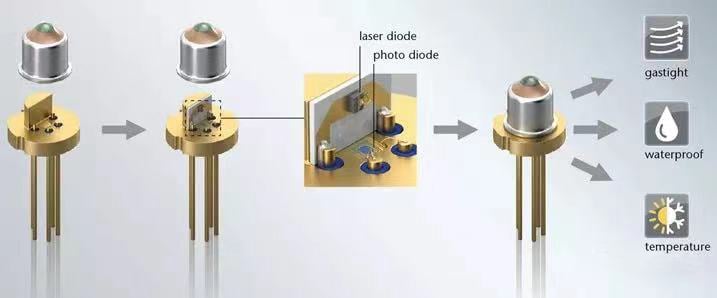 Figure 5: TO-CAN coaxial package
Fiber Mall's 10G SFP+ AOC products made with TO-CAN coaxial packaging process.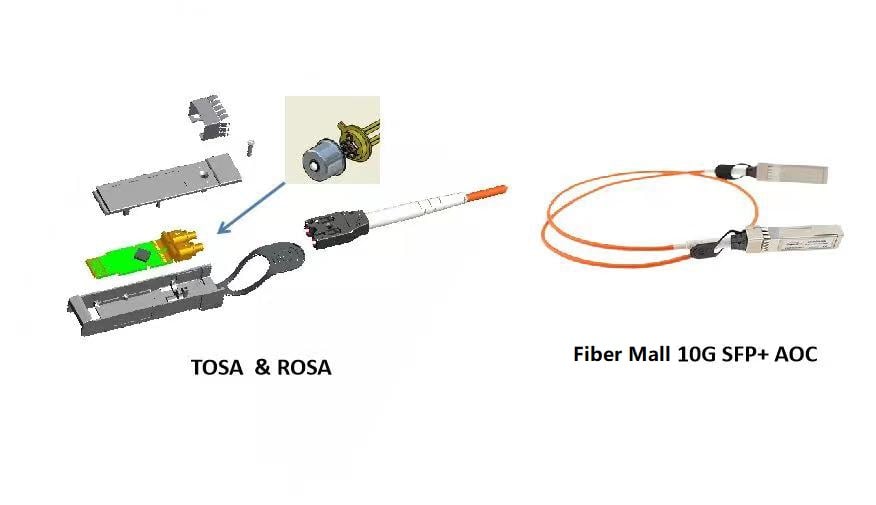 Figure6: Fiber Mall's 10G SFP+ AOC products
2)Butterfly package
Butterfly package: the housing is usually rectangular; the structure and realization of the function are complex. It can be configured with built-in cooler, heat sink, ceramic base block, chip, thermistor, backlight monitoring and can support the bonding lead of all the above parts. It can be used for a variety of rates and 80km long distance transmission with large housing area and good heat dissipation.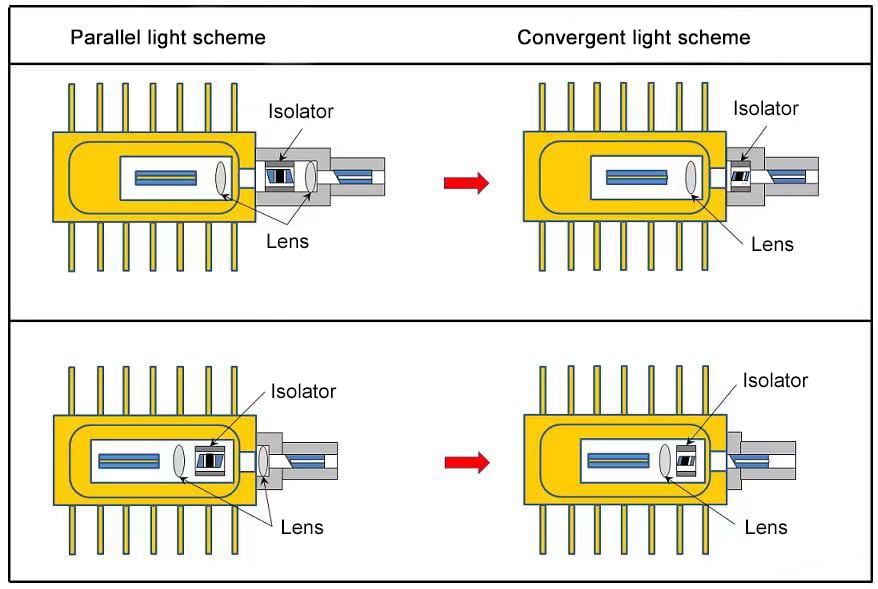 Figure7:Examples of butterfly package
3) COB (Chip on Board) package
COB package, or chip-on-board package, is to adhere a laser chip to a PCB substrate, which can be miniaturized, lightweight, highly reliable, and low-cost.

Figure8: Schematic diagram of COB package
Conventional single 10Gb/s or 25Gb/s rate optical modules use SFP form factor to solder the electrical chip and TO-packaged optical transceiver components to the PCB board to form an optical module. The 100Gb/s optical module, on the other hand, requires four groups of components when using a 25Gb/s chip, and will require four times the space if it is packaged in an SFP.
COB package can integrate TIA/LA chip, laser array and receiver array in a small space to achieve miniaturization. The technical difficulty lies in the accurate positioning of the optical chip patch (which affects the optical coupling effect) and the quality of the typing line (which affects the signal quality and BER).
Fiber Mall has a full set of COB process equipment, with manual coupling for customization and automatic coupling for batch consistency.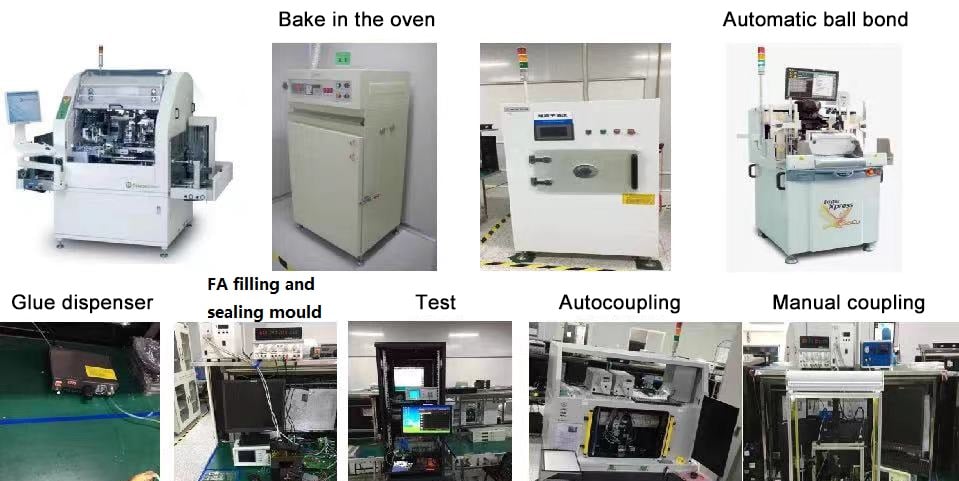 Figure9: Fiber Mall's full set of COB process equipment
Fiber Mall's 10G SFP+ AOC products made by COB process (exploded view).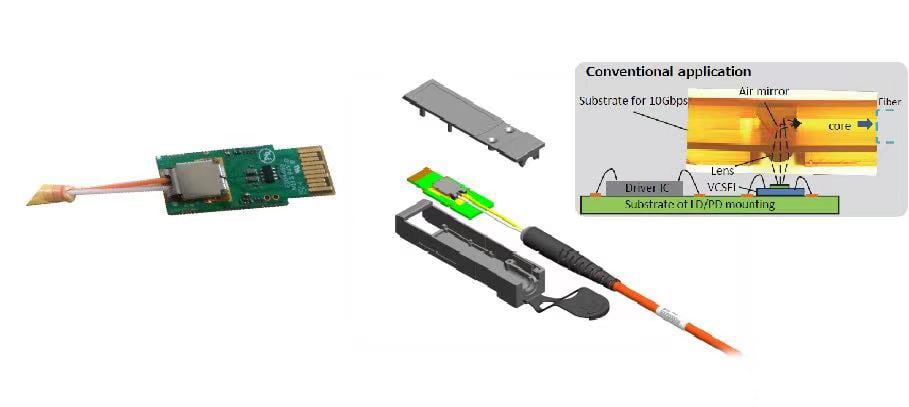 Figure10: Fiber Mall's 10G SFP+ AOC products made by COB process
4) BOX package
The BOX package is a butterfly package and is used for multi-channel parallel packaging.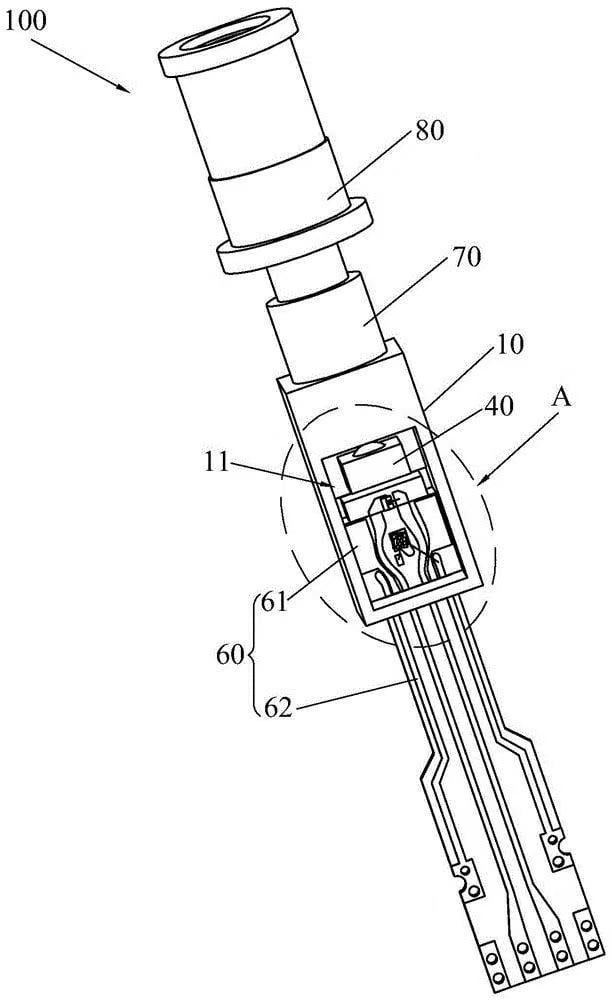 Figure11: Schematic diagram of BOX package
Fiber Mall's 100G QSFP28 LR4 optical module made by BOX package process:

Figure12: 100G QSFP28 LR4 optical module made by BOX package process
Optical modules of 25G or below mostly use single channel TO or butterfly package, with standard process, automation equipment and low technical barriers. However, 40G and above rate high-speed optical modules, limited by the laser rate (mostly 25G), are mainly realized through multi-channel parallel, such as 40G achieved by 4 * 10G and 100G by 4 * 25G. The packaging of high-speed optical modules puts higher requirements on parallel optical design, high-rate electromagnetic interference, volume reduction, and heat dissipation under increased power consumption.
With the increasing rate of optical modules, Fiber Mall has successfully mass-produced 400G transceivers (single-channel 56G) on the basis of single-channel baud rate enhancement, and 800G products with parallel optical design are being developed and are worthy of anticipation.