1. Basic information of copper SFP module
FiberMall currently offers two types of Copper SFP modules, see the table below for details:
Model
Description
Interface
Note
SFP-GE-TS
1000Base-T SFP, Max distance 100m over Cat 5 cables
RJ45-SerDes
1. All include TX_DIS signal; 2. The physical IC can be accessed via 2wire serial bus at address A0h; 3. Without DDM.
SFP-GE-TM
10/100/1000Base-T SFP, Max distance 100m over Cat 5 cables; Compliant in host systems
RJ45-SGMII

2. Differences and applications of Copper SFP module 
The main difference between the two SFP copper modules is the interface type.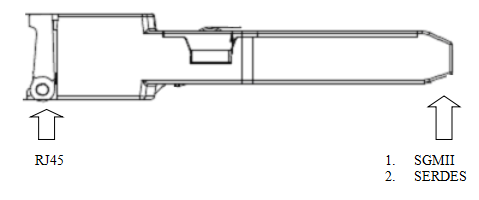 As can be seen from the figure above, the external ends of the two copper SFP modules are both standard RJ45 interfaces, while the device end (conductive metal) is distinguished by SerDes and SGMII, which leads to different application situations of the modules.
SGMII (Serial Gigabit Media Independent Interface) is the interface between Ethernet MAC and PHY. It can encode and decode the data as 8B / 10B. And the working clock is 125MHz, so the rate-adaptive function of 10/100/1000Mbps can be completed.

As shown in the figure, Data 1 will be encoded after input by SGMII, and then Data 2 will be output by RJ45; Data 2 will be de-coded after input by RJ45, and then Data 1 will be output by SGMII.
Therefore, the SFP-GE-TM module can be used in equipment and switches with SGMII interface on the SFP, and the RJ45 end can be connected to the network ports of various types of equipment at 10/100M/1000Mbps data transfer rate through the network cable, and can also be connected to the 1000M electrical port module (SFP-GE1-T).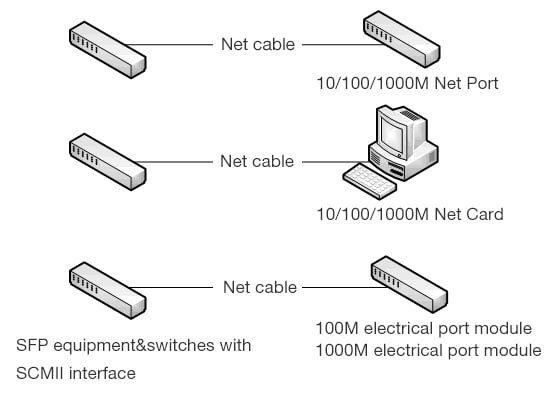 SerDes (SERializer & DESerializer) has a simple working principle: the multi-channel low-speed parallel signal at the transmitting end is converted into a high-speed serial signal, and then through the transmission medium (optical cable or copper wire), at the receiving end, the high-speed serial signal is converted into low-speed parallel signal again. In the process of signal transmission, there is only serial-parallel conversion, no coding and decoding process, namely transparent transfer or direct transfer.

Because the RJ45-SerDes interface is transparent transmission, the rate of both sides of RJ45 and SerDes must be the same, i.e., the SFP-GE-TS requires both ends to be Gigabit. This 1000M-only module plugs into devices with 1000M SFP ports (e.g. switches, transceivers) and connects to 1000M Network cards, 1000M Ethernet ports and other 1000M electrical port modules via network cables.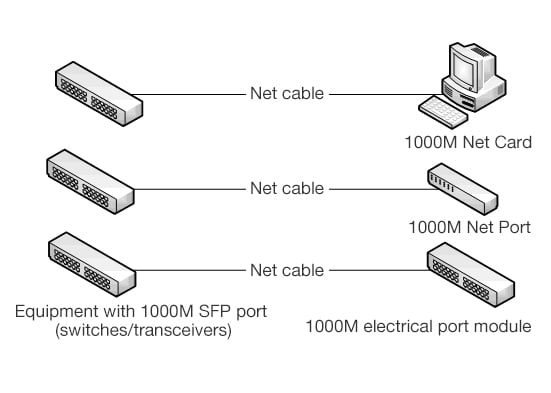 As shown in the diagram below, because the SFP ports of unmanaged switches and gigabit transceivers are SerDes interfaces, SFP-GE-TS need to be used in pairs on such devices.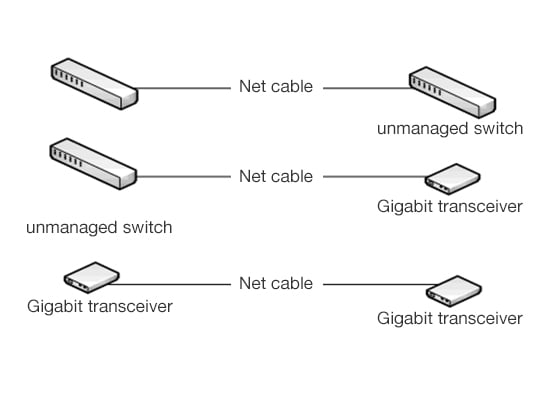 3. Points for attention

①When selecting a module, you must first be clear about its connection device and connection method, especially for SFP-GE-TM Copper Module (10/100/1000Base-T SFP), it will not function properly if the connection device or connection method is not correct.
②For SFP-GE-TS Copper Module (1000Base-T SFP), must make the data transfer rate of all the devices compatible.
 4. Switch compatibility test
We tested FiberMall's four types of electrical port copper modules in Arista, Cisco, H3C, Huawei, HPE, IBM, Juniper, Dell, and Edgecore switches for Los signal, Disable signal, connectivity, and basic information readability.
The results are shown in the table below:
FiberMall PN→
SFP-GE-TS
SFP-GE-TSI
SFP-GE-TM
SFP-GE-TMI
1000M Only Copper Module
10/100/1000M Copper Module
Switch Module
Rate
SERDES、0~70°C
SERDES、-40~85°C
SGMII、0~70°C
SGMII、-40~85°C
Los
No
yes
No
yes
Disable
yes
yes
yes
yes
Arista-7050
Connectivity
ON
ON
DOWN
DOWN
Readability
OK
OK
OK
OK
Cisco-2960g
Connectivity
ON
ON
ON
ON
Readability
OK
OK
OK
OK
Cisco-3560x
Connectivity
ON
ON
ON
ON
Readability
OK
OK
OK
OK
Cisco-3064
Connectivity
ON
ON
ON
ON
Readability
OK
OK
OK
OK
Cisco-5548
Connectivity
ON
DOWN
DOWN
DOWN
Readability
OK
OK
OK
OK
Dell-ForceS4810
Connectivity
ON
ON
ON
ON
Readability
OK
OK
OK
OK
Edgecore-5712
Connectivity
ON
ON
ON
ON
Readability
OK
OK
OK
OK
H3C-S3100
Connectivity
ON
ON
DOWN
DOWN
Readability
OK
OK
OK
OK
HP-2910
Connectivity
ON
ON
ON
ON
Readability
OK
OK
OK
OK
HP-5900
Connectivity
ON
ON
ON
ON
Readability
OK
OK
OK
OK
Huawei-S3700
Connectivity
ON
ON
ON
ON
Readability
OK
OK
OK
OK
Huawei-S5700
Connectivity
ON
ON
ON
ON
Readability
OK
OK
OK
OK
IBM-G8264
Connectivity
ON
ON
ON
ON
Readability
OK
OK
OK
OK
Juniper-QFX5100
Connectivity
ON
ON
ON
ON
Readability
OK
OK
OK
OK