The 40G network connection technology solution includes 40G QSFP+ series optical transceiver modules. Among them, the most common ones are 40GBASE-LR4 QSFP+, 40GBASE-SR4 QSFP+, and 40G LR4 PSM. In addition, the high-speed cable DAC-40G QSFP+ and active optical cable AOC-40G QSFP+ have attracted the attention of more and more users in the industry This article will introduce and explain the above technology solutions, and then provide an analytical reference for users to select 40G connection solutions.
1. What is the difference between QSFP and QSFP +?
QSFP, short for Quad (4-channel) Small Form-factor Pluggable is a compact, hot-swappable transceiver that can also be used for data communication applications. QSFP+ is composed of 4 channels of 10Gb/s rate supporting Infiniband, SFF-8436 standard, Fiber Channel, Ethernet, and another proprietary interconnects. Abbreviated from Quad Small Form Factor Pluggable Plus, QSFP+ is an enhanced version of QSFP. Compared with QSFP, QSFP+ has higher bandwidth of 10Gbp/s Ethernet per channel, thus the data rate of the 4 channels can be combined into 40Gbps/s in compliance with Infiniband, Fiber Channel, Ethernet SAS, and SONET / SDH.
2.40G QSFP+ Interface
QSFP+ optical ports are in compliance with protocols of 40G Ethernet, IEEE802.3ba-2010, and MSA standard, which specified that either 12-fiber MPO or duplex LC can be the interface to the QSFP optical module family. The former connector is usually applied in modules with multi-mode fiber(MMF), while the latter is applied in those with single-mode fiber(SMF). 40GBASE-SR4 and 40GBASE-LR4 exemplify MPO/MTP and LC interface applications in optical transceivers.
3.Different 40G QSFP+ Optic Transceivers
● 40G QSFP+ LR4
The 40G LR4 QSFP+ optical module is generally connected to the LC connector, and its maximum transmission distance can reach 10km over single-mode fiber. A QSFP 40G LR4 optical module has four independent channels to transmit and receive optical signals, which need to be processed by MUX or DEMUX(an optical component for wavelength division) to multiplex and demultiplex.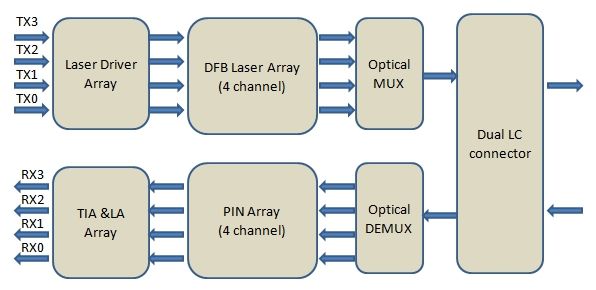 ∆ Diagram of 40G LR4 QSFP+ optical module's fundamental
In compliance with the 802.3ba standard, the 40G BASE-LR4 QSFP+ optical module can be used with the LC fiber connector and its transmission rate can reach 40Gbps. This type of optical module has 4 data transmission channels, each of which can transmit data at a speed up to 10.3125Gbps. When the four channels work simultaneously, the network connectivity can realize a combined 40Gbps by using 4 wavelengths on one pair of single-mode optical fiber. 40G QSFP+ LR4 optical transceiver modules are usually applied for data connection between data centers and Internet exchange points with a transmission distance of up to 10km.
● 40G SR4 QSFP+
40GBASE-SR4 QSFP+ complies with the 802.3ba D3.2 (40GBASE-SR4) standard and can be used with MPO/MTP optical connectors to achieve 40Gbps optical signal connections. Similarly, 40G SR4 QSFP+ modules transmit optical signals over 4 channels with the same transmission data rate as that of the QSFP+ LR4. In data centers, the 40GBASE-SR4 QSFP+ optical module can work with multi-mode OM3/OM4 optical fiber to achieve a transmission distance of 100m (OM3) and 150m (OM4), enabling the interconnection between two Ethernet switches.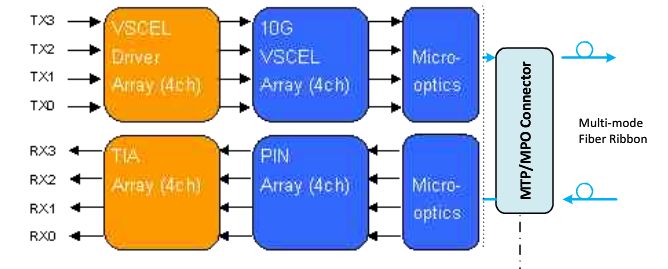 ∆ Diagram of 40G SR4 QSFP+ optical module's working
QSFP+ 40G SR4 optical modules are often connected with MPO/MTP interfaces in 40G data transmission. Different from the QSFP+ 40G LR4 optical module, this 40G SR4 optical transceiver transmits the signal over multi-mode fiber breakout cables, two types of which are OM3 and OM4 with a max transmission distance of 100m and 150m respectively. When the signal is at the transmitting end, the laser array first converts the electrical signal into an optical signal and sends it in parallel through the ribbon multimode fiber. At the receiver end, the photodetector array converts the parallel optical signal into a parallel electrical signal. The following diagram illustrates the signal transmission in a QSFP+ 40G SR4 optical transceiver.
● 40G LR4 PSM
The 40G LR4 PSM optical module is designed with optical/electrical connection and digital diagnostic interface according to the QSFP+ multi-source protocol. As a highly integrated 4-channel optical module, 40G QSFP LR4 PSM has a higher port density and is more cost-effective for the entire system's operation. This optical module adopts the parallel single-mode technology PSM (Parallel Single-Mode), and the 4-way parallel-designed MPO/MTP interface can realize a stable and efficient transmission of 10km.
40G LR4 PSM and 40G SR4 QSFP+ transceiver work in the same way, i.e. the electrical signal is transferred to optical signal through the laser array, and then the optical signal is converted into an electrical signal by the photodetector array. However, 40G QSFP+ LR4 PSM optical modules connect with single-mode fiber connectors, dedicating that parallel optical signals are sent in parallel through 8 single-mode fibers.
In summary, QSFP+ 40G SR4 optical modules are suitable for short-distance transmission in data centers to connect Ethernet switches with OM3/OM4 ribbon fiber cables. The 40G LR4 QSFP+ and 40G LR4 PSM optical module are network connectivity solutions for long-distance transmission instead. But the 40G LR4 QSFP+ is more cost-effective in that there are only two single-mode fibers while the 40G LR4 PSM optical module requires eight single-mode fibers.
4. QSFP+ 40G DAC & 40G AOC
QSFP+ optical modules can also be connected with QSFP+ branch cables to form a high-density data connectivity solution. According to the different transmission media of optical cable, it is generally divided into the active optical cable (AOC) and DAC (high-speed direct attach copper cable).
40G DAC is known for its advantageous features on the market. It is designed with a seamless connection form of the 40G optical module and optical cable, which not only reduces the cost but also ensures that the optical port is not exposed to dust and other pollutants. Meanwhile, the design improves transmission efficiency making it is widely used in network wiring. In terms of material, the high-speed direct attach cable is made of copper core, a metal that features good heat dissipation, energy-saving, and environmental protection.
● 40G QSFP+ to QSFP+ DAC
QSFP+ 40G DAC cable consists of a copper core cable connected to two 40G QSFP+ optical modules. The transmission distance of high-speed cables is shorter, and generally, the maximum transmission distance of source cables is about 5m, while the transmission distance of active optical cables can reach 15m. At present, our Fiber Mall 40G QSFP+ DAC supports a maximum transmission distance of 7 meters, and 10G SFP+ DAC supports a maximum transmission distance of 10 meters.
                                                                                 ∆ How to Use  40G QSFP+ to QSFP+ Active Copper Direct Attach Cable 
● 40G QSFP+ to 4x SFP+ DAC
40G QSFP+ to 4x SFP+ Splitter Direct Attach Cable offers IT professionals a cost-effective interconnect solution for merging 40G QSFP and 10G SFP+ enabled host adapters, switches, and servers. This QSFP+ (Quad Small Form-factor Pluggable Plus) copper direct-attach cable support the bandwidth transmission requirements as defined by IEEE 802.3ba (40 Gb/s) and Infiniband QDR ( 4×10 Gb/s per channel) specifications.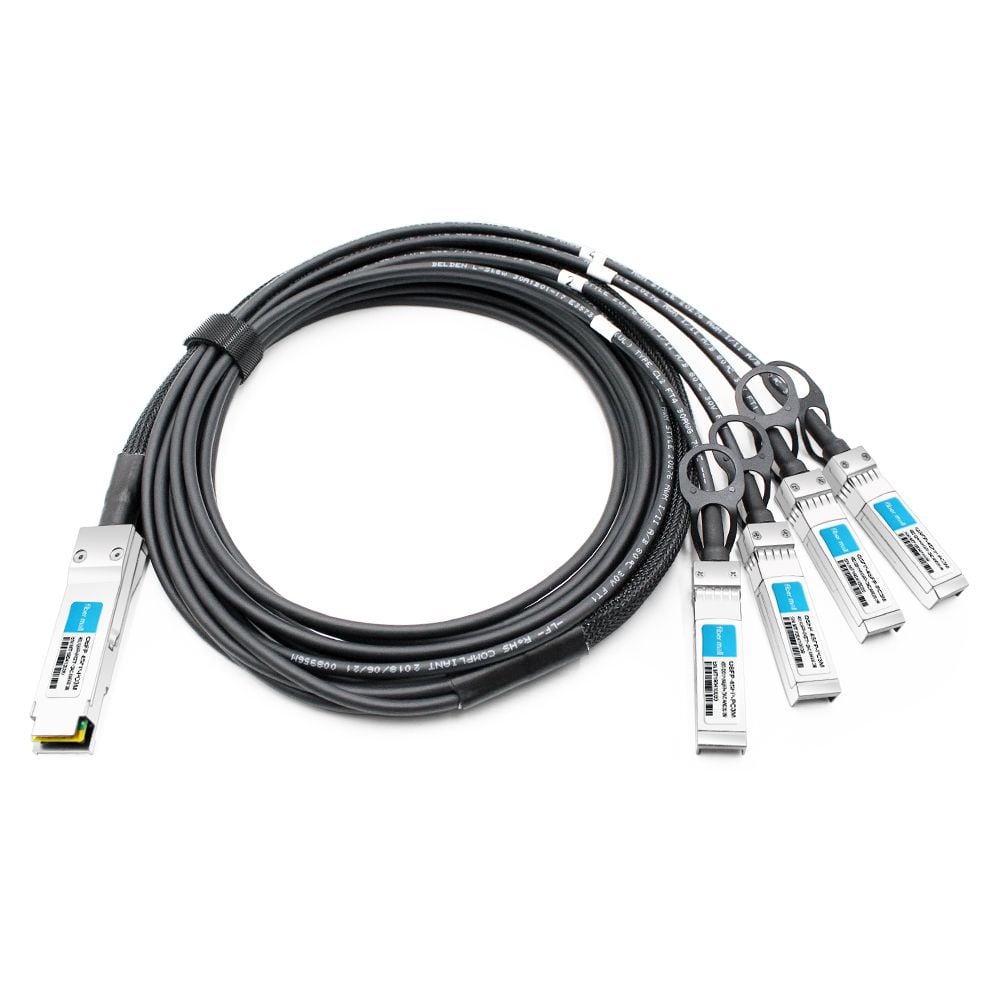 ∆  Fiber Mall 40G QSFP+ to 4x SFP+ Copper Breakout Cable
● 40G QSFP+ to QSFP+ AOC
The QSFP+ active optic cables are high performance, low power consumption, long reach interconnect solution supporting InfiniBand QDR/DDR/SDR,12.5G/10G/8G/4G/2G fiber channel, PCIe, and SAS. It is compliant with the QSFP MSA and IEEE P802.3ba. QSFP AOC is an assembly of 4 full-duplex lanes, where each lane is capable of transmitting data at rates up to 11.3Gb/s, providing an aggregated rate of 45.2Gb/s. QSFP+AOC is one kind of parallel transceiver that provides increased port density and total system cost savings.


Unlike optical transceivers, AOC optical cable has no problems in optical interface cleaning due to its design of a not exposed interface, which significantly improves its system stability and reduces the cost in severe room maintenance. 40G QSFP+ AOC consists of an optical fiber connected to two 40G QSFP+ optical modules. Compared with 40G DAC copper cable, 40G AOC active optical cable has incomparable advantages in a data transmission environment of more than 7 meters, including smaller size, lighter weight, easier bending, easier management, longer signal transmission distance, etc.
Active optical cable, an interconnection structure between chips based on light engine technology is the best solution for high-speed optical interconnection in data centers. At present, mainstream high-speed optical interconnect AOC products in the market include 10Gbps SFP+ AOC, 40Gbps QSFP+ AOC, and 56G QSFP+ AOC.
● QSFP+ to 4*SFP AOC
QSFP+ to 4*SFP+ high-speed active optical cable are designed with a 40Gbps QSFP+ interface and 4 10Gbps SFP+ connectors on either end, which is connected by a 12-core MPO high-density optical cable. The length of the connecting fiber cable can be customized according to the users' requirements. There is an optical splitter in the middle of the MPO cable for the purpose of dividing a 40G optical into a 10G signal on each of the 4 channels.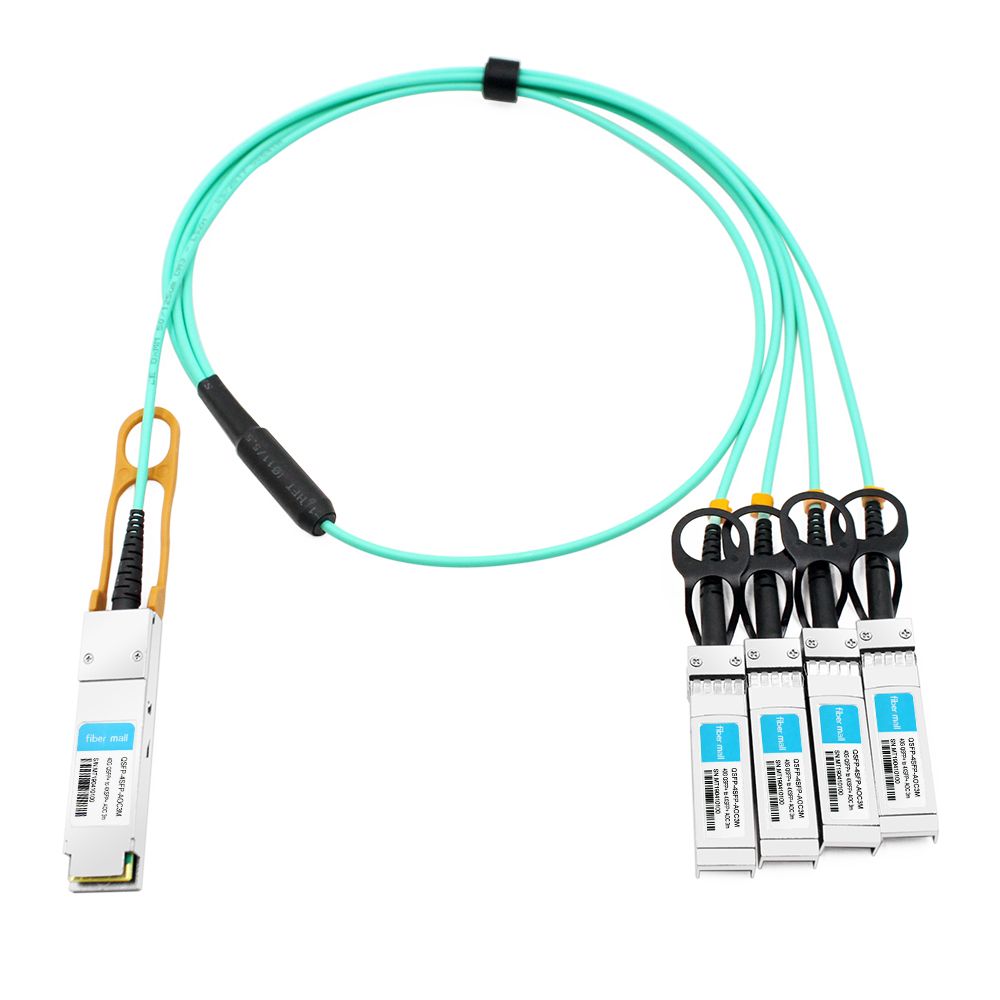 ∆ 
QSFP-4SFP-AOC1M 1m (3ft) 40G QSFP+ to 4 x 10G SFP+ Active Optical Breakout Cable
One end of the optical cable is equipped with a 40G QSFP connector compliant with the requirements of SFF-8436; the other end is a 4-line 10G SFP+ connector compliant with SFF-8432, which is the most economical and simple way to achieve switch port conversion. For the transmission length of 1 to 100 meters, the length of the optical cable at both ends of the splitter can be freely designed. In the same way, 120G CXP to 3 40G QSFP+ interconnect products can solve the problem of interconnection between CXP and QSFP devices. What needs to be proposed is to fan out 3 4-core products through the 24-core MPO high-density optical cable to complete the perfect conversion.
Conclusion
There is a wide variety range of network solutions on the market. QSFP+ 40G optical modules, QSFP+ 40G DAC, and 40G AOC are popularized with their advantages and provide a high-performance and cost-effective interconnection between servers, switches in data centers. 40G BASE-LR4 QSFP+ optical transceivers differentiate from 40GBASE-SR4 QSFP+ mainly in their interfaces. 40G QSFP+ DAC cable is well known for its strengths such as lower cost and power consumption and good heat dissipation. While 40G AOC cables enable longer transmission distance and adopt highly integrated array optical engine core device technology. May the analysis on these 40G QSFP+ network solutions is meaningful for your selection.