Abstract: Fiber Mall announced the arrival of 10GBase-T 80M Copper SFP+ Transceivers, which is designed for high-speed communication with a transmission distance of 80m. It is widely used in 10 Gigabit Ethernet, providing the device designers and data center professionals with new networking deploying solutions.
10GBase-T 80m SFP+ copper transceivers transmit 10 Gigabit Ethernet over the Cat 6a / Cat7 twisted-pair cable. Compliant with the SFF-8432 MSA (Multi-Source Agreement), this SFP+ copper module interconnects the 10 Gigabit electrical port NIC (network interface card) with RJ-45 interface and the 10 Gigabit switch with SFP + port, enabling a link distance up to 80m. Fiber Mall 10GBase-T 80m SFP+ copper module adopts Broadcom's PHY chip BCM84891, and usually inter-operates with switches, servers, network cards at a low power consumption of 2.0W.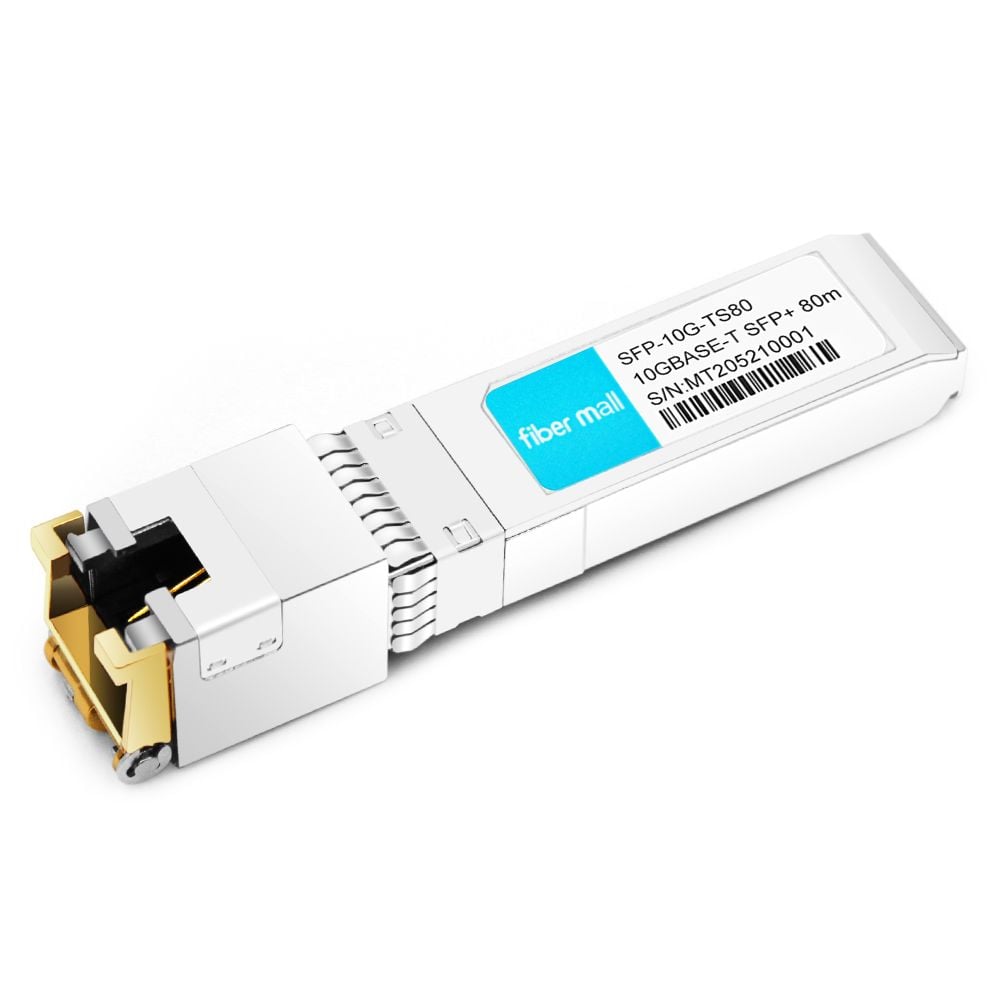 There are 2 types of 10G copper transceiver: one is commercial-grade; the other is industrial-grade. The product launched by Fiber Mall belongs to commercial grade and its operating temperature range is 0-70℃.
 Product Details
| | | | |
| --- | --- | --- | --- |
| Compatible Brands | Fiber Mall | Max Distance | 0.5-80m |
| Cisco Compatible | SFP-10G-T-S | Vendor Name | FIBER MALL |
| Form Factor | SFP+ | Data Rate | 10Gbps, 5Gbps, 2.5Gbps, 1000Mbps |
| Power Consumption | 2.5W | Cable Distance | 80m |
| Interface | RJ-45 | DDM Support | No |
| Protocols   | 10G Ethernet, MSA Compliant | Operation Temperature | 0 to 70°C (32 to 158°F) |

As we all know, the SFP+ optical module is unable to work over the existing copper infrastructure unless equipment such as Ethernet switches or optic converters optical-electrical converter is deployed. However, 10G SFP+ to RJ45 80m transceiver allows the 10GbE Ethernet links over the existing copper cabling infrastructure in a high-performance way, which significantly reduces end-users' investment in cabling layout. 
As a professional supplier of optical communication products, Fiber Mall is committed to providing reliable designs and solutions for our customers. Fiber Mall's product portfolios include copper transceivers, optical transceivers, cable as well as other optical communication products compatible with a wide range of OEM's including Cisco, Intel, Juniper, etc.