Recently, Fiber Mall launched a DWDM solution using a QSFP-DD-400G-DCO-ZR/ZR+ coherent transceiver. This solution directly inserts 400G ZR/ZR+ coherent transceivers on the switch and realizes DWDM transmission of DCI through optical layer transmission. The introduction of this solution will help reduce the network complexity of data center interconnection(DCI), increase the reliability of the transmission system, realize large-capacity transmission, and reduce system power consumption and cost.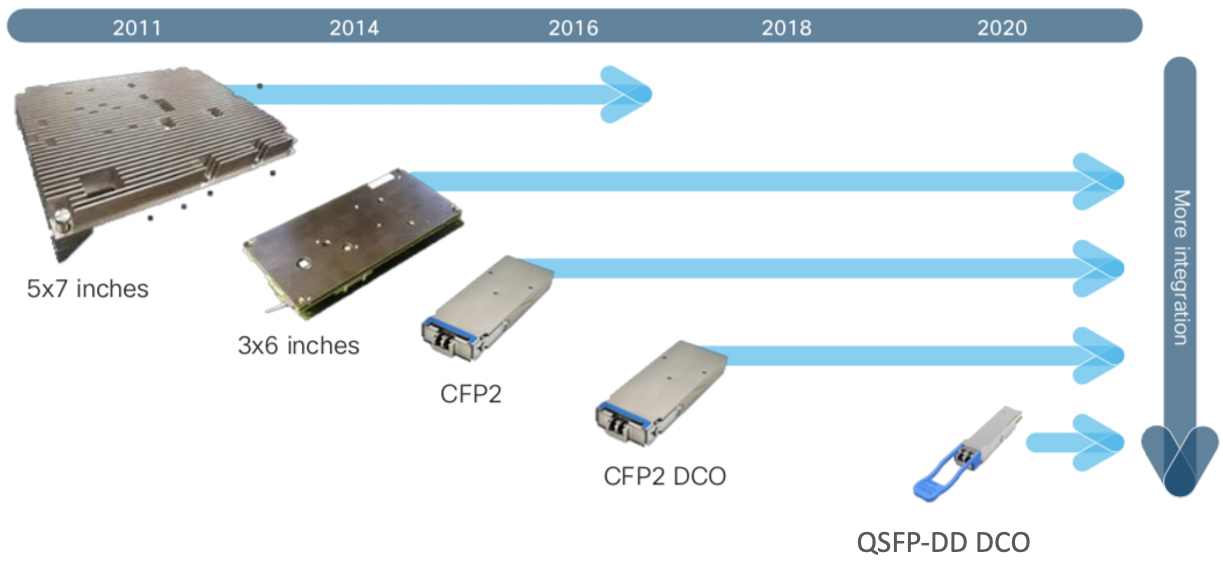 Coherent DWDM transceiver evolution
At present, Fiber Mall can provide a full range of 100G, 200G, and 400G coherent optical solutions, covering various application scenarios such as ZR (120km short-haul), MAN(Metro Area Network), and LH (long-haul), supporting optical transceiver form factors including CFP2, OSFP, and QSFP-DD. The solution uses a low-power 400ZR (in line with the OIF 400ZR specification) or a high-performance 400G ZR+ optical module, of which the 400G ZR transmission distance can support transmission distances up to 120km, and the transmission distance of 400ZR+ of high-performance mode can reach more than 480km.
Before the solution was launched, Fiber Mall carried out a series of transmission experiments, which mainly consisted of 400G ZR/ZR+ modules, switches, and transmission equipment. According to the typical DCI transmission link, the pluggable coherent modules directly output on the switch to realize the 400G DWDM solution. 400G ZR and 400G ZR+ optical modules need to be used together with EDFA amplifiers. In the optical transmission system based on digital coherent detection, the switch realizes the distribution and exchange of service signals, while the coherent module completes the conversion of Ethernet signals from the electrical domain to the optical domain, and realizes line coherent debugging and demodulation, FEC, CD(Chromatic Dispersion) and Electrical domain compensation of PMD and SOP parameters to achieve 400G 80-480Km DCI.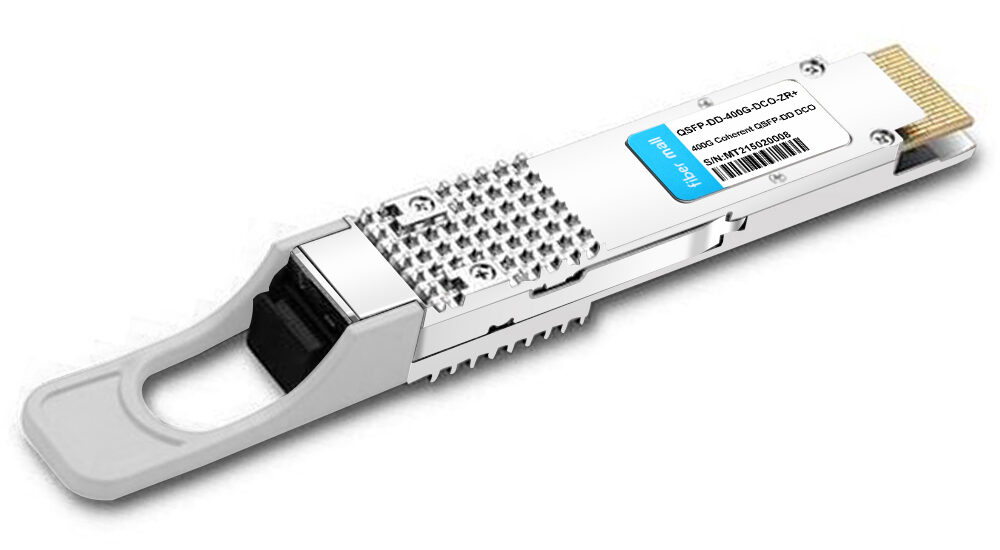 Fiber Mall QSFP-DD-400G-DCO-ZR+
Ricky Xia, senior director of coherent products at Fiber Mall, said: The introduction of 400G ZR and 400G ZR+ modules solves the problem of intercommunication between coherent modules and realizes the direct output of colored light from switches, which helps to reduce the network complexity of DCI, reduce energy consumption and costs, and promote the new application of coherent technology in DCI.
The new solution launched by Fiber Mall will promote the development of a 400G network and lay a solid foundation for the use of 400G long-haul optical modules in future DCI scenarios.
Highlights of Fiber Mall 400G ZR/ZR+:
Adopt 7nm DSP technology, silicon photonics integration technology, and narrow linewidth ITLA technology.

Support OIF 400ZR/ZR+ standard, and can realize interconnection with modules of other manufacturers.

Fully comply with OIF 400ZR/ZR+ photoelectric specifications, with 400G ZR transmission distance reaching120km, and 400G ZR+ reaching480km.

Low power consumption– the actual power consumption is only about 15W.This product greatly reduces the heat dissipation pressure of the system board, and reduces the system cooling requirement and fan power consumption, with the highest working case temperature reaching 75°.

The software complies with CMIS and C-CMIS MSA standards.

Applied to DCI, edge network, 5G backhaul, MANand other fields.
About us:
Fiber Mall is a professional high-speed optical interconnect integrated solution provider, dedicated to the R&D, design, packaging, testing, and sales of high-end optical communication transceiver modules. Its products serve domestic and foreign customers in the fields including cloud computing data centers, data communications, 5G wireless networks and telecommunications transmission, etc.
Fiber Mall focuses on technology R&D and promotes the development of products in the direction of high speed, miniaturization, low power consumption and low cost. It provides 100G, 200G, 400G, and 800G high-speed optical transceivers for cloud data center customers, and 5G fronthaul, midhaul, and backhaul optical transceivers for telecom equipment manufacturers, which are applied in high-end fields such as optical transceivers transmission in metropolitan area network, backbone network, and core network. Fiber Mall maintains the leading edge in shipments and market share in the industry.