Recently, Fiber Mall, a leading provider of optical network solutions, announced the launch of the 400G-QDD-4QSFP28 Muxponder for the 100G aggregation layer of 400G DWDM systems. The product brings operational simplicity, cost-effectiveness, and low-latency capabilities to network operators for deployment in metro networks.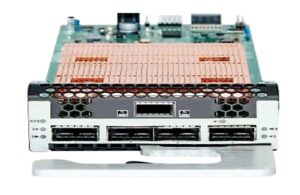 Fiber Mall's 400G-QDD-4QSFP28
The 400G-QDD-4QSFP28 is a Muxponder with Layer 1 and OpenZR+ specifications that supports quad 100G customer links and 400G line interfaces. This gives network operators the flexibility to deploy 100G, 200G, 300G, or 400G DWDM systems.
"The 400G-QDD-4QSFP28 can quadruple 100G over 400G lines to improve fiber utilization," said Ricky, Chief Technology Officer of Fiber Mall. "Compared to traditional multiplexers, the product can transmit higher capacity at lower latency per wavelength. This is the key to driving larger and more complex network deployments. When combined with our DCP-R series ROADM products, the 400G-QDD-4QSFP28 is a major upgrade for metro network products."
The 400G-QDD-4QSFP28 muxponder supports a range of QSFP28 transceivers on the client side and a coherent 400G QSFP-DD ZR, 400G QSFP-DD ZR+ transceiver on the line port. This muxponder uses standardized, pluggable, mass-produced optics to provide customers with an attractively priced option.
Ricky also said that the 400G-QDD-4QSFP28 requires no configuration at all. It is highly flexible to support and select optical components, and the product is designed to be easy to deploy and use. At the same time, this muxponder is unique in supporting QSFP-DD lines, and when combined with the advanced low power consumption level, it has an unmatched price/performance ratio. The 400G-QDD-4QSFP28 is an important step forward for Fiber Mall, further cementing the company's role as a fast-growing market challenger in easy-to-use, decoupled DWDM networks.
About Fiber Mall
Fiber Mall is committed to providing innovative optical network solutions and equipment for the new era of open networks. Its customers cover thousands of enterprises, governments, cloud computing, Internet exchanges, and CATV and telecom operators. We insist on an open network approach to help customers break unnecessary vendor ties, maintain flexibility, and minimize costs. Fiber Mall solutions are used in metro/regional network applications that rely extensively on data center services.