Over the past decade, 10G and 40G technologies have dominated the Ethernet market. However, with the user's demand for high bandwidth and the increasing need for special applications, 25G/50G/100G technologies have attracted more and more attention from users. They gradually stand out in network deployment by providing effective paths for high rates. We will introduce 25G/50G/100G technologies and their relationships below.
25G technology
The 25G Ethernet standard is launched by IEEE in 2016 for servers in cloud data centers, which is a few years later than the 10G/40G/100G Ethernet standard.
The main advantage of 25G is the use of SerDes technology, which is a mainstream time-division multiplexing (TDM) and point-to-point (P2P) serial communication technology. It can make full use of the channel capacity of the transmission medium and minimize the required number of transmission channels and device pins, thereby increasing the transmission rate of the signal and greatly reducing the communication cost.

20G/50G/100G technologies
Currently, most of the components used in switches run SerDes with a clock rate of about 10Ghz, providing 10Gbps transfer rates between different components. Due to the rapid development of SerDes technology in recent years, SerDes with a clock rate of 25Ghz has become one of the economically viable options, which has led to differences in cost and benefit among 10G, 40G, and 25G.
10G VS 25G: for the same SerDes channel, 25G provides throughput 2.5 times higher than that of 10G. When the 10G network is upgraded to 25G since the 25G SFP28 optical transceiver can use the LC jumper used in the 10G network wiring, there is no need for re-wiring, so it can effectively save costs.
40G VS 25G: 40G technology uses 4*10Gbps Fibre Channels (SerDes with a clock rate of 12.5Ghz), while 25G technology uses single-channel SerDes, so 25G can provide higher port density. At the same time, since most 40G QSFP+ optical transceivers on the market need to be used with MTP/MPO jumpers, 40G technology will inevitably increase cable costs.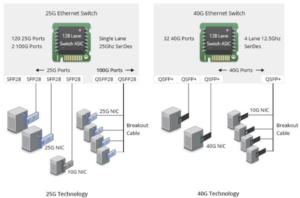 25G technology vs. 40G technology
50G technology
With the maturity of 25G technology and users' requirements for higher rates, the industry has high expectations for 50G technology. In 2018, IEEE launched the 50G Ethernet standard with the same architecture as that of the 400G/200G Ethernet standard. The standard uses PAM4 technology, which becomes the next solution for high-speed connection of servers and data centers for it can effectively improve the efficiency of bandwidth utilization.
Since 50G can reuse the components of 25G in existing 100G networks, it can effectively reduce costs. At the same time, 50G costs half the cost of 40G, but its performance is improved by 25%.

100G ToR to 50G Servers
Since PAM4 technology maps pairs of bits into a single symbol, the total baud rate per 50Gbit/s channel is 26.5625 Gbaud. 50Gbaud PAM4 can provide a 100G transmission rate through a 1*2*50 Gbaud architecture (only one laser is required), which means that the transmission rate can be increased from 10Gbps to 100Gbps using one laser, a full tenfold increase.
Compared with the early NRZ technology, PAM4 technology can provide higher transmission efficiency at a lower cost, so it is widely used in high-speed signal interconnection.

50G optical module
100G technology
100G Ethernet was officially released in 2010. Extensive changes were made to the standard later to meet the needs of high-speed, long-distance, and some special scenarios. 100G technology is gradually replacing 40G due to the continuous optimization of standards, the unification of technical solutions, the development of the industry chain, and the higher transmission rates and longer transmission distances (using DWDM technology), etc.
Physical Media (PMD)
40G
100G
Multimode fiber less than 100 meters (0M3)
40GBASE- SR4 ribbon fiber
850nm4*10Gbps
100GBASE- SR10 ribbon fiber
850nm10*10Gbps
Single-mode fiber longer than 10 kilometers
40GBASE-LR4CWDM 20nm (channel
interval) 1310nm 4 wavelength*10GbPs
10GBASE-LR4LA-WDM
4.5nm1310nm 4wavelength*25Gbps
Single-mode fiber longer than 40 kilometers
100GBASE-ER4LAN-WDM
4.5nm1310nm 4wavelength*25Gbps
Single-mode fiber without specification
No standard channel interval 8nm 1550nm 10 wavelength *10Gbps
100G technology vs. 40G technology
100G DWDM technology can realize long-distance high-capacity signal transmission on a single wavelength, especially for high-speed optical communication. Among them, the 100G DWDM QSFP28 optical module is especially suitable for 100G metropolitan area network (MAN) or data center interconnection (DCI) up to 80 kilometers or ultra-long links with transmission distances exceeding 1000 kilometers. At present, the super 100G DWDM technology has also been commercialized in DCI scenarios.
In addition, in the case of multi-rate and multi-protocol networks (such as 10G/40G/100G Ethernet protocols and rates), the use of 100G technology and beyond 100G DWDM muxponders can effectively avoid the redesign and planning of the network architecture. They can directly composite signals of different protocols and different rates into a single wavelength up to 100G/200G/400G for transmission, providing a flexible and cost-effective solution.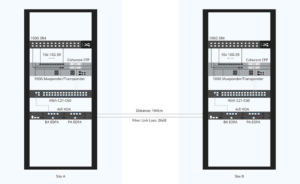 100G DWDM muxponder
What is the relationship between 25G/50G/100G?
Before the emergence of 25G and 50G, 100G network upgrades were implemented through the 10G-40G-100G method, but this method is inefficient and expensive. Now 25G/50G/100G is widely used in cloud data centers. If the three are combined together, a 10G-25G-50G-100G network upgrade can be successfully achieved.
Compared to the 10G-40G-100G approach, 25G is the most cost-effective solution to upgrade to 100G. If 25G is adopted for a 100G network upgrade, the spine-and-leaf architecture can be used through 4*25G or 2*50G SerDes channels to achieve it. In this way, 25G can achieve network upgrades with its compatibility based on the existing cabling infrastructure, which can provide higher transmission efficiency and performance while saving capital expenditures (CAPEX) and operating expenditures (OPEX).
All in all, the 25G-50G-100G network upgrade path can reduce the unit bandwidth cost by making full use of the switch port function while laying the foundation for 200G and 400G network upgrades.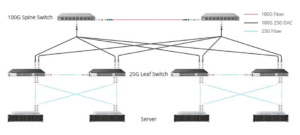 25G technology for 100G network upgrade
Conclusion
It can be seen from the above that 25G/50G/100G can well meet the needs of the market and lead the industry trend. Compared with the earlier 10G/40G, 25G/50G/100G technology adopts advanced technology and has certain advantages in cost and performance. It is undoubtedly the most cost-effective solution at present.
As the saying goes, if there is demand, there will be development. The Ethernet technology will continue to develop under the higher network requirements. Let us wait and see what will happen in the future.