At the recent OFC 2022 Exhibition, Broadcom demonstrated its 100G per channel optical PAM4 DSP (Digital Signal Processor) physical layer chip BCM87412, which is developed based on a 7nm CMOS process and integrates a trans-impedance amplifier (TIA) and high swing laser driver (Driver), and is optimized for 400G DR4/FR4 module application. The BCM87412 also features leading FEC function options in the industry, providing the market with an unparalleled competitive advantage.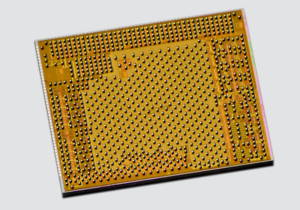 Broadcom DSP: BCM87412
Based on Broadcom's well-recognized 112G PAM4 DSP platform, this highly integrated DSP PHY provides the highest level of CMOS integration for powerful performance at lower power consumption, enabling sub-7W 400G DR4/FR4 modules to drive the industry toward a greener 400G Ethernet development.
Compared with the mainstream power consumption level of 9W in the industry, the reduction of module power consumption brought by this chip is a significant breakthrough. It can provide the lowest pJ/bit for DR4/FR4 modules and reduce the power consumption of the overall system to an unprecedented level for ultra-large-scale data centers and cloud providers.
At OFC 2022 exhibition, Broadcom demonstrated the interoperability of its FiberMall 400G DR4 module with its BCM87412 (100G per channel optical PAM4 DSP) and other Broadcom Tomahawk-based modules.
Vijay Janapaty, vice president and general manager of Broadcom's Physical Layer Products Division, said: "Broadcom continues to innovate and drive the development of next-generation PAM4 DSP integration. The launch of the BCM87412 satisfies our unremitting pursuit of lower power consumption and makes the industry's most advanced 100 G-based (single-channel) modules a reality. "
In 400GbE mode, the BCM87412 converts eight lanes of 53 Gb/s (26-Gbaud PAM-4) to four lanes of 106 Gb/s (53-Gbaud PAM-4) from the system side, to directly drive next-generation high-density optical PAM-4 QSFP-DD and OSFP modules. The BCM87412 is compliant with current industry standards, including 400GBASE-DR4 and 100G-MSA scheme 1.0 with KP4 FEC and FEC bypass mode.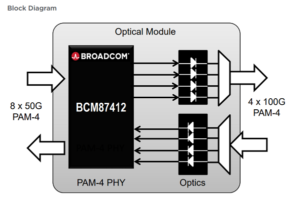 400G PAM4 Optical Transceiver Block Diagram
During OFC 2022, Broadcom demonstrated the interoperability of the DR4 optical transceiver with the latest DSP BCM87412 and multi-vendor DR4 module at its booth (#5801). At the same time, Broadcom also showcased a series of state-of-the-art data center solutions, including third-party single-mode fiber converters (2X400G FR4 and 800G DR8) and third-party multi-mode converters (400G SR4 and 800G SR8) based on Broadcom's DSP solutions. The following optical module manufacturers participated in this multi-vendor interoperability demonstration based on the latest 100G/channel switching platform: FiberMall, II-VI, Lumentum, Sumitomo, AOI, and Intel.