With the rapid development of optical networks, fiber resources will become increasingly scarce, and the demand for solutions to save fiber resources will gradually increase. At the same time, it is also a trend that the normal operation of optical transceivers is not affected by changes in ambient temperature, so it does not need to be deployed in the equipment room, therefore,the requirements for site selection are greatly reduced, and subsequent maintenance costs are saved.
Based on this, Fiber Mall has created a QSFP28 packaged product that not only adapts to the outdoor temperature but also saves fiber resources — 100G QSFP28 BIDI optical transceiver. Compared with the conventional 100G QSFP28 optical transceiver, this product solution saves 50% of optical fiber resources and can be widely used in the fields of telecommunications, data centers and wireless communications.
QSFP28-100Gxx-BX20
100Gbps QSFP28 BIDI Transceiver, Single Mode, 20km Reach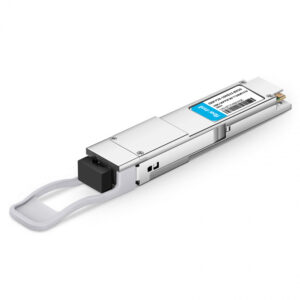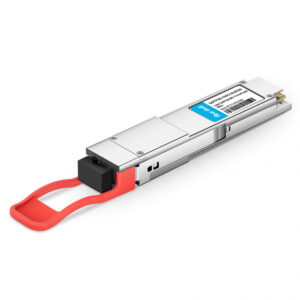 QSFP28-100G23-BX20/ QSFP28-100G32-BX20
| Part Number | Product Description |
| --- | --- |
| QSFP28-100G23-BX20 | 100G QSFP28 BIDI Transceiver, TX1280nm/RX1310nm, Simplex LC, 20km, -20~+85℃, with DDM |
| QSFP28-100G32-BX20 | 100G QSFP28 BIDI Transceiver, TX1310nm/RX1280nm, Simplex LC, 20km, -20~+85℃, with DDM |
Product Features
Hot-pluggable QSFP28 MSA form factor

Supports 103.1Gb/s aggregate bit rate

Up to 20km reach for G.652 SMF with RS(528,514) FEC

Single +3.3V power supply

Extended case temperature range of -20 to 85℃

Cooled 4x25Gb/s LAN WDM Blue or Red Side TOSA, LAN WDM Red or Blue Side ROSA

Maximum power consumption 5.5W

Single LC receptacle

Compliant with the QSFP28 and 4WDM-20 MSA

Compatible with RoHS2.0

DDM function
Applications
Ethernet Links

100G 4WDM-20 Applications with FEC
The product solution launched by Fiber Mall uses different transmitting and receiving wavelengths, and realizes single-fiber bidirectional transmission through WDM multiplexing, which solves the reflection problem during the operation of the circulator solution, and greatly reduces the difficulty in engineering use and maintenance for customers. Although this solution increases the difficulty in design, it greatly improves the overall stability and reliability of the product in use, and highlights Fiber Mall's design concept: provide customers with high-quality products and put customers first at the design stage.
This product uses a 100G BIDI optical device developed with a self-made 25G optical chip, which achieves a working temperature range of -20~85 °C, a maximum power consumption of 5W, and can achieve 20km transmission. It fully complies with the 100G BASE-LR4 standard and 100G 4WDM-20 MSA standard in IEEE802.3ba international standard.
Fiber Mall's mission: to provide global customers with optical communication solutions and cost-effective products! We continue to focus on the pain points of customers, and will continue to launch differentiated products to create value for customers.