Recently, Fiber Mall has completed the actual engineering deployment of bidirectional transmission of 4*100G high-speed data services in a single fiber on the existing network in the United States and delivered it to customers. The actual length of the optical fiber link is about 100km, and the loss is about 30dB. The successful implementation of this project indicates that the Fiber Mall BIDI (Bidirectional) ultra-large-capacity wavelength division transmission technology has started to go commercialized overseas.
With the advancement of DCI interconnection, there are more and more demands for large-capacity and long-distance transmission. When the transmission distance is long, it is the general practice to adopt the coherent modulated transmission module and technology. Using wavelength division multiplexing and fiber amplifiers, one optical fiber can carry 19.2T or even higher transmission capacity, and the farthest transmission can reach 1000Km, or even 2000Km. However, due to the complex technology and high cost of coherent transmission modules, they are generally used in trunk transmission links.
When the transmission distance is less than 40Km, 100G optical modules of LR4 or ER4 are usually used for direct link connection. When combined with SOA (Semiconductor Optical Amplifier) technology, the transmission distance between two points can reach 40Km or even 80km, but usually, the transmission capacity is 100G. More and more optical module manufacturers have begun to introduce single-channel 53G or 100G rate DWDM optical modules to increase the optical fiber transmission capacity, which can transmit 100G data directly through one or two DWDM wavelengths. The introduction of these modules greatly increases the bandwidth of optical fiber transmission in medium and short-distance application scenarios and reduces the cost of transmission.
However, with the increase of the single-wave rate, the dispersion tolerance of this type of module is getting smaller and smaller, and the module has higher and higher requirements on the optical signal-to-noise ratio. All these make it more and more difficult for users to operate this type of module directly.
To reduce the difficulty of use and improve the transmission capacity of a single fiber, Fiber Mall has launched a complete set of optical solutions for medium and short-distance (100Km and below) high-capacity transmission, which perfectly meet the requirements of medium and short distances of 60~100km. transmission needs. This solution completes the wavelength conversion from the LR4/SR4 100G QSFP28 module on the user side to the 100G DWDM module on the line side through the configured multi-channel 100G port TRANSPONDER board.
The precise dispersion compensation required by the system is accomplished through the Dispersion Compensation Module (DCM). The power compensation of the line is completed by the configured low-noise figure fiber amplifier, and the multiplexing and demultiplexing of the wavelength on the fiber are solved by configuring the MUX/DEMUX. This solution can complete BIDI transmission of up to 40 waves totaling 4.8T, which greatly improves the utilization efficiency of optical fibers.

100G DWDM QSFP28 100KM solution application
System Configuration List
No.
Model
Product Name
Specifications Describe
Unit
Qty(A)
Qty(B)
Mid side
Total Amount
1
DWDM MUX/DEMUX
FM-DWMU-BD8-C2152
DWDM 32CH with RB Filter MUX/DEMUX single fiber LC/UPC
PCS
1
1
2
2
DCM
DCM100A
DCM 100KM 1U LC/UPC
PCS
1
1
2
3
100G DWDM QSFP28
Q28-2DWXXXX-80C
100G DWDM QSFP28 C2122-C3536 80km
PCS
4
4
8
4
1U chassis
FM-1U19-4Card
1U chassis, 19", 4 slots, (44 x 442 x 220mm), including backplane and fan unit, with dual power supply, power supply support AC 220V or DC -48V, power supply support hot swap
PCS
1
1
1
3
5
EDFA
B17-20T

EDFA board, DWDM 40CH, BA, G17/20 (maximum output optical power +20dBm, gain 17dB, LC) for FM-1400 series chassis, occupying 1 slot
PCS
1
1
2
6
EDFA
L25-20T
EDFA board, DWDM 40CH, LA, G25/20 (maximum output optical power +20dBm, gain 25dB, LC) for FM-1400 series chassis, occupying 1 slot
PCS
1
1
2
4
7
RB-BORD
RB-FM-1400-2
RB WDM board , 2X RB , for FM-1400 series chassis, occupying 1 slot
PCS
1
1
8
Fiber Optic Cables
OS2-CSU-LCU-2PVC03
3m (10ft) Duplex OS2 Single Mode CS/UPC to LC/UPC Uniboot PVC (OFNR) Fiber Optic Cable
PCS
4
4
8
Total
  Equipment and optical module product list of 4X100G DWDM QSFP28 BIDI 100km solution
On-site equipment: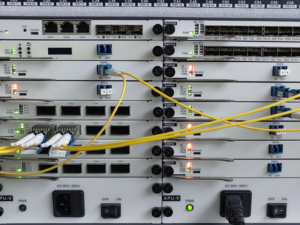 Active WDM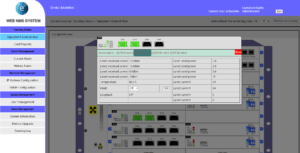 Network management software interface
Fiber Mall is a senior fiber amplifier and wavelength-division transmission solution provider. It is a high-tech enterprise specializing in the research and development, production, and sales of fiber optic communication technology. Fiber Mall focuses on the innovation and engineering of optical fiber amplification technology, optical fiber transmission technology, and optical fiber detection technology. Its products are applied in optical fiber backbone communication, optical fiber access, cable television, industry, scientific research, medical and other fields. The products include fiber amplifiers, fiber communication subsystems, various light sources, and optoelectronic solutions. At present, Fiber Mall has more than 500,000 sets of equipment running online, which are distributed all over the world.