100G Ethernet has been well underway with the rapid development of IoT, 5G, and cloud computing. As one of the primary networking solutions for 100G application in data center, QSFP28 fiber optic transceiver modules has seen an increasing demand among internet service providers, mobile operators, and data centers. This post focus on the five common types of 100G transceiver in QSFP28(Quad Small Form-Factor Pluggable 28) form factor.
| | | | |
| --- | --- | --- | --- |
| 100G QSFP28 Optic Transceiver | Interface | Cable Type | Transmission Distance |
| 100G QSFP28 SR4 | MTP/MPO-12 | MMF | 70m(OM3);100m(OM4) |
| 100G QSFP28 PSM4 | MTP/MPO-12 | SMF | 500m |
| 100G QSFP28 CWDM4 | Duplex LC | SMF | 2km |
| 100G QSFP28 LR4 | Duplex LC | SMF | 10km |
| 100G QSFP28 ER4 | Duplex LC | SMF | 40km |
QSFP28 Transceiver Specification
QSFP28 Form Factor Overview
There are different types of form factors for 100G transceivers, including CXP, CFP/CFP2/CFP4, and QSFP28(Quad Small Form-factor Pluggable 28). While QSFP28 has played a dominant role in the 100G Ethernet fiber optic networking for data centers due to its low power consumption and high density.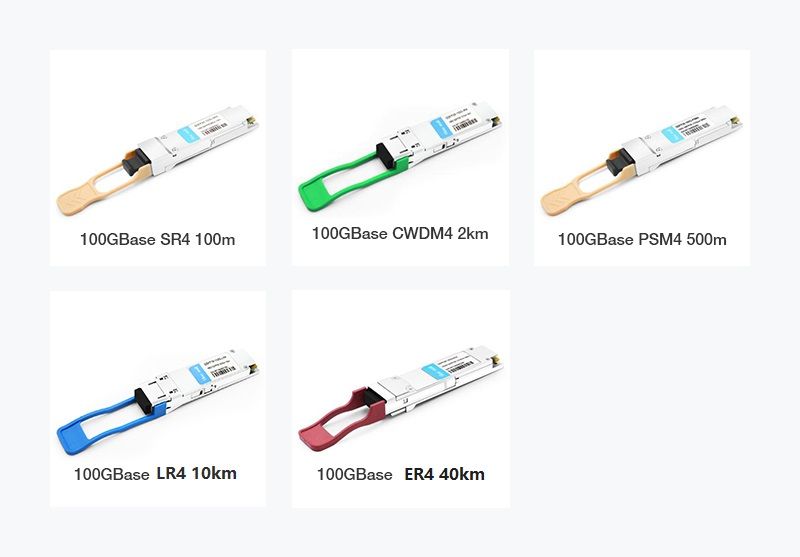 100G QSFP28 SR4 Optical Transceiver
The 100G QSFP28 SR4 is a hot-pluggable, 4-channel, and full-duplex fiber optic transceiver module for the 100G Gigabit Ethernet application. It is composed of four independent transmit and receive signal channels with each channel operating at a rate of 25.78Gbps. This 100G SR4 optical module provides an aggregated bit rate of 103.1Gbps up to 70m transmission distance over OM3 optic fiber or 100m over om4.
This QSFP28 transceiver is encoded to function over multimode fiber(MMF) at a center wavelength of 850nm. The optical interface of the 100GBASE-SR4 QSFP28 optical module is Male MTP / MPO-12. As two 100GBASE-SR4 QSFP28 are connected to each other, it requires a polarity type B MTP / MPO-12 connector, which is shown below.
Polarity Type B MTP/MPO-12
100G QSFP28 CWDM4 Optical Transceiver
100G CWDM4 QSFP28 is a fiber optic module designed by the CWDM4 MSA organization in 2014. It supports 100G Ethernet network applications through coarse wavelength division multiplexing (CWDM) technology to multiplex four wavelengths of 1271nm, 1291nm, 1311nm, and 1331nm onto a single-mode fiber(SMF) for signal transmission. It contains a duplex LC connector for the optical interface and a 38-pin connector for the electrical interface. To minimize the optical dispersion in the long-haul system, single-mode fiber (SMF) has to be applied in this module. Host FEC is required to support up to 2km of fiber transmission.
It should be noted that in order to ensure the stability of the optical fiber transmission system, the 100G CWDM4 QSFP28 optical module must have forward error correction (FEC) Functional fiber optic interconnection.
Diagram of CWDM4 100G QSFP28 fiber optic single-mode transceiver module
100G QSFP28 PSM4 Optic Transceiver
PSM4 refers to Parallel Single Mode 4. This 100GBase PSM4 is a single-mode four-channel parallel 100Gb/s QSFP28 (Quad Small Form-factor Pluggable 28) optical module. It provides increased port density and total system cost savings.
The QSFP28 full-duplex optical module offers 4 independent transmit and receive channels, each capable of 25Gb/s operation for an aggregate data rate of 100Gb/s on 2km of single-mode fiber. An optical fiber ribbon cable with an MTP/MPO connector can be plugged into the QSFP28 module receptacle. Proper alignment is ensured by the guide pins inside the receptacle. The cable usually cannot be twisted for proper channel-to-channel alignment. The electrical connection is achieved through an MSA-compliant 38-pin edge-type connector.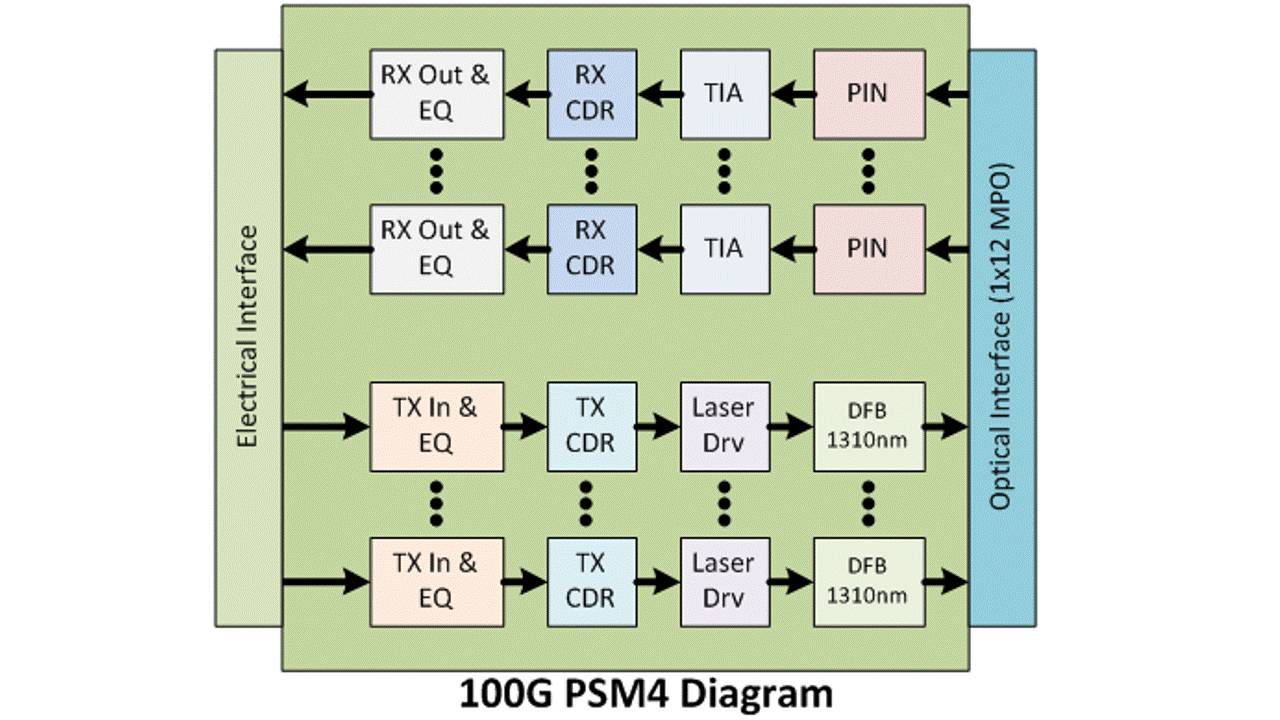 Diagram of 100G PSM4 QSFP28 fiber to ethernet transceiver
100G LR4 QSFP28 Transceiver Module
100GBASE-LR4 QSFP28 optical module is generally used with LC single-mode fiber optic cables, and the maximum transmission distance is 10km. The 100GBASE-LR4 QSFP28 optical module converts four 25Gbps electrical signals into four LAN WDM optical signals with an interval of 4.56nm between adjacent channels and then multiplexed it onto a single fiber to achieve a 100G optical transmission. At the receiving end, the module demultiplexes 100G optical input into 4 LAN WDM optical signals. 
The LAN WDM DFB laser and PIN receiver designed inside this QSFP28 LR4 offer high performance for 100Gigabit Ethernet applications up to 10km link length on single-mode fiber (SMF) with FEC. The primary building blocks are depicted in the diagram below. 
Diagram of QSFP28 LR4 100GBase long-range Ethernet transceiver module
100G QSFP28 ER4 Transceiver
100G QSFP28 ER4 optical module adopts WDM multiplexed wavelength division technology, with a wavelength of 1295.56 ~ 1309.14 in the form factor of QSFP28. It uses LC duplex connectors with a maximum transmission distance of 40km over single-mode fiber. Featuring DDM, small size, and low power consumption, 100G ER4 is applied to OTN equipment and supports both the OTU4 and 100Gbe rate when connecting to the Ethernet switch.
The transmitting end of the 100G QSFP28 ER4 optical fiber module adopts a DML laser that supports dual rates. The power consumption for this single-mode transceiver is less than 3.8W under the condition of 0~70℃ full temperature, which meets the requirements of green and energy-saving data centers.
The receiving device of the 100G ER4 optical module is APD, featuring high receiving sensitivity and low power consumption. It provides a cost-effective solution for long-distance applications of 100GE ports between computer rooms.
APD
,
receiving device of the 100G ER4 optical module
Conclusion
The demand for high-speed and high-density optical network communications has driven the 100G Ethernet to a vigorous developing era. The above 100G QSFP28 optical transceivers are favored by network service providers and data centers with the small form factor, superior performance, and low power consumption.