According to SDxCentral, interest in a technology called Co-Packaged Optics (CPO) has grown over the past few years. It is reported that this technology provides higher power than traditional pluggable systems while saving costs.
Although the first co-packaged optical switches are expected to be launched later this year and chipmakers are investing billions of dollars to advance silicon photonics, we don't expect them to be competitive very soon, according to Kevin Deierling, senior vice president of networking at Nvidia Corp.
According to Kevin Deierling, engineers have had amazing success in delaying the commercialization of CPOs indefinitely. "I think the first time I heard about CPO was that when we got to 25Gb/s per link, we had to use onboard optics, then 50Gb/s, and then 112Gb/s."
Recently, Kevin Deierling's team introduced a 51.2Tb/s switch platform that has a 1U or 2U footprint, uses a 112Gb/s serializer/deserializer, and provides up to 64 800Gb/s ports or 128 400Gb/s ports.
"Somehow, all the different disciplines continue to make the traditional scheme work." Kevin Deierling doesn't think that's going to change, at least not in the near future. "We can do a lot of really interesting engineering with chip connections without having to resort to esoteric onboard optics."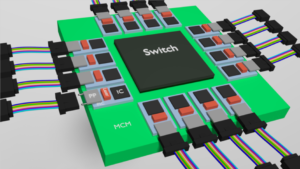 Co-packaged optical switch
CPO is still the trend
Still, Kevin Deierling isn't saying that CPO doesn't have a future. Eventually, engineers will reach a point where onboard optics can no longer be avoided, he said. "The question is when will they reach that point. Frankly, in the short term, we don't see a time and reason for the replacement of traditional switch systems."
The main issue that CPO promises to address is not port performance, but power consumption, cooling, and by extension port density. Analyst Sameh Boujelbene from Dell'Oro Group told SDxCentral: "The problem we're trying to solve with CPO technology is power consumption and density, that is about how many pluggable devices you can put on a switch panel, and about the power consumption."
As of now, the business case for CPO does not exist, Sameh Boujelbene said, and copper optical devices still have high power envelopes and thermal dissipation rates.
Sameh Boujelbene also said: "It's too early to have a CPO solution that can be deployed and mass-produced at scale in the next few years. It's unlikely for 51.2Tb/s switches and even next-generation 102.4Tb/s switches to drive vendors to switch to onboard optics."
"To be meaningful, CPO technology must deliver a significant reduction in power consumption," she said, adding that many in the industry believe they will be able to provide pluggable optics up to 3.2Tb/s per port without the need for a CPO approach. Kevin Deierling also pointed out: "For a long time, most of the discussions in the industry around the practicality of CPO can be attributed to the cost-effectiveness, power, and mass production of CPO."
Challenges remain in CPO technology
Furthermore, Kevin Deierling said, the problem with CPO technology is not just an economic one. This technology is very complex, and although it "promises" to provide many advantageous features, CPO technology is not without its challenges.
Optical modules are one of the components with a relatively high failure rate in switch systems, according to Kevin Deierling. "Today, if an optical module fails, there is only one port on the switch that goes down, and getting it back to normal is as simple as replacing the module. When you use onboard optics, bad things can happen, depending on what's the failure mechanism." Since the optical module is directly integrated into the switch, one failure may cause the failure of multiple ports, which may disconnect the entire switch.
Chipmakers invest heavily in CPO
These challenges haven't stopped chipmakers from investing billions of dollars in CPO and silicon photonics. Intel Labs announced to set up a new research center to advance faster and more efficient computing interfaces by replacing electricity with light at the end of last year. At the same time, Marvell acquired US chip maker Inphi in a deal valued at $10 billion.
Inphi focuses on optoelectronic interconnection, and its products are mainly used in cloud data centers. The company's products can provide up to 800Gb/s throughput. In early 2021, Inphi partnered with networking giant Cisco to develop a 51.2Tb/s CPO switch, which is expected to be launched in early 2024.
A few weeks later, Broadcom released its first CPO switch, which combines a 25.6Tb/s ASIC of Tomahawk 4 switch with an integrated optical interconnect. The switch, called Humboldt, is expected to be released in 2022, with a 51.2Tb/s switch to be released in 2023. So why invest so much in a technology that is unlikely to be competitive in the short term? The reason why there are so many discussions about CPO technology is that the learning curve is very steep," Sameh Boujelbene said, "There are a lot of problems to be solved …… and we know that at some point we have to adopt CPO."