1. Campus Network
(1) The core layer uses the multi-layer routing switch as the core switch, connects to the server for data management, and connects to the Internet through the firewall.
(2) For the aggregation layer, a Layer 3 switch with strong performance is selected to provide 100Mbps bandwidth downward.
(3) At the access layer, a common Layer 2 switch is used to provide 100Mbps to the desktop, and PCS can be connected or directly connected through WLAN/AP.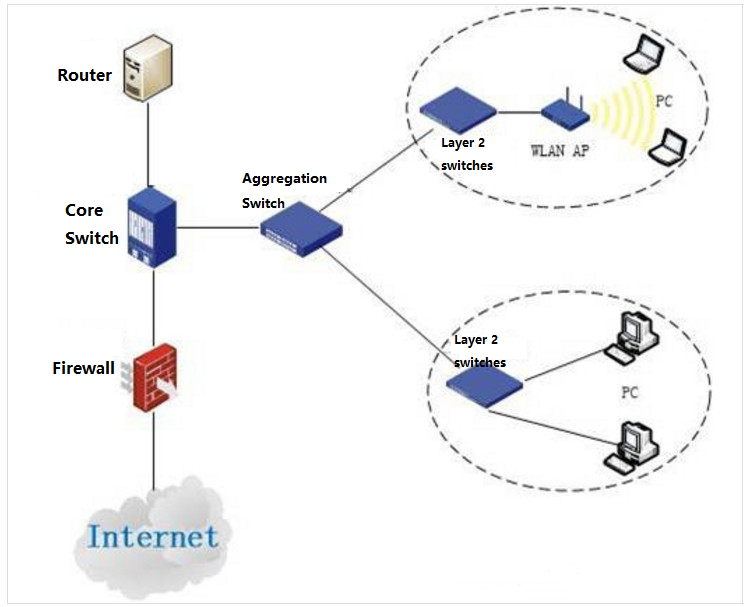 2. Business Building Network
The network center is located on the first floor of the building. The core switch is connected to 5 aggregation switches through optical fibers.
The convergence layer consists of 5 aggregation switches equipped with 1000Mbps optical fiber modules, which are respectively placed on the 1st, 7th, 12th, 17th, and 21st floors.
The access layer consists of several access switches, which are connected to PCs on each floor.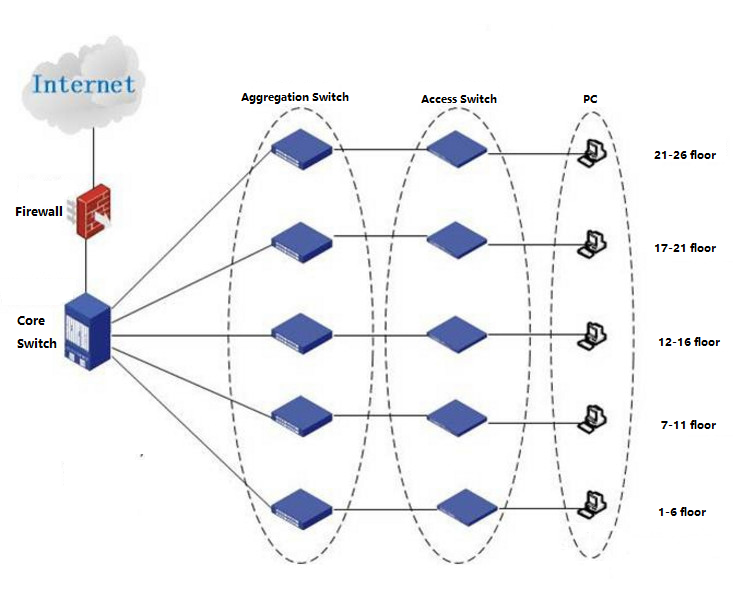 3. Hotel Broadband Network
The core switch adopts Layer 3 switch, which can support different modules such as VDSL, ADSL, and LAN.
In terms of QoS and security, core switches can set priorities based on ports and VLANs, and provide redundancy protection for governance modules and power supplies to ensure the secure operation of the entire network.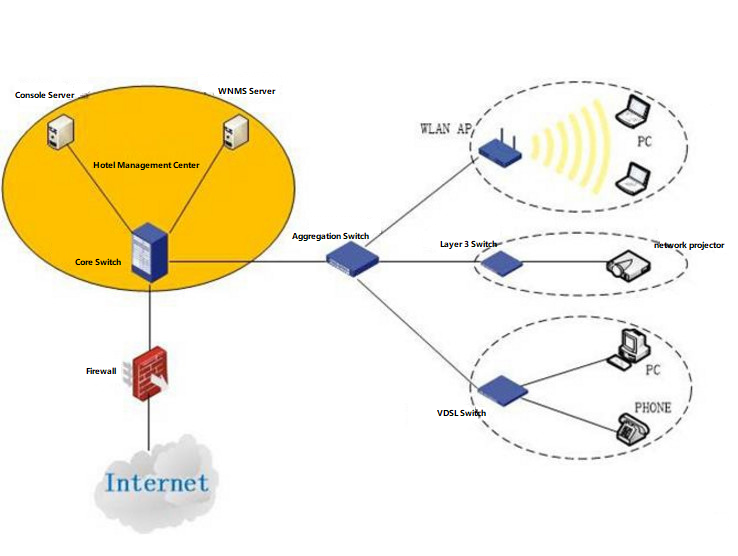 4. Financial Industry Network
(1) The core layer devices of the bank network are mainly Layer 3 Ethernet switches and routers.
(2) The core switch has two 1000Mpbs Ethernet uplink slots and can support fiber modules and different Plug-in-Cards, which can provide WAN connectivity for E1, T1, ISDN, BRI, asynchronous and synchronous communications.
(3) The core switch includes Layer 2 switching functions with IEEE 802.1Q VLAN tagging, 802.1p communication prioritization, and IGMP probing; including Layer 3 IP static routing, RIP, and RI.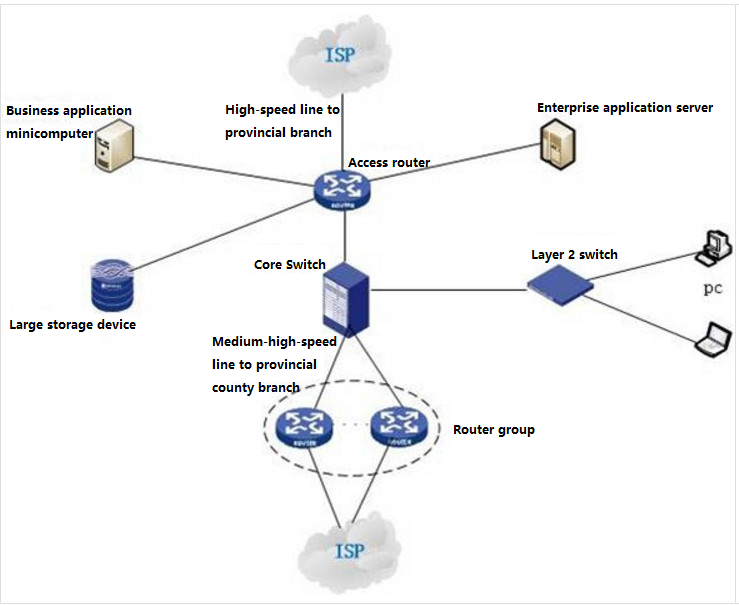 5. Hospital Network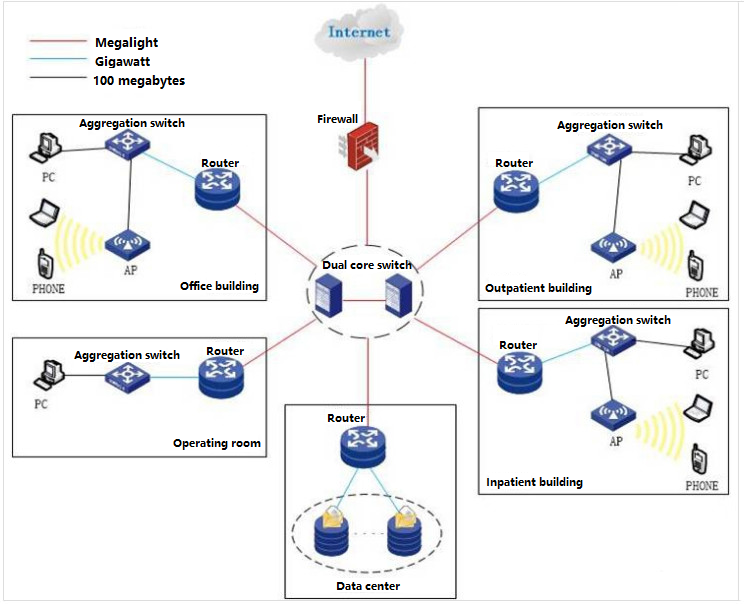 6. Internet of Things Network
Self-service machine:
IC card reader, USB transmission data and take power, read and write card time of 0.1 seconds, reading distance 2- 6CM can read and write MIFAREONE, MIFARE LIGHT and other non-contact IC cards.
POS machine:
Desktop consumption terminal, widely used in school canteen dining, large retail chain stores card consumption, large chain fast food restaurant card consumption, catering, entertainment venues consumption, Internet cafes, and various clubs, venue ticket management.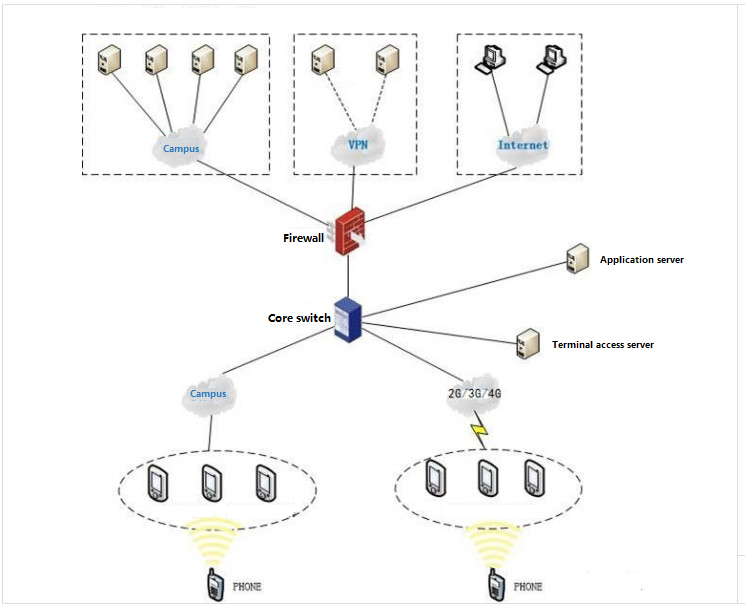 7. Electronic police wireless network
Capturing side:
It is connected by the camera and video server after video compression server is connected by the wireless router to establish a connection with the monitoring center.
Carrier network:
CDMA/EDGE/TD-SCDMA and other wireless networks can be selected as the bearer network according to the actual situation.
Center side:
Access to the monitoring center of the Traffic Bureau through the telecom VPDN private network or mobile DDN private network to ensure data security. The center side can view the captured pictures through the corresponding decoding software.