At the OCP Global Summit, Cisco announced two new 800G switch families and new optical modules to support super data center operators and telecom operators demanding greater switching capacity, flexibility, and increased efficiency.
New 800G Switches
Cisco's new products include the Nexus 9232E and 8111 switches, both of which are based on Cisco's Silicon One G100 chip and support 25.6T of switching capacity. The main difference between the two products is the difference in software, with the Nexus aimed at users of telecom, enterprise, and other integrated solutions, while the 8000 series is more suitable for super data center stacking applications.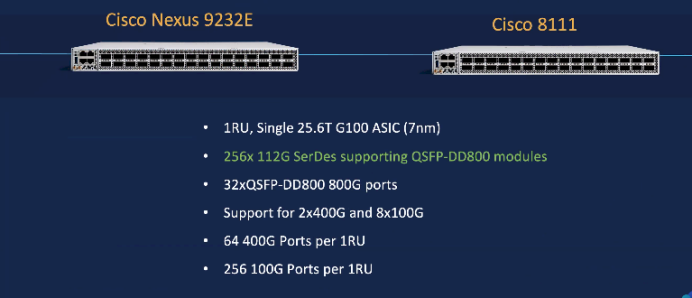 According to Cisco, the new switches can reduce power consumption by 77 percent and space requirements by 83 percent compared to other products.
The Cisco 8100 Series can support Cisco's IOS XR operating system and Linux Foundation's Cloud Open Networking software. The Cisco 8111-32EH is capable of supporting 32 800 GB ports in a 1RU form factor. The Cisco 8800 Series switches are said to offer breakthrough density and efficiency in a modular chassis.
The Cisco Nexus Series switches are modular and fixed-port network switches designed for the data center and were first introduced on January 28, 2008. The Nexus 9000 Series, based on Cisco Cloud Scale technology, supports cost-effective, ultra-high density cloud-level deployments, more endpoints, and cloud services with wire-speed security and telemetry, designed to deliver high performance and meet the evolving needs of highly scalable data centers and growing enterprises.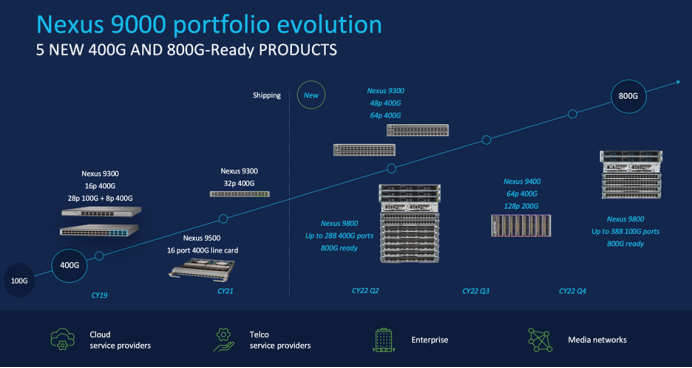 The Nexus 9232E is a 1RU Nexus switch with 32 800G ports and is Cisco's first 800G Nexus product.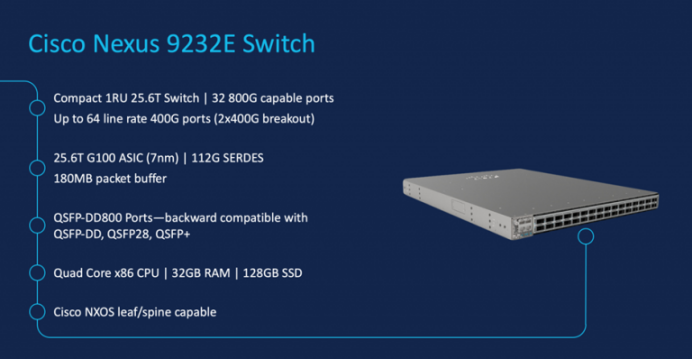 The new Nexus 800G product will offer:
High performance: The massive throughput of the Silicon One 25.6T G100 ASIC and intelligent system design will power next-generation network innovation and breakthroughs.
Flexibility and Agility: in terms of network operating system, speed, form factor, and more for virtually any use case.
Programmability: Enabled by open APIs and protocol support in our cloud network-optimized operating system.
Density and Scale: Suitable for both fixed and modular systems, providing scalability from 100G to 400G and now 800G.
Energy Efficiency: Significantly increase power per bit with 112G Serdes technology.
Simplicity: Manageability and optical backward compatibility enable greater scale and fewer devices required.
The core of both the Nexus 9232E and 8111 is the Cisco Silicon One G100 chip.
The most powerful programmable chip?
The Cisco Silicon One G100 is a 7nm process-based, 25.6-Tbps wire-speed, full-duplex, standalone switch processor that can be used to build fixed form factor switches and supports P4 programmable and fully shared data buffers networking chip. The G100 can be configured in one of two modes.
25.6-Tbps, full-duplex, independent switching processor
25.6-Tbps, full duplex, structural elements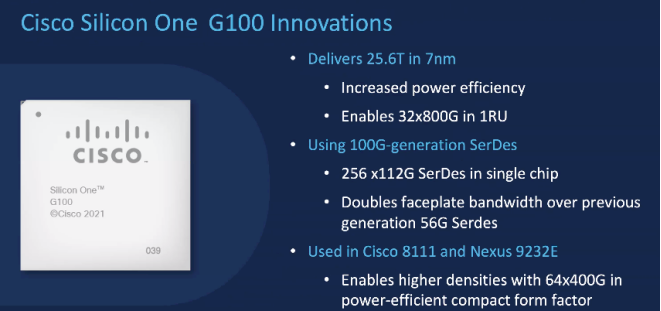 Cisco said the SiliconOne G100 is the most powerful programmability chip the company makes, offering the highest bandwidth routing and switching chip in the family, efficient enough to meet a wide range of modern network traffic demands, including artificial intelligence and machine learning workloads. Compared to equivalent solutions built with 12.8 TB switches, the G100 delivers up to 25.6 TB of data per second while consuming 87% less power and reducing carbon emissions by nearly 10,000 kg per year.
To support the switch, Cisco has also introduced a new 800G optical module with 100G and 400G interfaces, which introduce a new industry-standard shape with higher density and double the port bandwidth of the previous generation model.

The 8000 series is currently shipping, and the new Nexus solution will begin shipping in early 2023.
Emerging 800G Market
As switches and servers continue to evolve toward 400G and 800G, the pressure to keep the network balanced shifts to the physical devices. 800G Ethernet is a completely new concept compared to 200G and 400G Ethernet. However, as Internet traffic grows at a rapid pace, the need for high-bandwidth networks is imminent in the future, especially in hyperscale data centers and cloud computing.

In response to growing bandwidth and performance demands, hyperscale enterprises such as Cisco, Amazon, Google, and Microsoft are transitioning to 800G to cost-effectively handle new data center workload requirements. So, what is the status of 800G standards development? There are already several working groups working on 800G Ethernet hardware and protocol specifications.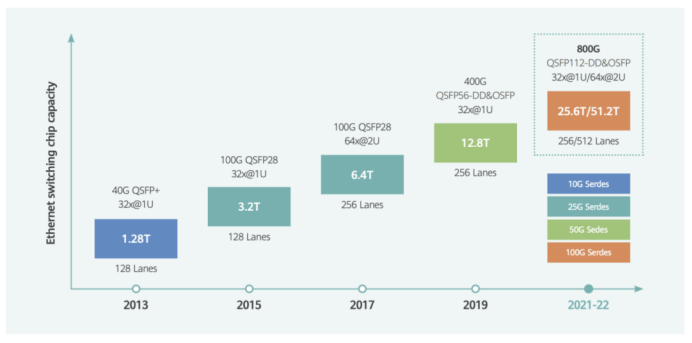 IEEE 802.3 has established the 802.3df Working Group to formulate the 800 GbE and 1600 GbE. The IEEE 802.3df workgroup development can be divided into three main projects:
Define 800/1600 GbE MAC, PCS, and FEC. Define PMDs that support 800 GbE, For example, 800-KR/CR, 800G-SR8 (100 m), 800G-DR8 (500 m), 800G-FR8 (2 km), 800G-LR/LR8 (10 km), and 800G-ER/ER8 (40 km).
The main work is to define the new 200G per channel optical PMD. Define PMDs, such as 800G-DR4 (500 m), 800G-FR4 (2 km), and 800G-LR4 (10 km).
The main work is to define the electrical IO of 200G per channel. Define PMDs, such as 200G-KR/CR, 1600G-DR8 (500 m), 1600G-FR8 (2 km), 800G-LR (10 km), and 800G-ZR (80 km).
The market is rapidly changing, and Dell'Oro Group forecasts that 400G technology sales are expected to grow 224-fold and 800G technology sales 84-fold from 2018 to 2026. By 2025, the data center switch market will spend more on 800G ports than on 400G ports.