Product Description
100G Single Wavelength DWDM QSFP28 PAM4 pluggable optical transceiver modules are designed for multiple channel 100G transmission up to 100 km over standard G.652 single-mode optical fibers (SMF).
Dispersion compensation is not required for short-reach applications (typically 0 to 2 km).
For long and extended reach applications (2 km to 100 km), EDFA and DCM are required to compensate for fiber link loss and dispersion.
The modules are based on our proprietary n CP4™ Silicon Photonics Optical Engine, a PAM 4  modulator platform developed in-house.
The module's optical interface utilizes a single wavelength on ITU-T 100 GHz spacing DWDM grid, and the signal is compatible with standard 100 GHz spacing DWDM filters.
The module is Laser Class 1 compliant according to International Safety Standard IEC- 60825.
Features 
Single-wavelength 100Gbps transmission
Fixed wavelengths on ITU-T DWDM 100GHz spacing grid
Supports 40 DWDM channels for standard products, expandable up to 48 channels
Compatible with standard 100GHz DWDM filters
Supports up to 100km DWDM transmission over G652 SM fiber (EDFA and DCM/ DCF are required for more than 2km)
Duplex LC connector
PAM4 optical signal with integrated FEC
78Gbps CAUI-4 host interface compatible with standard 100GE switches
Compliant with QSFP28 MSA SFF-8636
QSFP28 MSA digital monitoring functions
Advantages
Lower Cost: may be less than half the price of Coherent 100G DWDM modules
Low Latency: favorable for delay-sensitive applications
Low Power Consumption ~ 4.5W typical
Plugs directly into standard 100GE switches (including white-box switches)
No OEO systems are required, which simplifies DWDM systems and reduces system cost
Compatible with standard 100GHz spacing DWDM Mux/Demux filters
0 to 2km direct links are possible at a significantly reduced DWDM system cost
DCM is not required
EDFA is usually not required assuming typical filter & fiber losses
Competitive Matrix
| Parameters | Coherent  DP-QPSK | Dual Wavelength  PAM4 | Single Wavelength  PAM4 |
| --- | --- | --- | --- |
| Power Consumption | >10W | 4.5W | 5W |
| Cost | High | Medium | Low |
| Transmission Distance | Long | Up to 80km | Up to 100km |
| Module Form Factor | CFP2/QSFP-DD | QSFP28 | QSFP28 |
| DWDM Grid | 50GHz Spacing | Customized | 100GHz Spacing |
| DWDM Mux/Demux | Standard | Customized | Standard |
| Direct Link without EDFA | Yes | No | Up to 2km |
| Total Capacity per Fiber | >80 x 100G | 40 x 100G | 40 x 100G Standard  48 x 100G Possible |
| Single-Fiber Bi-Directional  Transmission | Difficult | Difficult to Impossible | Intrinsic |
0 to 2km Applications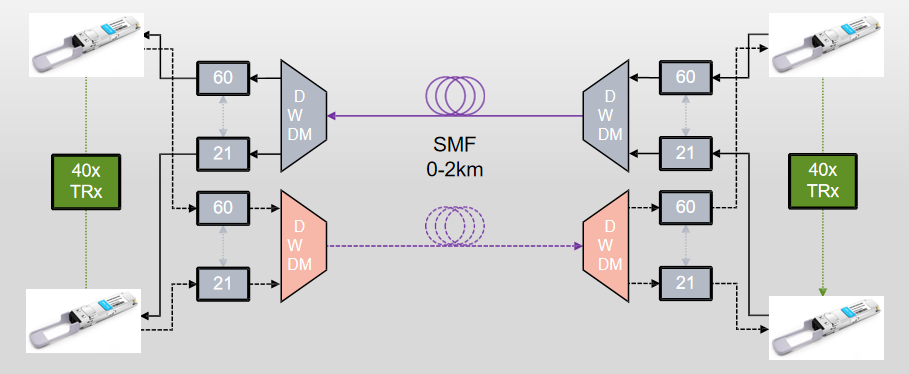 For 0 to 2 km DWDM transmission using the 100G Single Wavelength DWDM QSFP28  PAM4 modules, DCM is not required.
The module can support up to 8 dB link loss including the DWDM Mux, Demux, and fiber insertion losses.
The typical insertion loss of a 40-channel Mux/Demux pair is below 7 dB, and 2 km fiber insertion loss is < 1 dB, so in most cases, EDFA is not required for direct links of 0 to 2 km transmission.
If the link loss is > 8 dB a pre-amp EDFA is required at the RX side.
2 to 40km Applications

For 2 to 40 km DWDM applications a tunable dispersion compensation module (TDCM) is required at the RX side after the pre-amp EDFA.
We will provide a 19 – inch 1U accessory that supports automatic dispersion compensation tuning so that customers do not need to worry about the dispersion compensation settings.
If the fiber insertion loss is small enough the booster EDFA on the TX side can be omitted to save system cost.
40 to 100km Applications
For extended-reach DWDM applications, transmission distance is OSNR limited.

100G Single Wavelength DWDM QSFP28  PAM4 module

supports up to 25 dB link loss between the booster and pre-amp EDFA's, and generally, it can support up to 100 km transmission over standard SMF fiber.
For 40-100 km applications, a fixed DCM is required at the TX side and a TDCM is required at the RX side. We can provide both the fixed DCM and the TDCM in a 19-inch 1U accessory.
Single-Fiber BiDi Applications

Single-fiber bi-directional links of 1.6Tbps are supported by Our 100G Single Wavelength DWDM QSFP28  PAM4
Competing 100G DWDM modules have difficulty supporting bi-directional single-fiber transmission
Separate booster EDFA, pre-amplifier EDFA, and tunable dispersion compensation module (TDCM) are used in "red" and "blue" directions in conjunction with red/blue (R/B) filters
TDCM+EDFA Accessory
Tunable Dispersion Compensation Module(TDCM) line card
Slope-matching dispersion compensation for G652 single-mode fibers (SMF)
Automatic dispersion tuning with our proprietary control algorithm optimizes the dispersion compensation setting – customers do not need to worry about it
Fixed

DCM

for 40-100 km applications can be added to the TDCM line card as an option

EDFA

line card provides both Booster EDFA and Pre-amp EDFA
Provide Ethernet interface and USB serial interface for TDCM and EDFA control and monitoring.
Redundant pluggable AC (100 V to 230 V) or DC (-48 V) power supplies
Pluggable cooling fans
Live Demonstrations
Demo 1: Single-span 120 km multi-channel

100G DWDM

transmission over standard SMF with total fiber link insertion loss of 25 dB. Standard erbium-doped fiber amplifiers and dispersion compensation modules are used in this demonstration.
Demo 2: Direct link over 2 km standard SMF for multi-channel 100G DWDM transmission with average link insertion loss per channel of approximately 7.5 dB (including the 6 dB average insertion loss per channel of the 40-channel DWDM Mux/Demux pair).