Q1: What are the types of 25G SFP28 optical transceivers?
There are three types of 25G SFP28 transceivers: 25G SFP28 standard transceiver(SR, LR, ER), 25G BiDi SFP28 transceiver, and 25G WDM SFP28 transceiver(CWDM, DWDM, LWDM).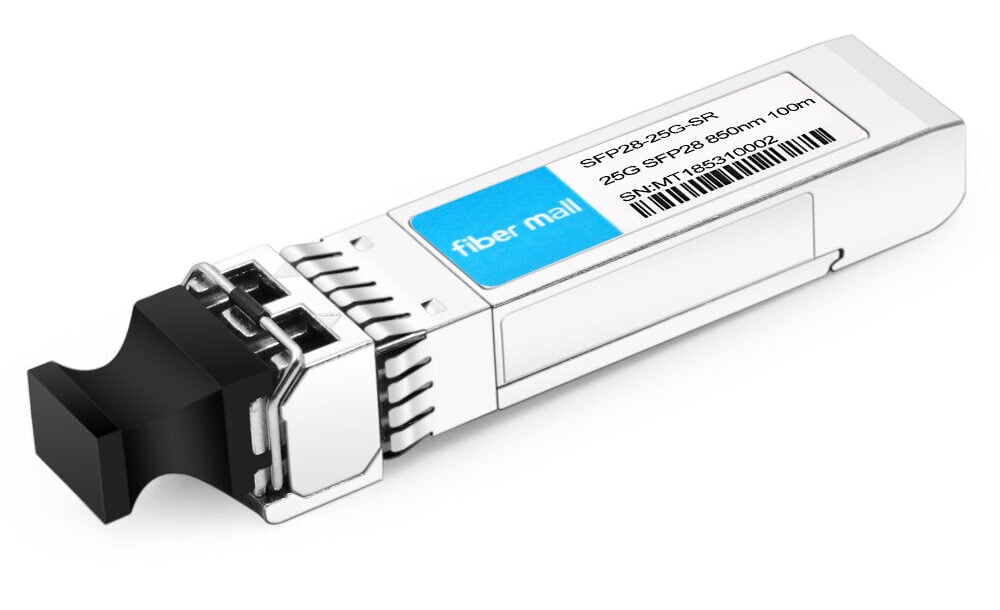 25G SFP28 SR Transceiver Module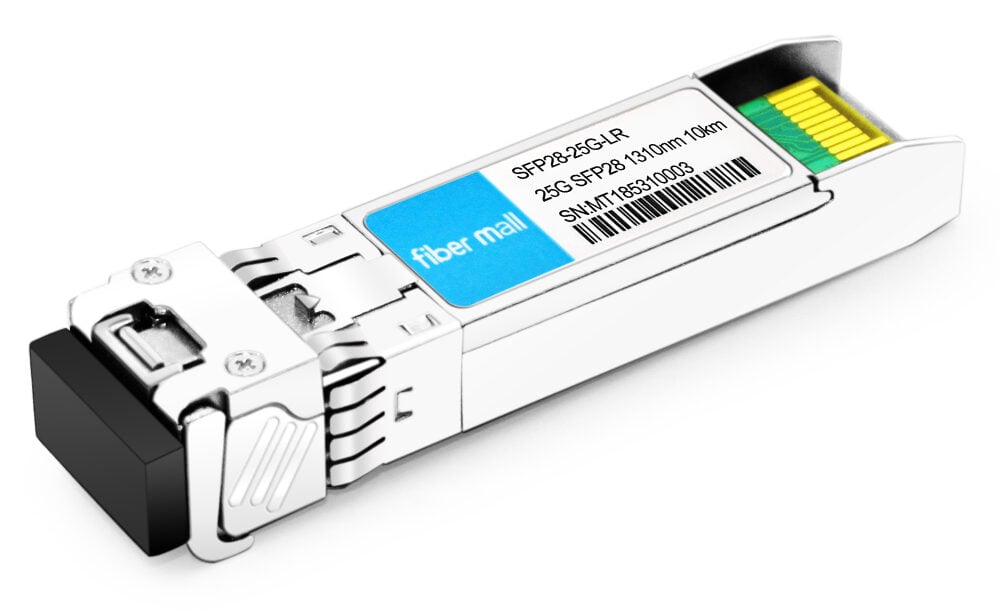 25G SFP28 LR Transceiver Module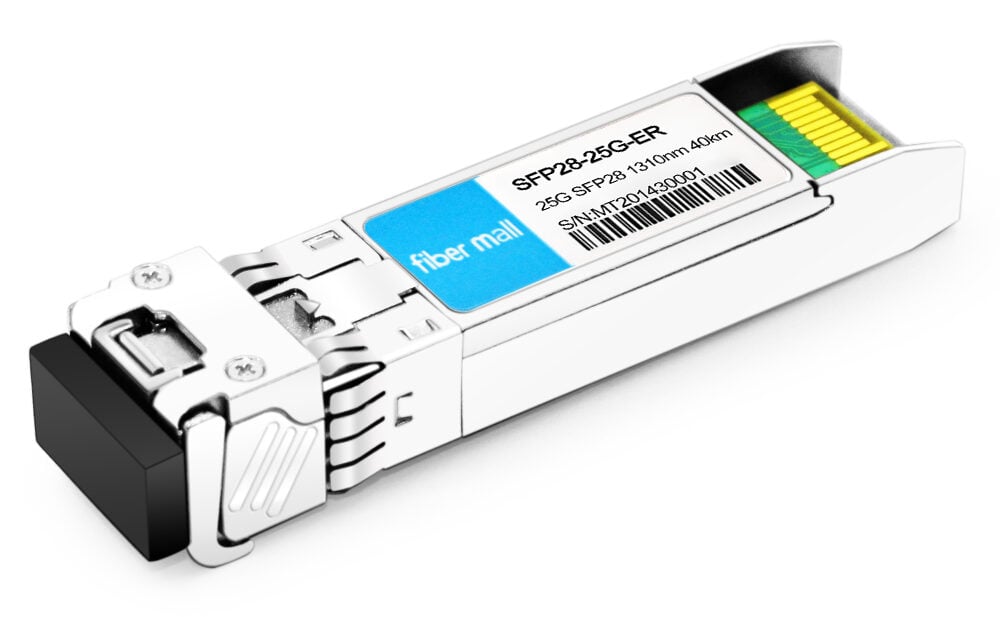 25G SFP28 ER Transceiver Module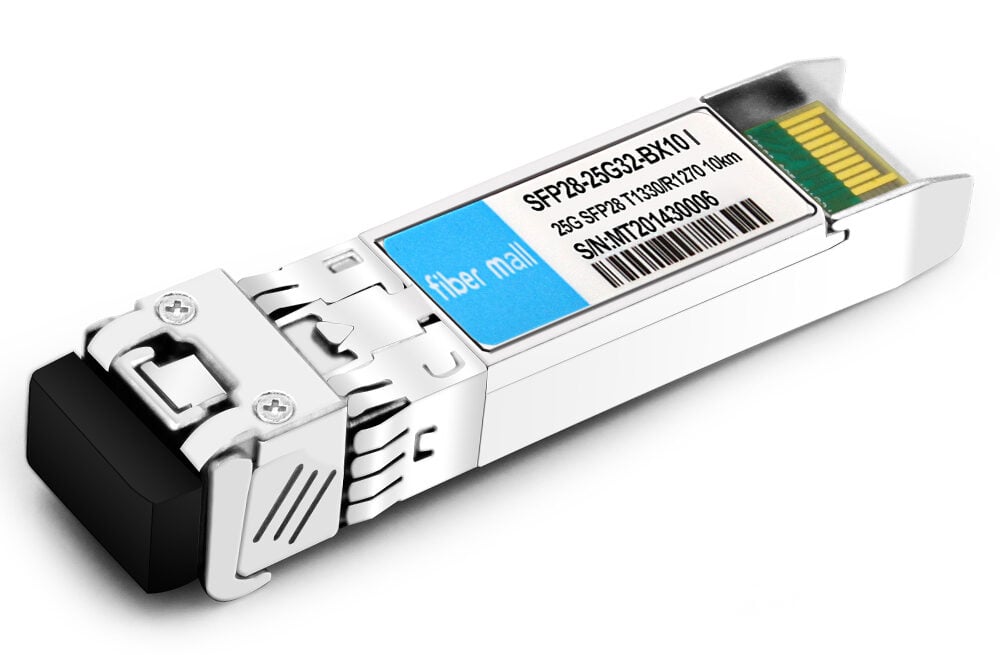 25G BX BIDI SFP28 Transceiver Module
Q2: What is the farthest transmission distance of the 25G SFP28 transceivers?
At present, a transmission distance of up to 40KM can theoretically be achieved.
Q3: Can the SFP28 optical module support backward compatibility?
It can support backward compatibility with 10G rate.
Q4: Can SFP28 ports be interconnected with QSFP28 ports?
Yes, they can be interconnected, either by using modules + jumpers or branch cables.
Module+jumper: 25G SR module for the 25G end and 100G SR4 module for the 100G end, with a multi-mode MTP/MPO-4xLC harness branch cable in between.
Branch cable: Use 100G to 4x25G breakout AOC/DAC cable for interconnection.
Q5: Can 25G SFP28 ports support 10G modules?
Generally, the 25G port of the device can support multiple rates, such as 1G/10G/25G, and the port can meet the use of 1G, 10G, and 25G rate modules.
Q6: What is the longest transmission distance of 25G DAC and AOC?
The longest transmission distance of DAC is 5m, and the longest transmission distance of AOC can reach 100m.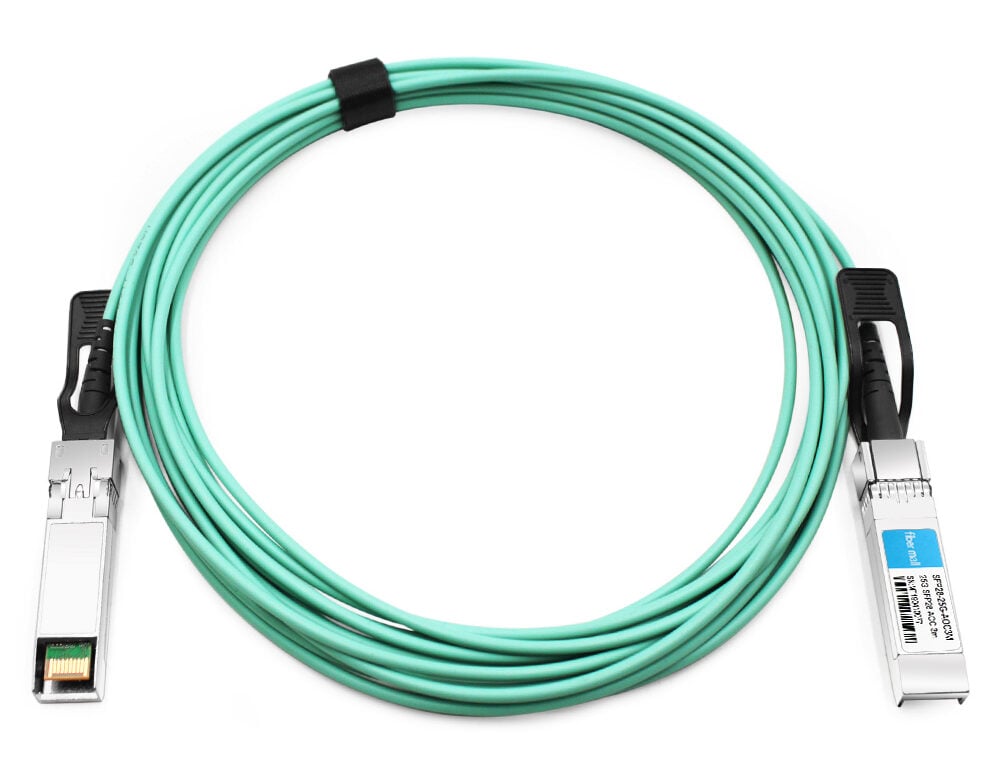 25G SFP28 Active Optical Cable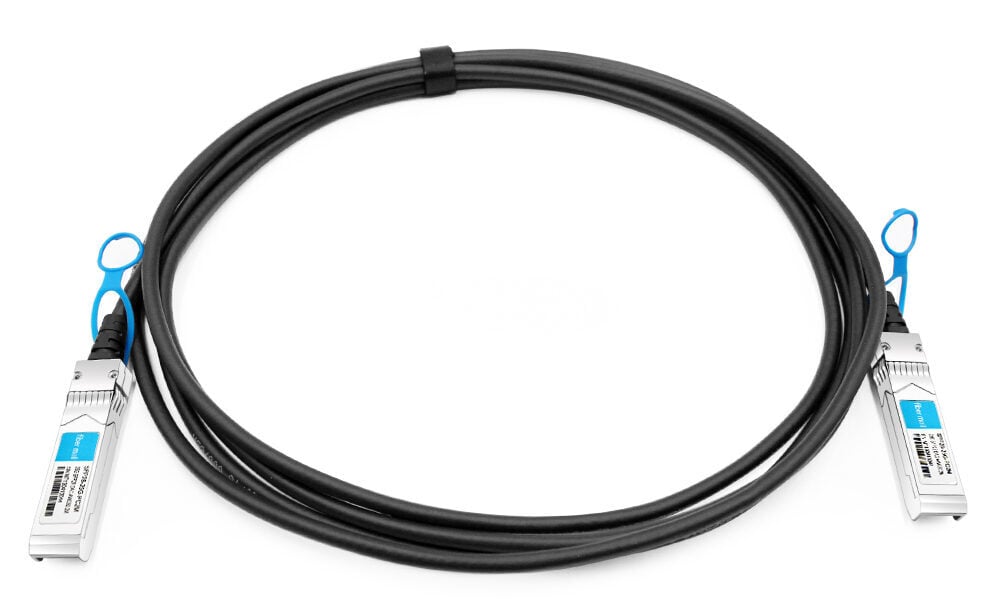 Q7: Does the FEC function need to be enabled when the 25G SFP28 transceiver module is used?
FEC can reduce the BER (bit error rate) of a module to 10-12. For 25G module, RS-FEC is enabled when the current FEC BER is higher than 5×10-5, and FC-FEC is enabled when the current FEC BER is higher than 10-8. Details can be found in IEEE802.3 Section 74 of the FC-FEC and Section 91 of the RS-FEC.
Q8: Does the FEC function need to be enabled when 25G DAC is used?
According to IEEE 802.3by protocol specification, FEC does not need to be enabled when the transmission distance of 25G DAC is 1, 2, or 3m. When the transmission distance is 5m, RS-FEC needs to be enabled.
Q9: What is a 25G dual-rate module?
Dual rate indicates that two rate types are supported. The 25G dual-rate module supports 10G and 25G, and the rate switching can be performed on supported device ports.
Q10: What are the application scenarios of different 25G SFP28 transceiver modules?
25G SFP28 conventional optical modules (SR, LR, ER, and BIDI) are mainly used to interconnect servers, switches, and routers in data centers.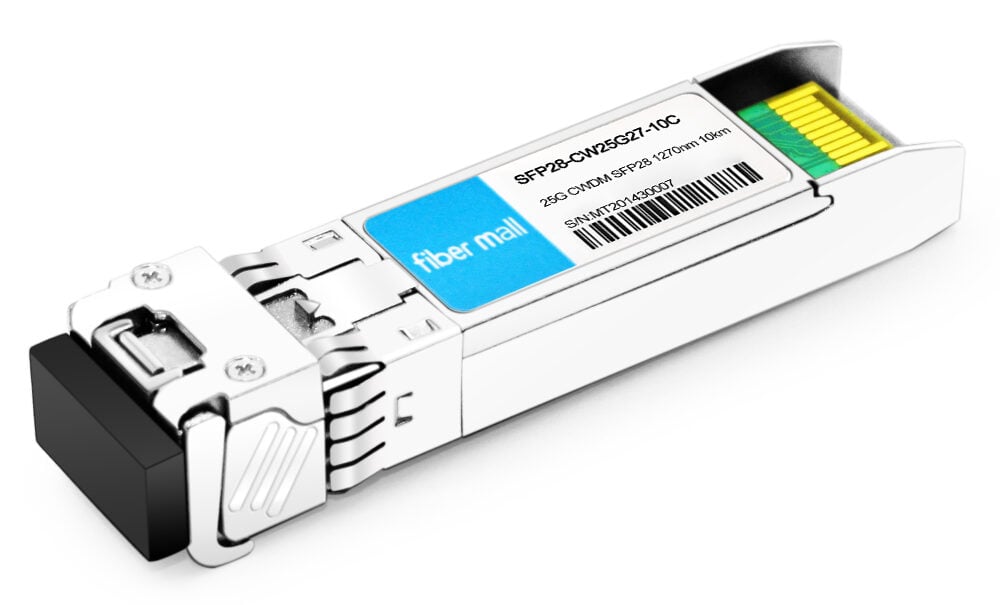 The 25G CWDM SFP28 optical module is a single-mode duplex CWDM module with a maximum speed of 25.78125Gbps and a transmission distance of up to 40km through a single-mode optical fiber. It is mainly applied to switches, routers, network interface cards (NICs), and storage network devices of 25G Ethernet. It can well solve the problem of 5G millimeter wave forward at the current stage.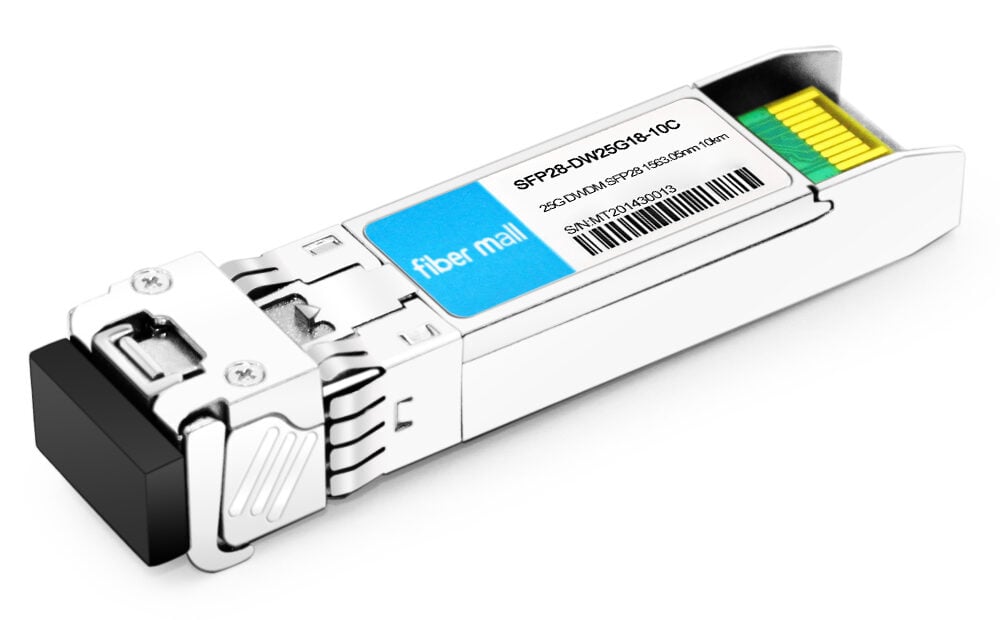 The 25G DWDM SFP28 optical module is mainly used to meet the requirements of 5G pretransmission services. The device adopts the EML+APD scheme, with a maximum speed up to 25.78125Gbps, and the transmission distance of up to 10km through single-mode fiber. It is widely used for CPRI/eCPRI links on 25G Ethernet and single-mode SMF, where wavelengths are tightly packed together to increase the bandwidth of existing fiber networks.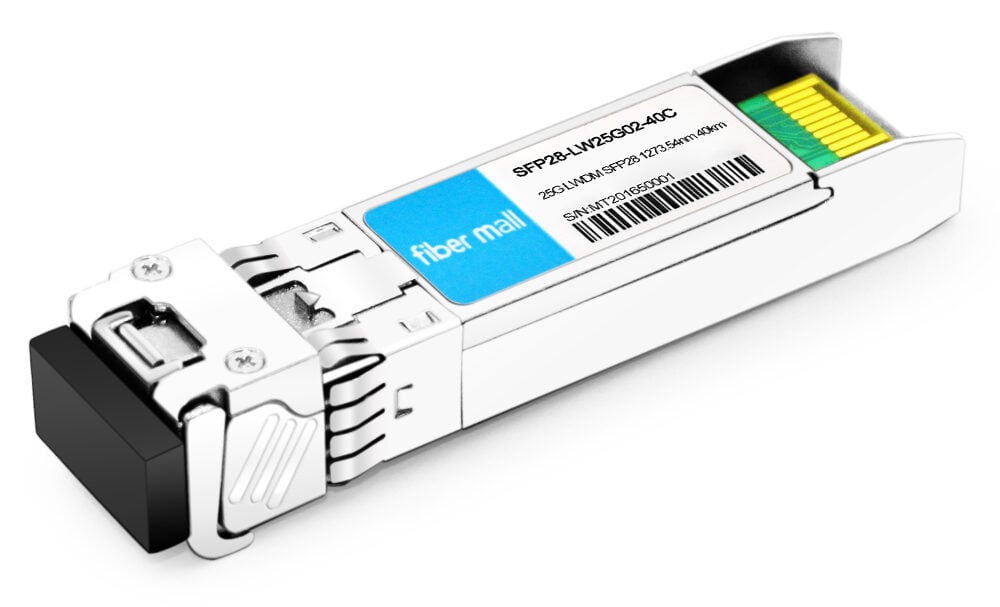 The 25G LWDM SFP28 optical module adopts a high-performance and low-cost DML laser to provide 12-wave multiplexing, which is more advantageous than other similar 25G prequel products in 5G prequel applications and makes up for the problems of large dispersion of 25G CWDM module and high cost of 25G DWDM optical SFP module laser. It can save 5G prequel transmission while ensuring stable transmission, so it is a stable and cost-effective solution in 5G prequel networks.