FiberMall predicted that 2022 would be the year of rapid commercialization of 400G coherent optical technology, and six months later we are pleased to see significant progress in the market for routed optical networks represented by 400G ZR/ZR+ pluggable optical modules.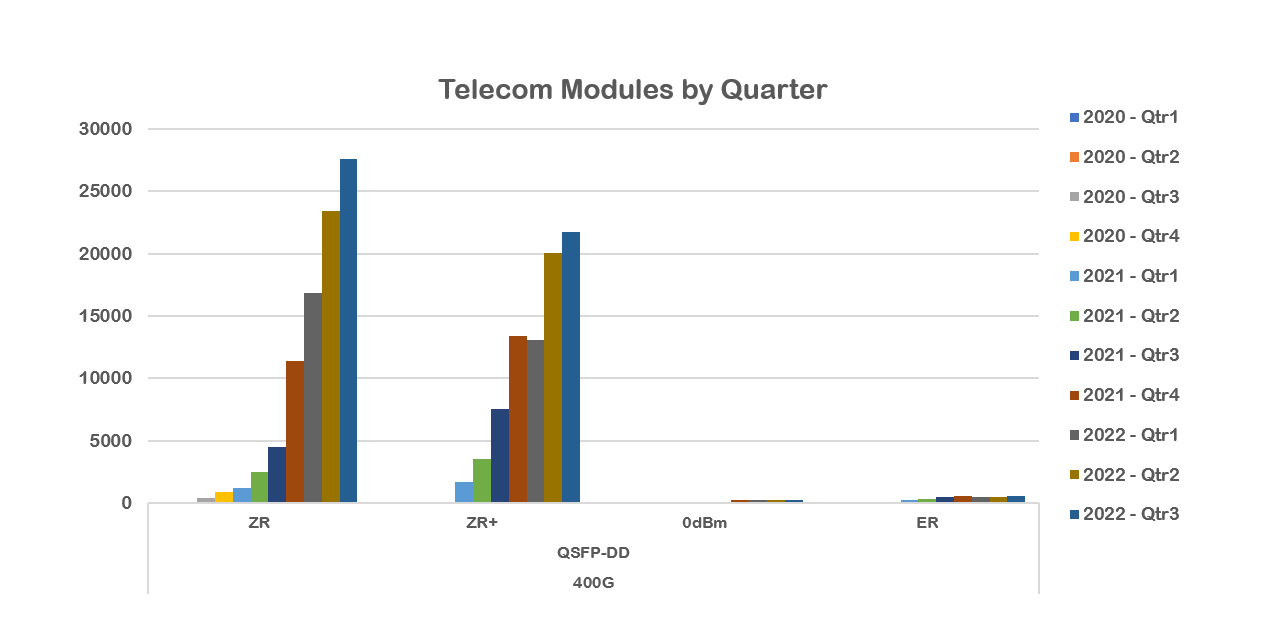 According to Cignal AI's market analysis report, the annual shipment of 400G pluggable coherent optical modules will reach 190,000 ports in 2022, with major customers being Hyperscale Internet and cloud service providers. The 400G ZR/ZR+ based routing optical network solution is gaining popularity due to 45% total cost of ownership savings for customers, despite reduced investment by ISPs in 2022 due to the economic slowdown, and due to continued traffic growth, Routed optical network solutions are commonly used to construct new data center interconnection networks.
Cisco firmly believes that simpler, cost-effective, and automated IP+ optical fusion network architecture will be the development direction of the next generation of the Internet. After Cisco's acquisition of Acacia, a leader in coherent optical communications in 2019, based on 400G ZR/ZR+ high-performance pluggable optical modules combined with Cisco high-performance routing, switching, and transmission systems, And the Routed Optical Network – RON 1.0 architecture was introduced on the multi-platform automatic management and control platform spanning IP+ optical. Architecture has attracted a lot of attention in the industry. Cisco released its latest RON 2.0 solution in October 2022. In the field of chip, system, software, and automation for IP+ optical fusion innovation give more connotation.
Cisco Routed Optical Networking Solutions 2.0 Heats Up the Market
In the field of 400G ZR+ digital coherent optical
Cisco has officially announced the +2dbm high-power QSFP-DD Bright 400G ZR+ optical module. The high-power digital correlation module eliminates the need for additional external optical amplifiers in bare fiber point-to-point interconnect scenarios, increasing transmission distance while reducing overall system complexity and cost. In the 400G ZR+ hybrid scenario with the customer's existing WDM transmission system, the power balancing challenge of the previous -10dbm 400G ZR module is remedied and the transmission performance is further improved. The emergence of this new high-powered module has been of particular interest and interest to traditional telecom operators, many of whom have already begun testing and trial deployments.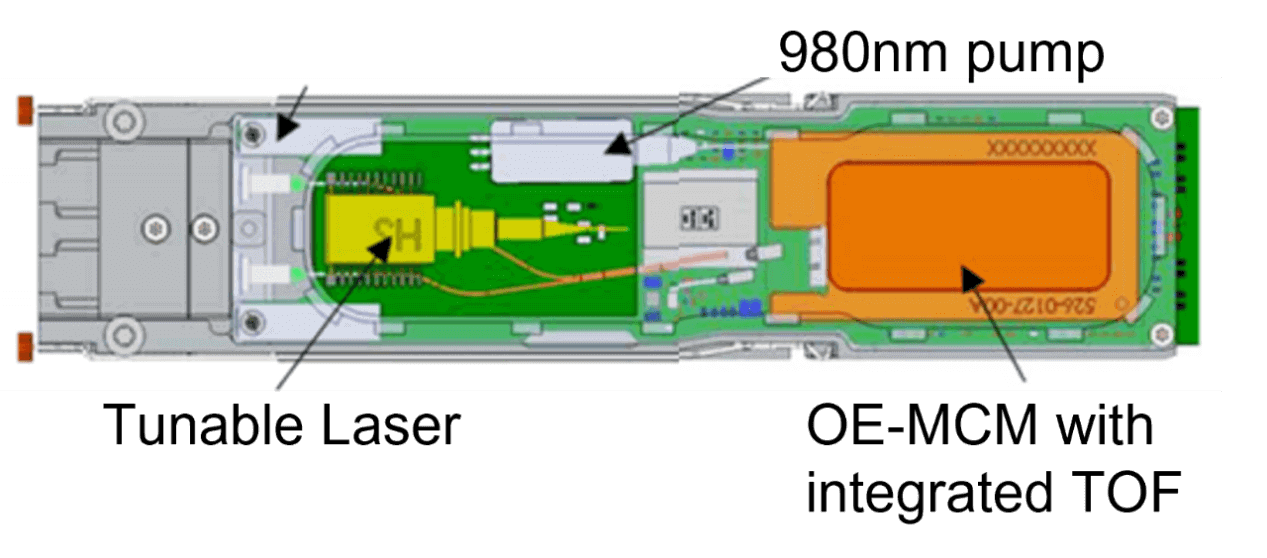 Arelion (formerly Telia Carrier), a major European Internet service provider, announced in October 2022 that it has taken the next step in converging its IP and optical network convergence architectures through a series of trials with Acacia and Cisco on multiple third-party open circuit systems. On the fiber route of the existing production system ROADM infrastructure between Hamburg and Copenhagen, Arelion successfully utilized Acacia Bright 400 ZR+ QSFP-DD coherent modules to transmit power greater than +1 dBm between the Cisco 8000 and NCS 5700 router platforms. The test demonstrates the seamless integration of routed optical networks with DWDM wavelength converters carrying wavelength services.
"The scalability and high construction and maintenance costs of IP and optical transport multilayer networking architectures have been challenging due to decades of accumulated complexity. "With this latest trial, Arelion has demonstrated what is possible and feasible to simplify network architecture, bringing us closer to our vision of a routed optical network that can evolve to a CLOS architecture that is highly scalable and efficient." "The 400G Coherent pluggable transceiver will help our customers ensure high-performance connectivity at a low cost and help us scale our network as we continue to connect the world," said Dariusz Solowiej, Arelion's vice president of network Technology and Customer Operations.
In the field of system platform
RON 2.0 further enriches the router platform supporting digital coherent optical modules, and the router platform covers multiple areas from data center, backbone, convergence and access, which greatly facilitates the differentiated capacity and functional requirements required by different customers for network construction.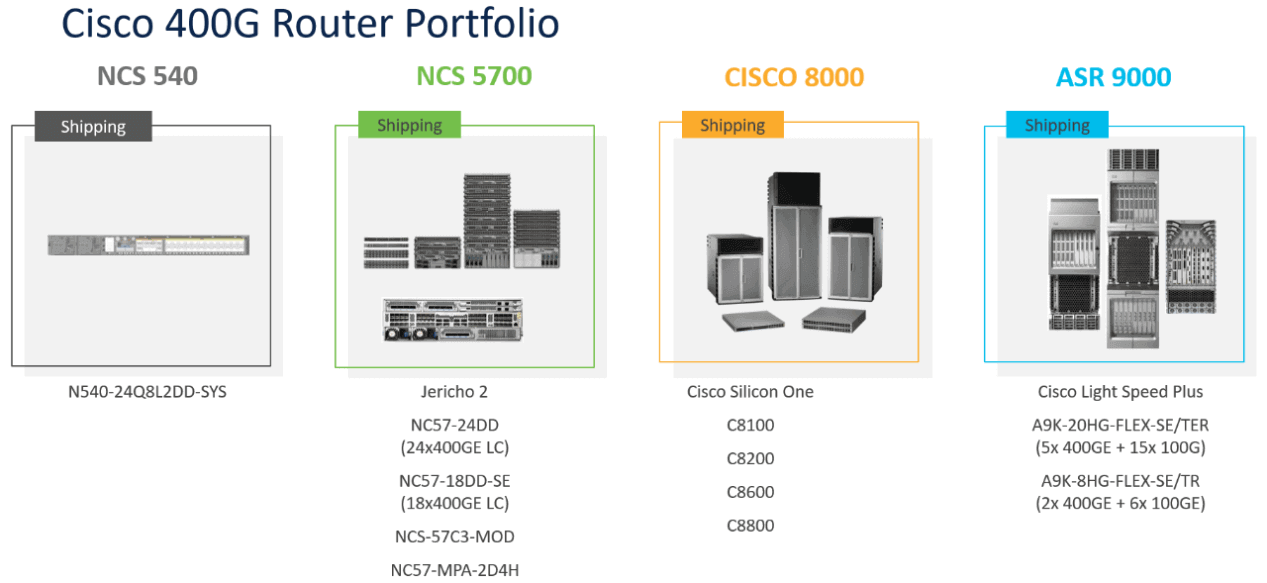 The rich and flexible product line enables IP+ optical fusion routed optical network solutions to be used not only in cloud computing-oriented data center interconnection scenarios but also in operator MAN, as well as 5G oriented bearer networks, truly realizing an end-to-end solution.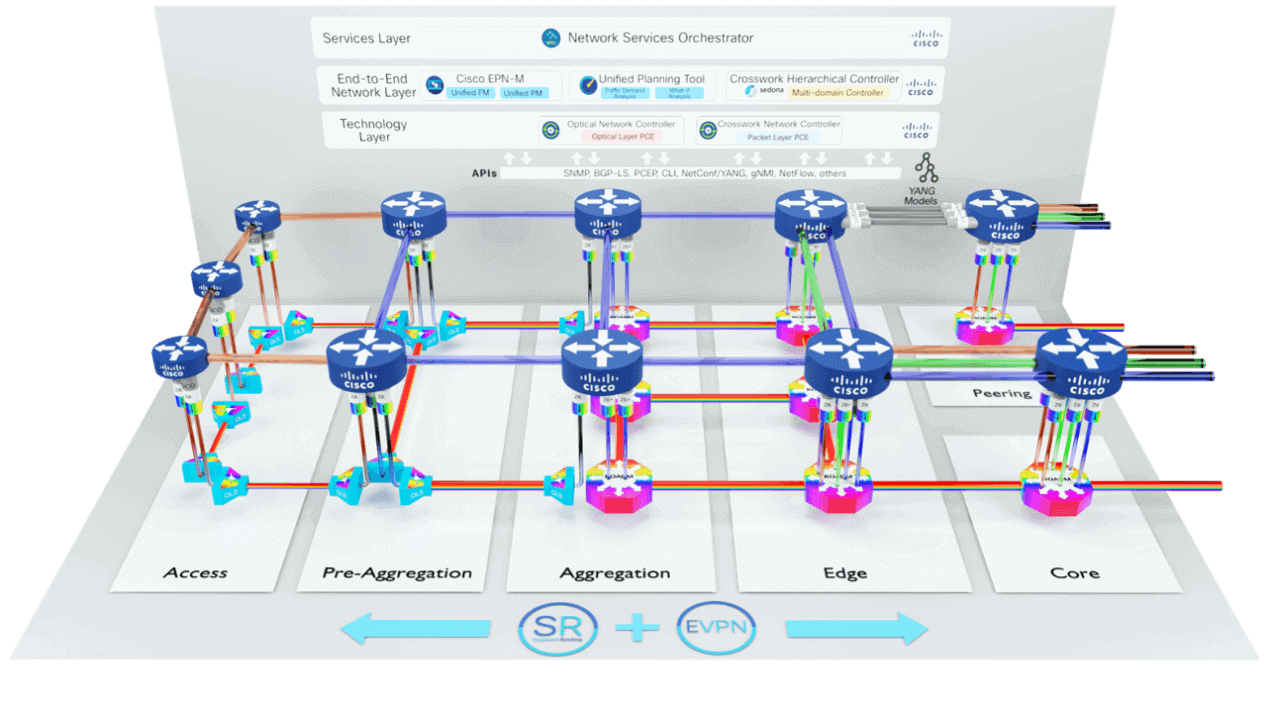 COLT, another large European operator, is also a proponent of routed optical networking, said Vivek Gaur, vice president of network engineering at Colt, "Colt has migrated more than 50 percent of its EU core network traffic to 400G ZR/ZR+ fiber in Cisco routers to take advantage of routed optical networking solutions. Streaming telemetry can be derived from the optical and packet layers, enabling faster provisioning of services and better agility to deploy the additional customer capacity required. The smaller footprint and lower power reduces our operational complexity, saving up to 69 percent in TCO to date."
In the field of software innovation
RON2.0 formally released the Private Line Emulation (PLE) solution to realize bit-transparent leased line transit service.
In the scenario of IP + optical transmission convergence, most of the customer's business data is increasingly popular due to IP and Ethernet, and the business bearing can be perfectly carried mainly through Layer 2 and 3 VPN. But there are still a small number of services, such as: Fiber Channel, OTN private line and other services, these services can not be carried through the traditional VPN way, but also need to be carried through the bit transparent private line way. Cisco PLE solution is the key technology innovation to achieve this kind of 1-layer bit transparent business bearing.
The PLE solution includes three technical innovations:
Based on EVPN-VPWS enhanced bit-transparent PLE message encapsulation technology, this innovative message encapsulation can provide 100% protocol-transparent bit-transparent capability, support arbitrary message protocols, and ensure clock synchronization at the transceiver side.
Segment Routing enhancement technology Circuit-Style SR(CS-SR), which provides rigid guarantee of service bandwidth, ensures certainty of delay and jitter when both sending and receiving messages are on the same route, and 1:1 path protection and recovery realizes fast service protection switching. These technical innovations ensure that the private line service capabilities of traditional OTNs can be realized in PLE service.
Automatic service commissioning and service support – The automatic controller enables service personnel to graphically manage the full life cycle of service planning, commissioning, maintenance, and deletion, facilitating operation and maintenance.
The PLE solution is an open solution and the associated technical standards were presented in draft at the 113th IETF meeting, helping the industry to evolve together.
Driving Technical Standardization of 400G ZR/ZR+ in China
The 2022 IP+ digital correlation optical convergence solution has also attracted widespread attention in the domestic Internet and telecom operator industries. China's leading Internet companies and carriers have completed lab and live network grayscale testing in 2022, and some have already begun large-scale commercial deployments with savings of up to 40% of overall costs.
As the number of customers deploying 400G ZR routed optical networking solutions in China increases, the demand for 400G ZR/ZR+ optical module registers and initial configuration varies greatly from customer to customer, and the demand for customization of optical modules becomes more and more frequent, with customization extending lead times and increasing costs to the detriment of large-scale industry development. In order to meet the customization needs of Chinese customers while converging the customization requirements as much as possible, Cisco is actively working with the Open Data Center Committee (ODCC) to support the drafting and development of 400G ZR/ZR+ customization specifications for the ODCC IPoDWDM project team, contributing corresponding technical and engineering experience. The ODCC customization standardization work is progressing smoothly, with several rounds of draft releases and discussions completed, and the ODCC standardization work is expected to be completed by early 2023, which is a good promotion for the scale deployment of 400G ZR/ZR+ in China.
800G technology innovation is coming
Faster, more economical, and more energy efficient is what the network communications industry is constantly striving for. Innovations in 800G network processors and systems and 800G coherent optical technologies are the foundation for this innovation.
Outlook 800G network processing chips and systems
The single-chip system built for 800G 25.6T network chips not only doubles the communication rate of the 12.8T system built for 400G network chips, but also allows one device to carry the network forwarding capability of the previous six devices. The new single-chip system can reduce energy consumption by 77%. Equipment space usage is reduced by 83%.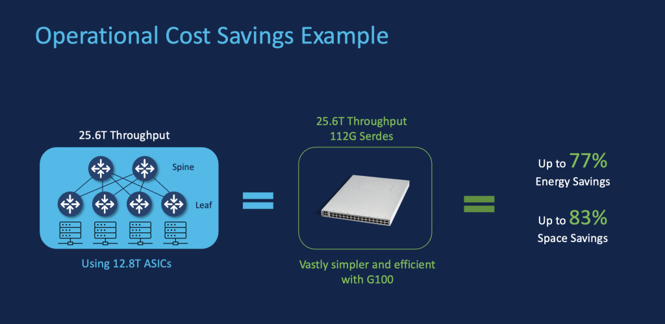 Cisco unveiled the world's first 800G networking platform at OCP in October 2022, which includes the C8111 router and the Nexus 9232E switch.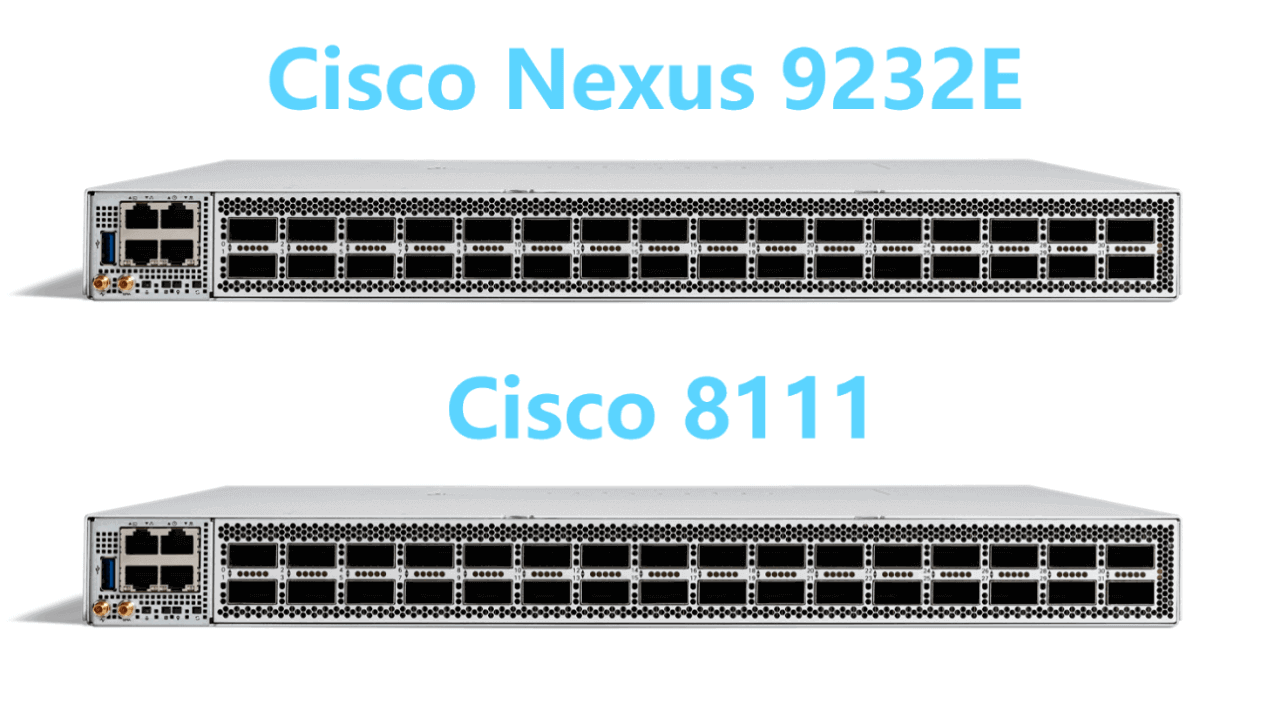 Both devices are powered by Cisco's Silicon One G100 25.6T network processor chip, which uses a 7nm process and provides 256 112G SerDes channels, It can provide 32 ports of 800GE, 64 ports of 400GE, and 256 ports of 100GE in a RU space. It has the lowest volume and power consumption while providing high-performance forwarding, laying the foundation for the evolution of network to 800G era.
The prospect of 800G coherent light technology innovation
With the increase in communication rate, the advantage of high performance of coherent technology will be more prominent.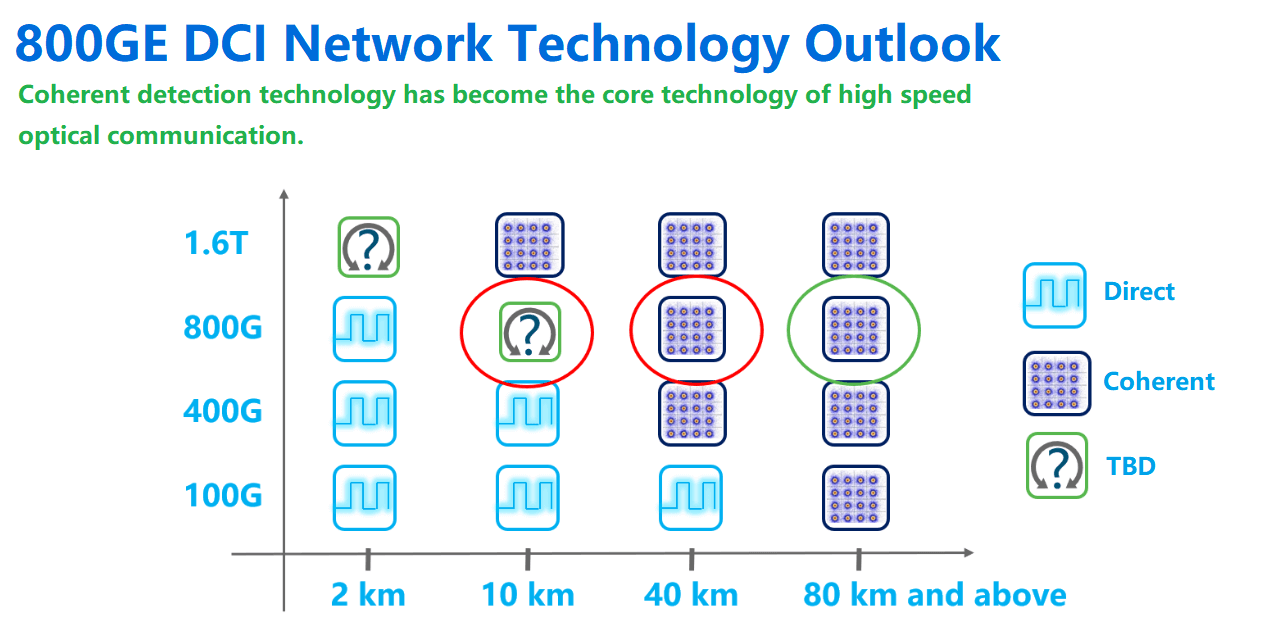 Currently 800G ZR (80km), ER (40km), LR (10km) and other technical standards are being discussed in several standardization organizations. Among them, 800G ZR and ER are not much in doubt, and the coherent technology has reached a consensus and will be the core technology of choice. OIF has selected oFEC high-performance forward error correction technology contributed by Cisco (Acacia) as the standard for 800G ZR, and relevant standards for electrical ports are also being actively promoted.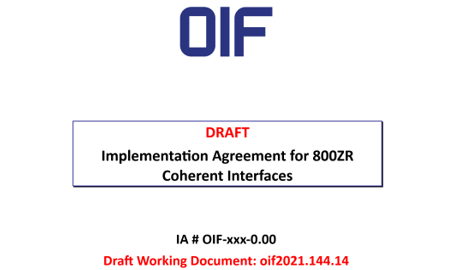 Whether the 800G LR technical specification uses direct detection (IMDD) or Coherent detection (Coherent) is still under discussion in IEEE. Coherent detection is coherent with better performance and direct detection is coherent at a lower cost.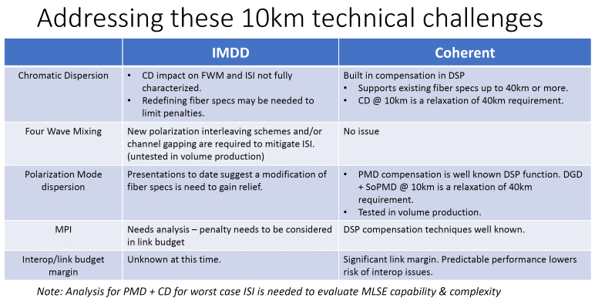 It is expected that technical standards corresponding to 800G LR/ER/ZR will be standardized in 2023, and commercial products will be formed in 2024/2025.
Conclusion: As the industry continues to understand the digital coherent optical pluggable modules and routed optical network architecture, we see more and more Internet and operator enterprises have widely recognized the cost reduction and performance improvement brought by technological innovation.
Faster, more economical, and more energy-efficient routed optical network solutions are being recognized by industry leaders and are beginning to be deployed at scale. With silicon, optical transport, and routing switch systems for the 800G era already released or maturing, the networking industry still has the opportunity to maintain the Moore's Law growth curve and bring a better network access experience to the public in the coming years.