Soon after 400G optical modules were commercially available, 800G optical modules came one after another, becoming the focus of a new round of competition among optical communication manufacturers. At the 46th Optical Fiber Communication Conference & Exposition and the National Fiber Optic Engineers Conference (OFC 2021) held recently, Hengtong Rockley released the 800G QSFP-DD DR8 optical transceiver based on EML technology. Coincidentally, InnoLight Technology and Source Photonics also showed two 800G optical module products on OFC 2021. FiberMall released 800G series optical modules before the opening of OFC 2021, such as the series products of 800G QSFP-DD transceivers. As early as 2020, Huawei and Accelink both had released 800G adjustable ultra-high-speed optical module and 800G optical module based on PAM4 modulation respectively.
A series of actions of optical module manufacturers seem to indicate that 800g optical module is on the verge of hitting the bull's-eye of the optical communication market.
So, when is the commercial timing of 800G optical modules? What is the current stage?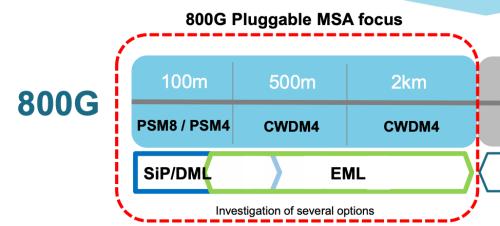 MSA is developing industry specifications for 800G optical modules
The global communication network is mainly composed of a wide area network, metropolitan area network and access network. The access modes of access networks include optical fiber access, wireless access, Ethernet access and so on. The transmission medium of MAN and WAN is mainly fiber optic cable. Usually, MAN and WAN have longer transmission distances and higher bandwidth demand, which are the main application scenarios of high-speed optical modules.
Meanwhile, the data center network transmission distance is usually shorter, but the demand for bandwidth is greater. Currently, the interconnection of different server rooms in data centers and the interconnection scenarios between multiple data centers are dominated by 40G and 100G optical modules, gradually evolving to 400G and 800G optical modules, with an average of 2 to 3 years to update one generation.
According to Omdia's forecast, the transition from 100G to 400G will officially begin in 2022, when the demand for 100G starts to decrease and 400G starts to take off. Therefore, from the industry chain release rhythm, the commercialization time of the 800G optical transceiver will be 2022, while the large-scale deployment will be 2023.
From the commercial use of 400G optical transceivers to the release of 800G optical modules, the optical module industry chain has only taken about a year. As mentioned earlier, 800G optical modules will be deployed on a large scale in 2023, so is the optical module industry chain ready to meet the arrival of this time point?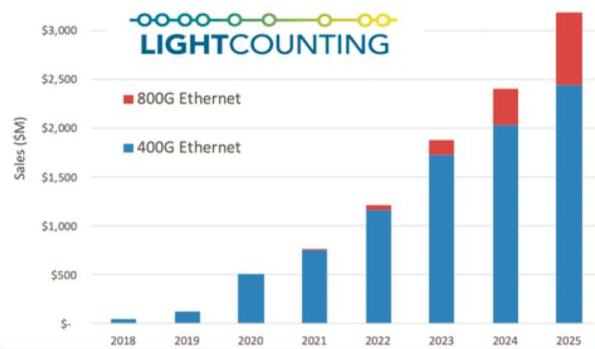 Market demand of 400G and 800G Ethernet (2018-2025)
First, in terms of standards development, several standardization organizations have actively researched 800G technology and standardization. The Ethernet Technology Consortium (ETC), 800G Pluggable MSA Working Group, and QSFP-DD800 MSA Working Group have released relevant technical standards and specifications, and IEEE, CCSA, and OIF have established projects for discussion. In particular, IEEE has completed the development plan about 800G standard, which is based on three considerations of market demand, technology maturity and economic benefits, the standard of 800G will cover 50m, 100m, 200m, 500m, 2km, 10km, 40km and other application scenarios, and discussions have been held on how to realize 800G. Second, in terms of product development, for data center scenarios, most vendors have released 800G optical module products based on EML technology, such as InnoLight Technology, Accelink, FiberMall, etc.
With the rapid deployment of 5G in the world, the whole 5G industry chain is advancing rapidly, driving the formation of data centralization and virtualization trends in finance, information platforms, e-commerce, social and other fields, putting forward higher requirements for network bandwidth, and also bringing a higher demand for optical modules, and next-generation 800Gb/s optical devices will finally serve as an important solution for ultra-large capacity transmission.