100G is at its full wing to transit into the mainstream. There are four most common types of 100G QSFP28 optical transceivers for data center application at present, i.e. QSFP28 SR4, QSFP28 LR4, QSFP28 PSM4, and QSFP28 CWDM4. Comparisons between the three latter will be discussed in this passage to help you select your 100G application mode properly.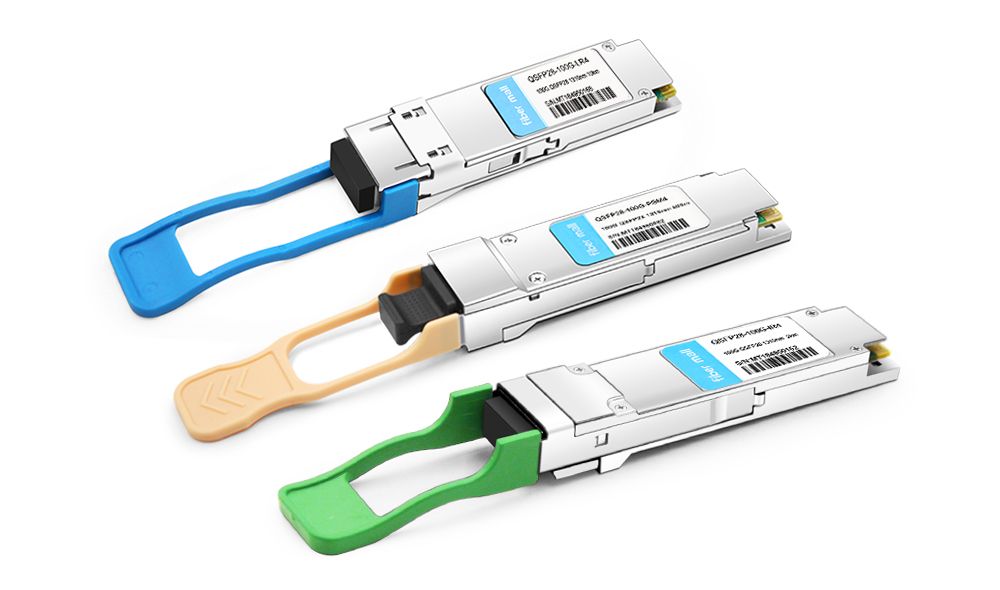 1. 

100G QSFP28 CWDM4

VS

 QSFP28 LR4
● Features
QSFP28 CWDM4 is compliant with the standard especially formulated for the deployment of 100G  data links within 2km of the data center. The interface of the QSFP28 CWDM4 optical module conforms to the duplex single-mode 2km 100G optical interface specification, and the transmission distance can reach 2km. It is the most widely used 100G QSFP28 series optical module in data centers.
By comparison, 100G QSFP28 LR4 possesses all the features of QSFP28 CWDM and is more cost-effective and competitive in the application of 2km transmission.
● 

Operating Principle
100G QSFP LR4 and CWDM4 are fundamentally similar in the way how they work. Both of them multiplex 4 parallel 25G channels onto a 100G fiber link through optical devices MUX and DEMUX. QSFP LR4 transmits 100G Ethernet signal over 4 center wavelengths, i.e. 1295.56nm, 1300.05nm, 1304.58nm, and 1309.14nm. The two interface models are illustrated as follows: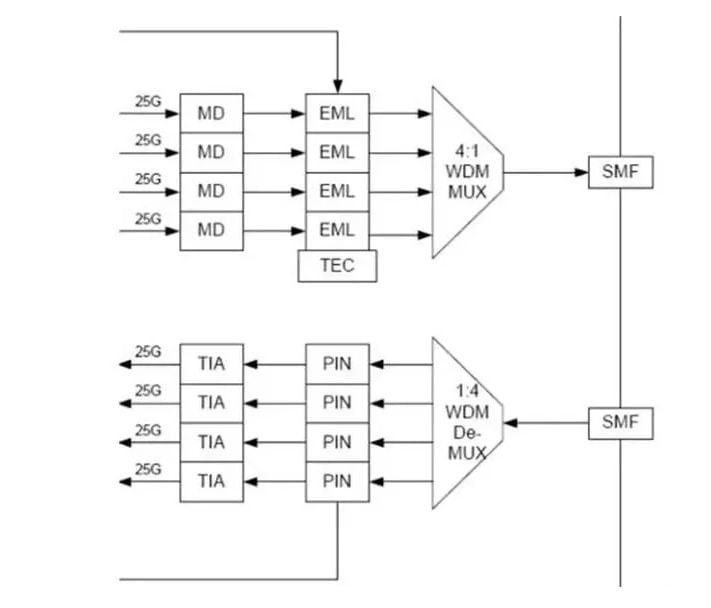 ◮QSFP28 LR4 Schematic Diagram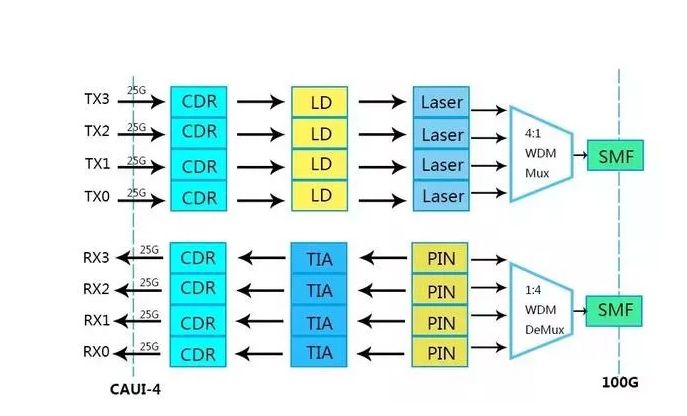 ◮CWDM4 Schematic Diagram
● Cost Differences
Although both of them are the mainstream 100G QSFP28 optical application for IDC, the cost between the two modules are different, which is reflected in the following aspects:
◇ The optical MUX/DEMUX devices deployed by QSFP CWDM4 are less expensive than that of the QSFP28 LR4.
◇ The laser in the LR4 module is more costly and consumes more power.
◇ LR4 requires additional TEC (semiconductor thermoelectric cooler)
Based on the above comparison, optical modules compliant with the QSFP28 LR4 standard are more costly, while the 100G QSFP28 CWDM4 standard proposed by MSA has well complemented the gap caused by the high cost of QSFP28 LR4 within 2km transmission.
2.

 100G 

QSFP28 PSM4

VS

 QSFP28 CWDM4
●

 

Feature

s for 100G PSM4 & CWDM4
In addition to the QSFP28 CWDM4 transceiver, 100G QSFP28 PSM4 is one of the alternative solutions in intermediate transmission distance. But what are the pros and cons of PSM4 compared with CWDM4?
QSFP28 PSM4 optical transceiver is a four-channel 100G interconnect solution over a parallel SMF and it is mainly used for 500m link application. 8-core SMF builds four independent channels(4 for transmitting and 4 for receiving)for 100Gbps optical interconnects, and the transmission rate of each channel is 25 Gbps.
Each signal direction uses four independent channels of the same wavelength of 1310nm. Therefore, the two transceivers usually communicate via 8-fiber MTP/MPO single-mode optical fiber cable. The maximum transmission distance of PSM4 is 500m.
●

 

Operating Principle for 100G PSM4
For 100G QSFP28 PSM4's functional theory, please refer to the following figure to know how it transmits signals.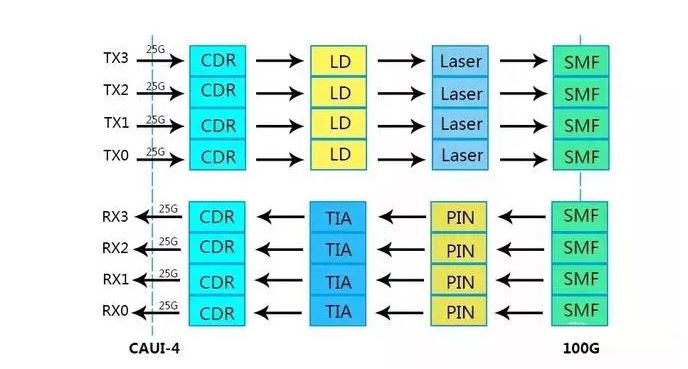 ◮QSFP28 PSM4 Schematic Diagram
● 

Cost & Technology Differences
Briefly speaking, the 100G QSFP28 CWDM4 optical module is designed with a built-in wavelength division multiplexer, making it more costly than QSFP28 PSM4 optical modules. However, CWDM4 transceivers require only two single-mode fibers for bidirectional transmission, which is far less than the 8 single-mode fibers of PSM4. And QSFP28 CWDM4 transmits 100G Ethernet signal over 4 wavelengths of 1271nm, 1291nm, 1311nm, and 1331nm respectively.
As the link distance increases, the total cost of the PSM4 solution rises rapidly. Therefore, whether to select a PSM4 or CWDM4 interconnection solution should be decided on your actual need in the application. The following chart shows some of the technological differences between the two modules.
Optical Module

CWDM4 Transceiver

PSM4 Transceiver

 

Optical Transmitter

4 DML (20nm of wavelength gap )

4 Integrated Silicon photon modulators & 1 DFB

Wavelength Division Multiplexer

necessary

unnecessary

 

Interface

Duplex LC Connector

MPO/MTP connector(8-core)

Link Length

<2km

<500m
Conclusion
For optical module suppliers, high speed, low power consumption, and low cost are the main criteria for future data center optical module requirements. There are different solutions in terms of transmission distance, modulation mode, operating temperature, and form factor, which need to be selected based on factors such as application scenarios and cost.