What is QSFP56 cable AOC and how to apply it in 200G Ethernet?
In order to meet the needs of users, the transmission rate of optical communication transmission also increases, from 10G and 25G to 100G, 200G and even 400G today. The AOC active optical cable can provide excellent solutions for the high-speed, high-density, low-cost and low-power requirements of short-range data centers in the optical interconnection products.
1) What is QSFP56 cable AOC (Active Optical Cable)?
The 200G active optical cable is a communication cable that requires external energy to convert electrical signals into optical signals or optical signals into electrical signals during communication. The optical transceivers at both ends of the cable provide photoelectric conversion as well as optical transmission functions, and the transmission rate reaches 200Gb/s. The AOC consists of two optical transceivers and a fiber optic patch cable, which has a long transmission distance, generally up to 100 meters. Then, about the transceiver form-factor, as an evolution of the 40G QSFP+ and 100G QSFP28, the QSFP56 (Quad 50 Gigabits Small Form-factor Pluggable) is designed specifically for 200G Ethernet. Compared with QSFP+ and QSFP28, the 200G QSFP56 form factor as a 200G QSFP supporting 4 x 50G channels can achieve higher network speeds. The most important change from QSFP+ and QSFP28 to QSFP56 is that QSFP56 changes from NRZ encoding to PAM4 encoding.
2) How to apply the QSFP56 cable in the 200G Ethernet wiring scheme?
1. The QSFP56 cable to QSFP56 AOC: it is a QSFP56 VCSEL-based (Vertical-Cavity Surface-Emitting Laser) active optical cable (AOC) designed for use in 200Gb/s Ethernet systems. The cable offers high port density and configurability, and a much longer reach than passive copper cables in the data centers. Since the AOC is hot-pluggable, it is easy to install and replace. The QSFP56 200G AOC active optical cable has a standard SFF-8665 compliant QSFP56 port on the electrical side towards the host system. It contains four multi-mode fibers (MMF) optic transceivers per end, each operating at data rates of up to 50Gb/s.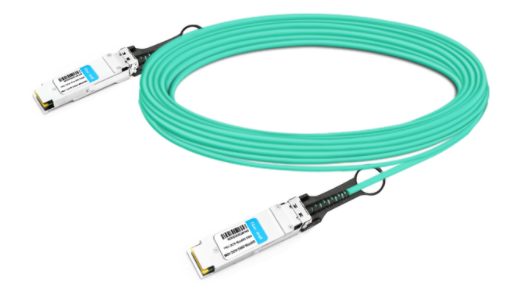 2. THE QSFP56 cable to 2 x 100G QSFP28 AOC: one 200G QSFP56 optical transceiver is connected at one end and two 100G QSFP28 transceivers are connected at the other end with a maximum transmission rate of 212.5Gbps. The power consumption of 200G QSFP56 transceiver is less than 4W, and that of 100G transceiver is less than 2.5W. This wiring method is mainly applied to the 200G to 2x100G Ethernet branch links in the data center.
3. The QSFP56 cable to 4 x 50G SFP56 AOC: Using 8-channel full-duplex active optical cable, one 200G QSFP56 optical module is connected to one end and four 50G SFP56 modules are connected to the other end, with the maximum rate up to 206.25Gbps. The power consumption of 200G transceiver is less than 4W, and the maximum power consumption of each 50G module is less than 1.5W. This wiring method is mainly applied to the data center 200G to 4x50G Ethernet branch links.
3) The advantages of QSFP56 cable AOC
1.
QSFP28-DD AOC vs. QSFP56 AOC cable
There are two kinds of 200G AOC, QSFP28-DD AOC and QSFP56 AOC, both with a wavelength of 850nm. But the QSFP56 form-factor is designed specifically for 200G Ethernet while the QSFP-DD form-factor can be achieved for 200G and 400G network transmission. So, the QSFP56 package form is more commonly used in 200G optical transceivers and AOC/DAC cables. As for the wiring solution, they both can be used in 200G to 2x100G and 200G to 4x50G schemes.
2.
The advantages of the QSFP56 cable active optical cable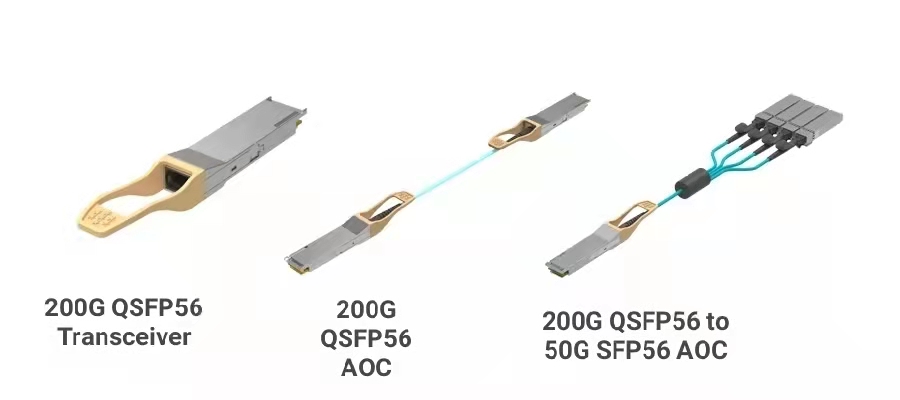 · Greater bandwidth: no equipment upgrade is required, with a throughput of up to 50Gbps.
· Lightweight: much lighter than DAC.
· Low degree of electromagnetic interference: because optical fiber is a dielectric, it is not easy to be affected by electromagnetic interference.
4) QSFP56 cables comparison: 200G AOC vs DAC
Firstly, both types of cables offer an alternative to purchasing individual optical transceivers and cables separately. DAC (Direct Attach Cable) features a copper cable connecting two fixed transceiver modules at either end of the cable. As for AOC (Active Optical Cable), the connection between the two transceivers at either end is maintained using multimode fiber.
Secondly, as for the cost, DAC tends to be lower when AOC cable vs DAC due to the fact that there are no optical components in a DAC assembly as the transmission is electrical over copper cable.
Thirdly, AOC can run up to a maximum standard length of 50 meters. As for DAC, the maximum length is 10 meters and this is due to the electrical signals becoming susceptible to interference and attenuation over longer distances.